Electronic waste – unplugging for a better Earth
Cargill's global IT team holds Electrical Amnesty event, promotes environmental stewardship
July 18, 2016
Did you know that by 2017, the global volume of discarded refrigerators, TVs, mobile phones, and computer monitors will produce about 72 million tonnes of electronic waste, weighing about 11 times as much as the Great Pyramids of Giza, or almost as much as 200 Empire State buildings?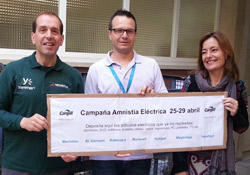 Cargill employees Charlie Verson, Tsvetan Nankov and Dolça Colominas promoted Electrical Amnesty in Martorell, Spain. Enter Cargill's global information technology team. Like many other Cargill employees around the world, our IT employees are passionate about finding ways to give back to their communities. We've seen employees engage in fighting food waste through our partnerships with food banks around the globe. We've also seen employees collect trash to promote environmental stewardship in the communities where we live and work. And with the support of global IT, we can also now say we've played a part in helping solve the major challenge of electronic waste.
The Electrical Amnesty campaign, run at selected locations in Europe, allowed Cargill employees to surrender their broken or unwanted electrical items as part of their 2016 Earth Day activities. As a result of the campaign, seven old desktop computers, six laptops, five printers and scanners, plus boxes of phones, cables, routers, batteries, and even a home cinema system, were just some of the items collected to be recycled or disposed of in a safe and environmentally friendly manner.
"Electrical items can contain lead and other toxins which can do harm to the environment if they are not disposed of properly. In global IT, we already have experience managing the disposal of electrical items and we wanted to use that knowledge for the benefit of our colleagues and the environment," said Dustin Thurgood, infrastructure leader for Cargill global IT in EMEA.
"This was our first Electrical Amnesty event. Hopefully we will be able to make this an annual activity and include more locations in the future as it is a great way for us to make a real difference and to offer a service to our colleagues in Cargill's businesses," said Stuart Crickett of Cargill's global IT team in EMEA.