Elmark's journey - The Food for Hungry Minds program is transforming lives in the Philippines
August 18, 2016
Photos by Palani Mohan
On Luzon Island, the Philippines, finding Elmark's house starts with a walk down a narrow concrete street, too narrow for cars. The street skirts a rice paddy field and then turns into a dirt path strewn with food wrappers and broken glass. Coconut palms and banana trees grow along the path that leads to a small settlement noisy with backyard roosters and frantically barking dogs that, fortunately, are tied up.
Elmark's house, where he lives with his parents, brother and sister, has a rusty, corrugated-steel roof and seems cobbled together from scrounged materials. Everything has the feel of a poverty trap where children are fated to repeat their parents' lives, barely scratching out a living.
Two minutes after meeting Elmark, you know there is a better fate in store for him—and probably for his family, too. Only nine years old, Elmark already is remarkably self-possessed, quietly dignified, almost serene. He politely greets the visitors with good English and agreeably poses for photos.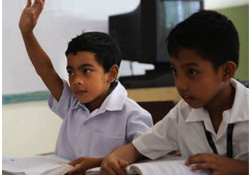 Elmark is an eager participant in class. Elmark is one of 30 students Cargill Feed & Nutrition supports in the Food for Hungry Minds program each year. The support is matched by corporate funding. For every 100 applicants, 30 kids are chosen to participate as "scholars." Elmark was selected for his good grades, his score on a standardized test, his family's need and something more intangible.
"We saw determination in Elmark," says Gina Pagtalunan, a School for Hungry Minds teacher who has led the way to his house. "We saw him as someone who would go on with his education if he got the chance."
Elmark's old school, a ramshackle building where you can hear the crowded students reciting through the barred windows, is only a five-minute walk from his house. His new Hungry Minds school in Bulacan province is a 40-minute journey by jeepney, a decorated van that serves as the Philippines' unique form of public transportation.
But in terms of quality, the new school is light years away. Students in a Hungry Minds school are expected to go on to college, whereas children at Elmark's local school may or may not go on to high school. During the years of Cargill support—grades four through six—children who barely speak English become fluent; they learn science and math; they express themselves in art and music.
Kimberly Go, a Human Resources assistant at Cargill's nearby feed mill in Pulilan, coordinates some of the activities for the Food for Hungry Minds program.
"I'm very impressed by these kids," Go says. "Some of them have better English than mine. It's inspiring to see how eager they are to learn. They feel that studying is a privilege.
"The program is about more than academics; it's also about developing strong character and determination. I remember one kid who would go to school hungry, then come home to take care of his younger siblings and help his mother with her small business—all while excelling in school."
The Hungry Minds program covers tuition, uniforms, school supplies and health care. Basically, it opens a door to a new life.
Ruth Sarmiento, a Hungry Minds scholar, is in college studying to be a physicist. Her father works overseas as a cook, sending what money he can back to the family. "I've received Cargill support since the fourth grade," she says. "If I was not in this program, maybe my education would have ended by now."
Another Cargill scholar, Katheleen Loja, is studying math in college with the aim of becoming a professor. Her father is a jeepney driver, and when she's not in school she rides along with him, taking fares and making change. "I think my parents are very proud of me," she says.
"Whatever I do, if it makes me happy, they will support me. Right now, continuing in the Hungry Minds program is what makes me happy."
A teacher at the Hungry Minds school, Kristal Todcor, has a basic explanation for the program. "For the children, it is one way for them to reach their dreams," she says.
Beyond academics
At the School for Hungry Minds, the building is worn but cheerful and clean. Inside a classroom, Elmark is attending a class on Tagalog, the native language of the Philippines. Nothing is crowded about this classroom; the 15 or 16 students have pulled their desks into a half-circle. Several eager hands shoot up in response to each of the teacher's questions.
Talking to Elmark, some of his answers aren't too surprising. He enjoys learning. He wants to go to college. His current ambition is to be a chef. But his motivation seems to center on his family.
"I want to study in Hungry Minds because my father wants me to have a good education," he says. Asked if it took a lot of hard work to be selected for the program, he agrees. "I did it because I want to help my family," says the son of a farm laborer.
Even more surprising is his description of what the program has done for him in the first few months. "Before I enter Hungry Minds, I'm not an honest pupil, but now I learn how to be honest and be a responsible pupil," he says very seriously.
Pagtalunan, his teacher, explains that underprivileged children from rural areas come into the program with skills that helped them survive. "Even Elmark was caught cheating when he first came to school," she says. "This is only his first year in the program, and he's improved a lot. His mother told me he's become more responsible, even preparing his uniform for school every evening."
Very consciously, lessons in manners and values are part of the Hungry Minds program. "We want them to be able to succeed not just in school academically but also in their communities," says Todcor, who teaches art and physical education to Elmark.
"Elmark is really a student who is very excited about a lot of things," Todcor says, smiling. "When I introduce a topic, he is the person who says, 'Oh, wow!' Elmark is very determined in everything that he is doing. This Christmas, he was one of the shepherds in the Christmas play. He really memorized his lines and made sure he was acting as a shepherd."
Elmark had even prepared for the visit for this story. He memorized a little speech about himself and his experience at the school. It ended with these lines: "I want to say thank you to Cargill for providing what we need in school, for supporting us. Thank you for that. God bless you."