For underprivileged children in India, a glass of milk, a biscuit and a world of difference
Cargill and Charities Aid Foundation teamed up to target hunger among India's poorest children. A year in, it's working.
November 07, 2016
When Apparao Chinnababu doesn't get work, his family doesn't eat. That's common for day laborers in the villages of Rangampeta Mandalam, a rural region just inland from the Bay of Bengal in southern India. His family, like many in the area, lives below the poverty line. His son Boye, a 6th-grader, goes school in part to ensure he gets at least one meal a day – far from enough to stave off malnourishment.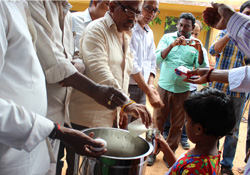 The nutrition program they put together was simple: an egg, a glass of milk, a pack of fortified biscuits and fruit as a daily afternoon snack for all 216 students.In 2015, Charities Aid Foundation India, a local partner organization and Cargill India – a neighbor with an aquafeed mill just a kilometer away from Boye's Mukunda Puram Upper Primary school – set out to change that.
The nutrition program they put together was simple: an egg, a glass of milk, a pack of fortified biscuits and fruit as a daily afternoon snack for all 216 students. Teachers made sure the children got the food. Employees from the feed plant helped make sure it was safe to eat. For good measure, organizers installed a rooftop water tank so students had access to drinking water rather than having to go home.
The results after a year? It's working.
Nearly 90 percent of students gained weight and showed improvement in body-mass index. Ninety-two percent showed better hemoglobin levels. Students did better in school, with the average letter grade going up half a letter. And they showed up more often, with attendance climbing 16 percent to 98 percent.
"This project," Apparao said, "is a boon to our children."
The number of students the program will reach this year is climbing to 256. Achyuth Iyengar, Managing Director for Cargill Feed & Nutrition India, said the program has given the company the chance to address "glaring issues of nutrition constraints" faced by children in the area.
"We are glad that our efforts on the ground have started to show improved results," he said.
It's one of a broad range of initiatives in India for Cargill where the company has put more than $13 million over 8 years toward programs to improve nutrition, food security, farmer livelihoods and community development. And it's one of a handful of partnerships that targets nutrition in schools where children need it the most.
One in four children in India are malnourished, according to the India Food Banking Network. More than 30 percent of children under 5 are underweight, and 3,000 children die every day from illnesses related to poor diet. By age 2, nearly 60 percent of children suffer from stunted growth.
The nation is home to the largest undernourished population in the world, with nearly 195 million people going hungry every day. Even amid steady economic growth and huge strides in food production over the past few decades, the poorest citizens still get a tiny fraction of the resources.
Bangalore, for instance, is one of India's wealthiest and fastest-growing cities, bolstered by a thriving technology industry. But at Lovedale Banyan Community School there, students come from families working in stone quarries for little pay and living in poverty in slums. As in Rangampeta, hunger "is a rampant issue," said Meenakshi Batra, CEO, Charities Aid Foundation (CAF) India.
In June 2015, Cargill and CAF helped launch a meal and health program for the school's 350 students. That included a meal and two snacks during the day, regular doctor's checkups, medicine and extra nutrients for students who needed them, fitness programs and training for parents on healthy habits.
And as in Rangampeta, the payoff was "noticeable changes", in growth and performance said Jaykar Ganguli, a community worker at the school,. Weight and blood-work improved – 92 percent of students hit their target BMI and hemoglobin levels after a year. Attendance was up, and not just for students: The first time organizers met with parents, 30 showed up. By the final session, it was 175.
Those kinds of results attracted attention. At Mukunda Puram, parents and elders from nearby villages asked about extending the program to their own schools, something CAF and Cargill are exploring. This year, they launched another meals program together at an orphanage in Bengaluru.
Enough public interest can highlight the issue and spur further action – even policy shifts. If it becomes a model school, other schools start to look for opportunities," said Dipanwita Chakraborty, Regional Director for Corporate Responsibility for Asia Pacific. "It gets noticed."