From insight to inspiring products
Six new ingredient specialties for your next tempting innovation
May 15, 2016
Indulgent: reach new heights in sensory indulgence with our salted caramel or lemon-flavored coatings and fillings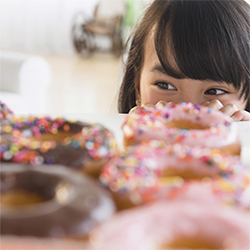 Indulgence remains a primary driver of sweet food consumption around the world. With consumers continuously looking for new indulgent experiences, we have built on the success of our Caramel Equilibre with the all-new salted caramel-flavored coating and filling. Combining a silky texture with a vintage toffee flavour, this sensation makes a perfect warm, comforting treat. Alternatively, you can encourage consumers to dive into summer with the freshness and vitality of our new lemon-flavored coating and filling.
Healthy: Guilt-free treats – reduced sugar and source of protein coatings and fillings
Today's conscious consumer is often torn between the desire to indulge and the wish to make healthier choices. Now you can provide the best of both worlds with our reduced sugar coatings and fillings, or ride on the protein wave that is sweeping across the globe by creating a delicious and nutritious treat with source of protein coatings and fillings.
Sustainable or Clean: coatings and fillings using RSPO certified segregated palm oil and naturally colored coatings and fillings with plant extracts
With growing interest in transparency, today's consumer truly cares about where their food comes from and what exactly is in it. Thanks to Cargill's coatings and fillings with RSPO segregated palm oil, you can provide additional peace of mind by ensuring that only certified palm is used throughout your supply chain – from certified mill to end consumer. In addition, with our all-new naturally colored coating and fillings, you can enhance your clean label credentials. Created using plant extracts to replace colorants - from beetroot to give a warm red colour, to spirulina for a deep blue - the creative possibilities are endless.

---
Stay ahead of consumer tastes with our new Trend Report
Highlighting the key trends we have spotted in cocoa and chocolate, our new Trend Report provides just a glimpse of the insights we can share to help you develop your next breakthrough product. Coming soon! Look out for your copy to help you get a head start on your next innovation.
Analyzing trends and creating new solutions
"We know how vital it is to anticipate industry trends and determine which products consumers will love. That's why we're constantly working to analyze trends on different levels and create new solutions that enable customers to respond with their next winning product."
Brigitte Bayart
Marketing Manager Chocolate
Contact your Cargill Cocoa & Chocolate representative for a personalized concept presentation or to order samples of these new sensations, and download our product sheets [add link to website] to learn more on how our new coatings and fillings will help your next tempting product stand out from the crowd.