Imparting know-how to Africa's small food processors
January 21, 2016
The following report is from Jeff Dykstra, CEO of Partners in Food Solutions and a Cargill alumnus. Partners in Food Solutions is a nonprofit organization that links the technical and business expertise of employee volunteers from partner companies Cargill, General Mills, Royal DSM and Bühler with small and growing food processors in the developing world, beginning in Africa.
These last few days I've had the unique opportunity to spend time in Kakuma, Kenya, home of the Kakuma refugee camps since the early '90s. For those who aren't familiar, the Kakuma camps are known by some as the camps that the Lost Boys from Sudan began arriving at en masse several years ago and was recently featured in the film, "A Good Lie."
The word "camp" connotes something orderly and with clear boundaries — not an accurate description of this area. Kakuma houses more than 170,000 refugees from two decades' worth of conflicts in this region, including Ethiopians, Sudanese, Congolese and Somalis.
This part of northern Kenya originally was controlled by the Turkana, a pastoralist tribe that still resides here with their multitude of cattle, camels and goats. It is hot, over 100 degrees today, with a dry wind that kicks up dust devils across the landscape. It is hard to imagine the tragedies that led people (and are still leading people) to this sanctuary. Although it is desolate, it is still a stark contrast to where they were coming from.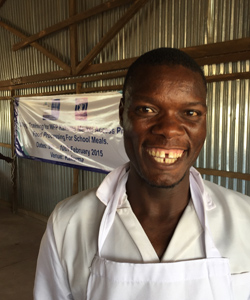 "I've learned how to do my job better – we are grateful for the support." -Thomas So why am I here?
While our partnership with USAID and TechnoServe typically works with medium-sized mills and processors, we were asked in this case by the World Food Programme (WFP) to help train several smaller mills that have the potential to supply the refugee camp with basic flour blends for WFP's school feeding program that serves 67,000 kids a day in the camps.
Like all our work, training these nascent mills has a positive ripple effect in multiple directions. Instead of importing milled grain from far away, WFP is spending less to buy local maize and sorghum, creating a market for smallholder farmers across Kenya. The milling cooperatives that have been set up are new businesses that cut across ethnic and country lines, and they are creating opportunities for sustainable livelihoods. The 20 people we've trained these last couple of days are from five different countries, but all are working together toward a common goal of building a successful business that will feed local children.
The training we've done here started with the best practices that have formed during the 100-plus years our four corporate partners have been in the food business. (In Cargill's case they are celebrating their 150th anniversary this year, and General Mills is just a bit younger.) These best practices have been distilled down to the training that our typical client receives. In this case, the training has been further refined for an audience of new millers, many of whom have never sat in a classroom or received training of any kind.
The training materials combine both words and pictures for those who can't read, and they are heavy with hands-on repetition. The training has been delivered by our expert TechnoServe staff, along with a young local miller, Dennis, from one of our Nairobi clients as a way to build his own experience and capabilities.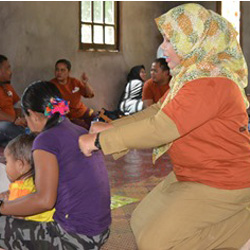 A representative from the health department in Ketapang teaches a special massage technique to stimulate the production of breast milk. What is most exciting about this training is that we have demonstrated to ourselves that we can take expertise from four leading global food companies and take it all the way down to the smallest, hardest-to-reach millers on the continent. (Other than a war zone, there is not a more challenging environment I can imagine than the one we've just successfully worked in.) These kinds of mills still represent the type of operation where a majority of African food is processed, so to be able to bring them best practices has the potential to reach millions more people with safer, more nutritious, local food.
We will be engaging with WFP to explore in the weeks and months to come how we might roll this out on a much larger scale.
This June, watch for related stories as Cargill convenes a group of emerging leaders in the food and agriculture sectors for a "learning journey" that examines Africa's food systems firsthand. In the meantime, read more about Cargill's partnership with PFS and others.