In Mexico, a different kind of harvest
Rainwater collection systems help stabilize the water supply for families, schools
April 18, 2016
Mexico City has some of the most modern amenities in the world, but it also has areas where people struggle to gain access to a basic human necessity: water.
The metropolitan area of about 20 million people is not located in a desert. In fact, it gets more rainfall than London, and is located atop a series of ancient lakes. But a combination of problems with water delivery and water quality have made it one of the thirstiest places on earth. About 70% of the city can only access running water for 12 hours a day, or less . In the most extreme cases – for about 18 percent of the population – people have to wait several days for just an hour or two of supply. Some of the hardest-hit areas, like the Santa Rosa community, are not far from Cargill's Mexico City office.
Employees like Gustavo Cannavina, managing director of Cargill's agricultural supply chain business in Mexico, have recently witnessed the problems up close while working to deliver solutions. Their effort is known as the Tláloc project, a reference to the Aztec god of the rains.
With the help of a partner organization called Isla Urbana, Cargill employees are installing rainwater collection systems in homes and schools, hoping to stabilize the water supply for hundreds of people. "Our goal is that the rains that fall upon these systems will fill millions of cisterns with clean water," said Alejandra Ruiz-Rocha, a Cargill Mexico food grains trader. Ruiz-Rocha has been helping organize trips to selected residents' homes to install the systems.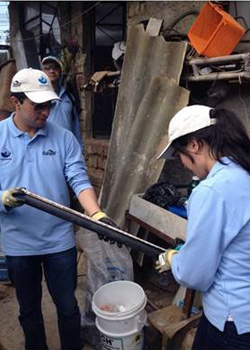 Experts from Isla Urbana are training volunteer "brigades" of Cargill employees to install the rainwater harvesting systems. So far, about 12 families have benefitted from the program. With more than $100,000 in funding being pledged from a variety of Cargill businesses, the project has the potential to help more than 100 families – and schools as well – on its first phases.
"This project really has a great potential, and can help solve an ongoing issue," Cannavina said. "Also from a sustainability standpoint, it makes an incredible contribution to the environment."
Experts from Isla Urbana are training volunteer "brigades" of Cargill employees to install the rainwater harvesting systems. Each system collects rainwater from rooftops, purifies the water, stores it and connects to indoor plumbing. This also helps prevent flooding in the city.
"We are committing to sustaining lives. It's not just giving something away," said Ruiz-Rocha.
Homeowners who apply to the program are asked to help install the systems and learn about its maintenance. They are also asked to pitch in about 1,000 Mexican pesos (about $57 USD), a fraction of the system's cost, to demonstrate their commitment to making it work. If they are unable to contribute financially, they can agree to provide a meal for the brigades of volunteers, who will spend a full day's work on the installation. The meals have provided volunteers with an opportunity to get to know the families they are working with.
"These are difficult places to work," said Cannavina, who joined one of the first installation brigades. "It really hits you very hard when you see the people who are needing these solutions. But people are incredibly grateful, and it's a very fulfilling experience."
For a business that already provides a staple to Mexican families, tortillas, this is just part of being a responsible corporate citizen. "We try to be transparent and responsible as a company, and I think this is another way we can get closer to the community," said Cannavina.
Cargill is going above and beyond with these rooftop projects by scheduling several installations over the coming months, and committing to continue to replicate the program independently. Isla Urbana is training Cargill employees so they can eventually install the systems independently, which can extend the organization's rainwater harvesting technology to communities near Cargill locations such as Tula, Poncitlán, Sinaloa and Veracruz.
"We're really excited about this," said David Vargas, the president of Isla Urbana, which is based in Mexico City. "This ongoing commitment from Cargill is a whole new level of involvement for us with our partners. And that's what we've been looking for, to help us scale up our efforts."
The rainwater collection systems being installed in homes can collectively provide around 1.6 million liters of water every year. The school installations, and related educational workshops, will help hundreds of students harvest up to 500,000 liters per year.
"Getting access to water its really changing the way families live," Ruiz-Rocha said. "And by adding didactic education for schoolchildren, we are convinced these projects will have long-term effect."
"As adoption spreads, a resource that is currently not being used, rainwater, will become an important source of water, and help the city become more sustainable and less dependent on dwindling, increasingly-contested outside sources," Cannavina said.
The Tláloc project should continue through 2017, and may seep into more permanent corporate responsibility plans.
"I feel very strongly about bringing awareness to this situation, because it is affecting the lives of many people in Mexico City. The water situation is really a big problem," Cannavina said.