New crop, brighter future - Cargill's first corn mill in India provides a market for local farmers
December 14, 2016
Above: Santosh Kumar (center) and his relatives and neighbors farm just a couple acres each in Karnataka, but they have big aspirations. A Cargill program with TechnoServe gives them know-how on best agronomic practices while also providing resources to strengthen their community.
Photos by Palani Mohan
It's early morning, and Santosh Kumar is heading to work. With his brother and some fellow farmers from their small village in India's southwestern state of Karnataka, he walks past his neighbors' houses painted bright pastels of blue, green and pink, through the brush to the fields a few hundred meters away.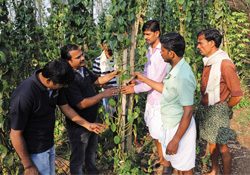 Several farmers talk with TechnoServe staff about betel vine, another important local crop. The dirt in the empty field is parched. It's May, the end of the dry season, compounded by a once-in-a-century heat wave that has hammered India in recent weeks. But in less than a month, the monsoon season will arrive, and countless farmers like Kumar across this part of the country will sow corn.
Kumar's field is a typical size, about two acres. He was recently able to pull together enough money to buy the land, rather than continuing to lease it. It's a big investment for him as he looks to start a family, having just gotten married a few weeks ago. But he will have help in growing his farm operations, thanks in part to a new training program designed by Cargill and non-profit partner TechnoServe.
Training farmers in advanced agronomic practices is one aspect of the program Cargill and TechnoServe launched last year to strengthen communities in this area. By helping them grow more high-quality crops, the program aims to raise the livelihoods of 5,000 rural farming households over four years. Members of the TechnoServe team work one-on-one with farmers in the field to help them fight disease and pests, analyze soil and maximize the usefulness of inputs.
"Before, I was copying my father's old methods. The information we're getting now is scientific, and this helps us grow more," Kumar says. "Anytime you call, TechnoServe will respond and help with your problems."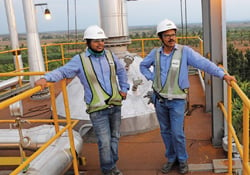 Jickson Antony and Venkatesh Bhat look out over the corn mill's innovative water recycling and treatment facility, which has zero wastewater discharge. Kumar and farmers like him throughout this region — which is known as the "corn bowl" of India — also have a new market for their corn. A few kilometers from his fields, on the outskirts of the midsized city of Davangere, Cargill recently opened a state-of-the-art corn wet mill. The facility will buy farmers' corn and mill 800 tons of it each day into a variety of products for India's expanding food, beverage and animal feed markets.
Poised for long-term growth
India may be known for its booming technology sector and rapidly growing megacities, but 60 percent of its 1.25 billion people are still employed in agriculture. Although it participates in a much lower percentage of international food trade than China, the country to which it's often compared, India is a powerhouse of domestic production and consumption. It is the world's largest producer of rice, pulses and milk, and second-largest producer of wheat, sugarcane and cotton.
Corn is less of a traditional Indian crop, yet it is gaining importance. The poultry and egg industries have taken root in the southern part of the country, partly because of rising incomes in southern urban centers that allow consumers to eat more protein, and partly because of the close proximity to corn-growing regions. About 50 percent of India's corn production goes into feed.
Although much of the food Indians eat is still prepared fresh in the home, there's a growing market for convenience foods among India's 400 million workers ages 25 to 40, many of whom live and work in big cities. These consumers want more prepared foods and beverages that use corn-based ingredients like glucose syrups, dextrose and maltodextrin powders. This includes everything from confectionery to baby formula to various beverages, a broad spectrum of products seeing annual growth ranging from 8 percent to as much as 30 percent.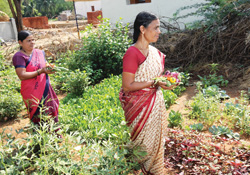 The Cargill-TechnoServe program in the villages around the plant takes a broad approach to strengthening communities. This includes support for more than 300 gardens where women grow fresh produce. Consumer brands serving this market include multinational companies, large Indian firms, and small local players that operate in limited regions, often third- and fourth-tier cities. All are looking for high-quality, food-safe, affordable ingredients.
Although Chauhan acknowledges that India is a very price-sensitive market, he also sees Cargill bringing greater transparency and competitiveness to the industry. This combination of value and reliability will be a strong value proposition.
"Because we insist on operating in an ethical manner, it will help introduce fairer commercial practices," he said.
Bringing Cargill to Karnataka
Other than safety, the most important consideration at the corn wet mill may be water. Although not subject to earthquakes or cyclones like other parts of the country, Karnataka still faces a tremendous amount of precipitation during the monsoon, so the plant was designed to quickly drain runoff from all that rain.
Meanwhile, there's the water needed for operations, for which there wasn't an immediate source available. And the state government imposed a zero-discharge rule on the facility, meaning the team had to get creative. They designed a cutting-edge water recycling system that draws water from a river 15 kilometers away, filters it so it's potable, stores as much as 10 days' worth at a time for operations, recycles it after wet milling, and discharges any extra in the grassy green zones on the grounds.
While much of the rest of the plant may look very similar to Cargill corn mills in Brazil, Turkey or China, there are some differences. Most of India's corn farmers dry their harvest in the field or the street in small batches, meaning it's full of dirt and rocks. So the plant uses a double-cleaning system to filter out this debris both when it arrives and right before processing. And the corn in India has a somewhat smaller, harder germ than in other geographies. So the team had to refit the plant's germ press, imported from China, for the local corn.
These modifications, as well as the implementation of Cargill's global standards, have given new employees ample opportunity to learn and grow their expertise. The plant also features a much higher degree of automation than what is typically found in India.
Jickson Antony started two years ago as a graduate engineer trainee after studying in nearby Bangalore, and now works in operations.
"Everything was new to me. This is good experience, working on a greenfield project," Antony said. "This is a company that respects their employees."
Teaming up
The team is working hard to develop strong ties with the surrounding community, as well.
Community relations have been especially important on the project, because Cargill is relatively unknown in the area. On this front, enlisting the expertise of global partner TechnoServe has helped lay a solid foundation.
"Our main target is to increase farmers' incomes, but this will be an approach where we uplift the community in all aspects," said Shivtej Sandhu, TechnoServe's senior manager on the project.
In addition to training farmers, the program is providing resources to local schools and preschools. So far, 20 schools have received learning materials and upgraded facilities, including water filtration systems and more sanitary washrooms.
At one school that educates more than 300 children, a sign reads: "My school, Dream school, Clean school." When TechnoServe arrived, there was no roof on the washroom buildings, no ventilation and no drinking water. Now, with the upgrades, more parents are sending their kids to the school.
Another aspect of the program focuses on women's empowerment. More than 300 kitchen gardens dot the villages around the plant, where women can grow and harvest fresh produce. TechnoServe offers them additional training in nutrition, financial literacy and entrepreneurship.
Lastly, the program provides business training for young adults ages 18 to 23 through a university certification program and on-site training to develop leadership skills and business expertise, in the hopes that many someday will start their own enterprises.
A sense of optimism
Near dusk, it's still breathtakingly hot in the villages. Because planting hasn't started yet, many of the farmers have gathered with some kids for a volleyball game. Dogs scurry around the edges of the contest, which unfolds in a lighthearted, makeshift way.
Driving from village to village, there is a sense of optimism, despite the heat and the extended dry season. Farmers riding on carts pulled by teams of oxen smile and wave as they pass.
In his father's house, where he and his new bride live alongside other family members, Kumar eats puffed rice and ground nuts seasoned with garlic and other spices, complemented with milky tea. He and his brother chat with the TechnoServe team about the current planting environment, and their goals.
Since Cargill arrived, he says, land values have appreciated. There are jobs for some at the plant. But most importantly, there is a market for the corn that's grown on the 350 or so acres surrounding the village.
"We're getting good knowledge from TechnoServe," he says. "I aim to be a model for other farmers, and for my kids someday to get a better education than I did."