Planting the seeds of hope and prosperity
Retired U.S. Army Colonel and Cargill employee Eric Ahlness shares on-the-ground experience, perspectives on agriculture and national security in Afghanistan
October 04, 2016
Photos: From the Twin Cities Public Television documentary, "Bridging War and Hope," copyright 2012
Legion of Merit. Bronze Star. Five Meritorious Service Medals, two NATO Medals, the Combat Action Badge and induction into the National Infantry Association's Order of St. Maurice. While Cargill employee Eric D. Ahlness holds all these military honors and more, those who know and work with him would be quick to call out his humility and graciousness.
With an open smile and friendly demeanor, Ahlness is perfect for his role as the North America Diversity and Business Impact Lead at Cargill, in which he leads the effort to foster an inclusive environment that raises the engagement and increases the diversity of 55,000 employees across a variety of businesses.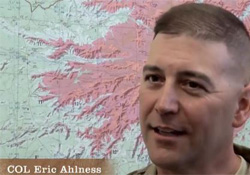 Eric Ahlness, a retired Colonel of the U.S. Army, brings an exceptional breadth of experience in human relationships and management services to his work at Cargill.Energetic and tenacious, Ahlness, a retired Colonel of the U.S. Army, brings an exceptional breadth of experience in human relationships and management services to his work at Cargill, which began in early 2014. Much of that experience is rooted in his wide variety of leadership roles in the military, including the U.S. Army and the Minnesota National Guard.
One of those military experiences, in particular, has a strong correlation to his current employer's commitment to feeding the world in a responsible way.
From October 2011 to September 2012, Ahlness was deployed to Zabul, Afghanistan, where he commanded a 58-member Minnesota Agribusiness Development Team focused on engaging the largely rural population to increase farmer prosperity and ultimately, greater security. This team stemmed from the National Guard's Agribusiness Development Team (ADT), first implemented in 2008.
As Ahlness explained in a July 2016 testimony to the Full Committee of the U.S. House Agriculture Committee: "Agriculture and National Security – On-the-Ground Experiences of Former Military Leaders" in Washington, D.C., "Zabul is northeast of Kandahar and is a high desert plateau bisected by the Tarnak River. Zabul is very rural, very poor, illiterate and very traditional. Local villages lack access to government agricultural services and knowledge of good agricultural practices."
Changing lives by building trust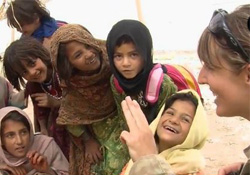 According to Cargill's Eric Ahlness, the ADT strategy was a success because it took the approach that the seeds of conflict can be prevented by planting seeds of hope and prosperity. Here, village children interact with U.S. Army Captain Jenna Carlson.Ahlness's ADT had three main missions, the first of which was to increase crop production and improve farmer livelihoods. Second was to build government agricultural extension capacity at the provincial level; and third was to improve market access for farmers. To accomplish these missions, the ADT worked with the U.S. Embassy platform in Kandahar and held regular meetings with the U.S. Department of Agriculture in Kabul.
"The ADT gained the trust and access where others faced stoic or armed resistance," said Ahlness. "Arghandab is a remote, rural district in Zabul province. The villagers are conservative members of the Pashto tribe. Our military had tried to extend governance in this remote area, but locals resisted, not seeing the benefit against probable Taliban retributions."
When they were offered veterinary services and farmer training from the ADT, however, the elders of the community rapidly accepted the invitation. Subsequently, veterinarians and agronomists flew to Arghandab to provide livestock inoculations and training to the local people.
"This mission facilitated an opening of doors that were previously closed to us and our partners," said Ahlness.
"To be successful in building relationships with [the local people], you have to see who is the right person to talk to," said Mark Ritchie, former Minnesota Secretary of State and founder of the Institute for Agriculture and Trade Policy, in a documentary of Ahless's team's deployment produced by Minnesota Public Television. "It's an oral society and…farmers, they are talking with each other, they are influenced by each other, they are telling stories."
Another successful program trained widows to operate an egg business by providing them with five hens, feed, and training to run a business, which generated both food and income for their families. According to Ahlness, a graduate of that program went on to have 62 hens and earn $6.75 per day, which is almost $3 more than the average day-worker makes in Zabul.
"This is a prime example that a small investment can create a sustainable, value-based growth business that is scalable and repeatable," he said.
In addition, the ADT helped increase crop production by using bees to pollinate crops more effectively. Numerous efforts to introduce European bees had failed as the bees fell prey to wasps, were vulnerable to mites, and had a difficult time foraging on the local fauna. The hives collapsed as a result. The ADT reintroduced Asian bees in the province for non-commercial pollination, which increased local crop yields.
"The positive results prompted broader use of Asian bees and our partners in the USDA spread the technique to other provinces," said Ahlness.
Inspiring local leaders
Ahlness was delighted to make special note of a particular piece of work that was Afghan inspired and led – the development of a provincial chapter of the Afghan Chamber of Commerce. This cooperative brought together 270 traders and business leaders to set business priorities and goals for the province.
"This signaled the successful transition from U.S. leading to Afghan inspired leadership and the strengthening of the agricultural value chains in the province," he said. "This initiative supported efforts to reduce post-harvest loss by converting excess shipping containers for grain storage in remote areas and to create a greater Kandahar trade zone where high value goods, such as pomegranates, were exported to the Mideast."
Collaboration the key to success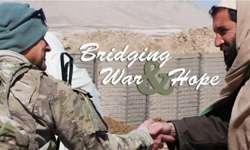 "Bridging War and Hope" is a documentary, produced by TPT MN, about the ADT's work on the ground in Afghanistan.According to Ahlness, the ADT strategy was a success because it took the approach that the seeds of conflict can be prevented by planting seeds of hope and prosperity. "It took the ADT at the point of the spear, virtually all my soldiers qualified for combat badges; it took inter-agency partners to array the many aspects of power, knowledge and influence; and Afghans willing to risk their lives to implement the programs," he said.
This collaboration led to an outcome in which farmers were empowered with knowledge, local agricultural extension capabilities were enhanced, and infrastructure developed so local people could own a sustainable approach to rural development.
To see the ADT's work on the ground in Afghanistan, be sure to watch the documentary about their deployment, titled "Bridging War and Hope," in the video section of TPT (Twin Cities PBS) web site, featuring interviews with Ahlness and others.
Coming to Cargill has been an extension of his military mission in several ways, reflects Ahlness. "The Cargill Guiding Principles align with the Army values, and the mission of nourishing the world dovetails perfectly with the agri-business mission in Afghanistan," he said. "It is great being part of an organization committed to such a noble mission. In Afghanistan, we helped villagers realize greater food security and prosperity by addressing their needs through their cultural lens. At Cargill, I'm helping the company leverage the strength of diversity by recognizing the power of inclusion and creating an environment where all feel safe and can fully contribute to the success of Cargill."