Using salt to fight disease in Haiti
February 18, 2015
How would it feel if you could use your professional skills and expertise to make a tangible impact fighting a devastating disease?
A group of Cargill employees and retirees found out last month, as a project in Haiti that some of them have been pursuing for more than two years came to fruition. Working in partnership with the Notre Dame Haiti Program (NDHP), they helped get a new salt processing plant up and running near the nation's capital, Port-au-Prince. The facility produces salt that is fortified to protect Haitians who consume it from two different diseases.
Both lymphatic filariasis (LF) and iodine deficiency disorder are serious health issues in the country. LF is a particularly devastating disease, spread by mosquitoes and causing severe deformities if left untreated. It's estimated to afflict 120 million people in 80 countries. In some areas of Haiti, as much as half the local population suffers from it, according to NDHP. But it's easily conquered if patients can get the right treatment. Iodine deficiency disorder also leads to its share of misfortunes, including developmental disabilities in children.
A few years ago, a newly retired Cargill Salt executive named Jim Reimer, in conjunction with NDHP's founder, Rev. Thomas Streit, C.S.C., explored Rev. Streit's idea to use salt to treat both diseases, because it's part of everyone's diet. Jim has labored to make this plan a reality ever since, including developing a business model so the treated salt operation, a non-profit, can be financially self-sustaining.
Doing so required help from a network of other Cargill people who, as it turned out, were happy to contribute their know-how to combat these illnesses.
Calling all experts
Very few people in the world know as much about solar salt as Keith Long. Retiring in 2008 after a 37-year engineering career with Cargill, including 25 years in the company's salt business, the man is an expert on solar salt production and processing.
So as Jim was looking to get the facility up and running, it made sense to turn to Keith, who has continued working with Cargill on a contract basis since his retirement. Keith put his engineering skills to work to help design the plant's operations.
"Anybody that goes to Haiti comes away affected by the situation there," Keith said. "Everybody working on this project is doing so with the understanding that this is something that's bigger than all of us. It's a good way to serve."
With the plant design underway, there was also the question of where the salt itself would come from.
Cargill has a solar salt operation in Bonaire, another island in the Caribbean a few hundred miles south of Haiti. The company agreed to ship about 1,500 tons of salt from Bonaire just about at cost. The Bonaire salt will be blended with locally produced Haitian salt at the new facility, processed, fortified, and packaged under the Bon Sel Dayiti™ brand for consumption in Haitian households.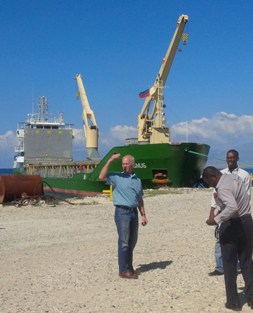 A shipment of salt arriving from Bonaire. The Cargill team at Bonaire contributed their expertise in loading a vessel, working out the logistics of the shipment, and making sure the paperwork was all in order for the salt to clear customs when it arrived.
"Everybody who works at the Bonaire plant is proud to be part of such a noble effort. We all understand the value of what this brings to the people of Haiti," said Gary Rimmey, plant manager at Bonaire.
A chance to serve
The newly christened facility is owned and operated by the Haitian branch of the Congregation of the Holy Cross, the same Catholic order that founded University of Notre Dame. On hand for the ceremony were representatives from Haiti's government agencies for nutrition and public health, as well as the country's First Lady, Madame Sophia Martelly.
"I was immensely grateful for the hard work and contributions by many dedicated people and organizations that made the day possible," Jim said. "I was even more grateful for answered prayers that 'moved mountains' for us along the way."
Those who answered Jim's call for help also felt gratitude at the chance to be involved.
"Like any engineer, you spend two years designing something, and now all of a sudden we have a full-blown plant opening. It's exciting," said Keith, who couldn't be at the dedication but had just been there the week before to finish electrical work in the plant.
Cargill has contributed $150,000 to NDHP over the last three years.
"NDHP is a very professional organization, and they are also deeply connected to the local communities in Haiti. So we believe the impact of their project will be huge, and we are glad to partner with them," said Jorge Nunez and John Loosbrock, liaisons from Cargill's salt business to NDHP, who were on hand for the ceremony.
NDHP hopes to eliminate LF and achieve universal salt iodization in Haiti by 2020. Ambitious goals, to be sure, but the new processing facility is a big step toward realizing them.