¡Viva México!
August 26, 2015
Did you know that centuries ago, some of the world's most renowned astronomers in history, the Mayans, lived and observed the celestial wonders in Mexico? Had this group of great minds been able to see far into the future, they'd have found a celebration worthy of the stars in El Salto, Jalisco, in 2015.
On August 11, the energy at Cargill's animal nutrition premix plant in El Salto was palpable. Dozens of Cargill employees and guests – including customers, farmers, members of civil society organizations and research centers – had the opportunity to meet Mexican President Enrique Peña Nieto, who attended the event commemorating Cargill's 150th anniversary, its 50th year of operations in Mexico, and a $5 million expansion of the El Salto facility.
President Peña Nieto, who was joined by a number of other key officials – including the Governor of Jalisco, the Secretaries of Agriculture, Economy, Foreign Affairs, and Agrarian, Territorial and Urban Development, and the President of the National Agricultural Council – mingled and shook hands with the crowd before being officially welcomed by Cargill's President and CEO, Dave MacLennan.
"The first 50 years of our history in Mexico have been astonishing – 50 years in which we've learned from the great Mexican people about the passion and commitment with which you do business," said MacLennan "Today, we participate in several different food supply chains. In the future, we want to grow our presence in food and agriculture supply chains in Mexico."
That growth comprises a $7.2 billion business plan for Mexico from 2015-2018, which includes $4.5 billion for the purchase of domestic crops; $1.5 billion of working capital invested in agriculture; and $1.1 billion to help finance farmers.
"Today we recognize Cargill's confidence in Mexico – not only its presence over the past 50 years but its three-year growth plan that includes more than $7 billion of investment," said President Enrique Peña Nieto. "I wish Cargill will keep on being a successful company that contributes to open opportunities and individual development for more and more Mexicans."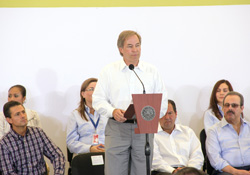 "Mexico is a great commercial partner. We are very confident about the future as a result of the reforms you put forward, and the business plans we announced today prove just that," said Cargill President and CEO David MacLennan. According to the World Economic Forum, Mexico has a $1.26 trillion economy, making it the 15th largest economy in the world, and the 11th taking into account power purchasing parity. In a story titled, "Top 10 things to know about the Mexican economy," the WEC's senior media manager Peter Vanham calls the country "a so-called 'middle power': falling just short of being a G7 economy, it is nevertheless an economic power to be reckoned with."
"Mexico is a great commercial partner. We are very confident about the future as a result of the reforms you put forward, and the business plans we announced today prove just that," said MacLennan. "As we look to Cargill's next 50 years in Mexico, we have confidence in a bright future ahead."
Food security for Mexico and the world
At the event, MacLennan recognized the work Mexico's government has done to increase access to education, healthcare, housing, feed and other components aimed at eradicating hunger and improving the quality of life for those living in extreme poverty.
"We also believe that Mexico can play a larger role in feeding the world, by making the most of its comparative advantages in agriculture and its hard-working farmers, which give it a unique competitive position," he said.
To support that ambition, Cargill joined the International Center for Improvement of Maize and Wheat in announcing the Cargill-CIMMYT Food Security and Sustainability Award.
The award will recognize efforts that Mexican researchers and producers are undertaking to address important issues facing Mexico. This year marks the first edition of the prize, with $25,000 in awards to be divided in three categories for producers, scientists and opinion leaders.
If those ancient Mayan astronomers could have been there to experience the constellation of ideas shared and commitments celebrated in El Salto that day, we're sure they'd give it a shooting star of approval. Watch the video to experience a bit of the event yourself.