Cocoa Farmer & Community Livelihoods
Making a real and lasting difference to the lives of cocoa farmers and their communities
Improving livelihoods is at the very heart of our programs. And by focusing on raising living standards, increasing incomes, and strengthening communities through better access to education and healthcare, we are not only putting the needs of farmers first but demonstrating the impact we make for all our partners.
Farmer livelihoods
Our Farmer Field Schools has shared best practices with over 90,000 farmers in 2015 to enable them to adopt better, more sustainable farming practices that are improving the quality and yields of their crop. We are also educating them about how and when to use inputs to maximize productivity and minimize costs and risks.
We take a sequential four-step approach to helping farmers thrive, partnering with farmer organizations and external organizations, where necessary, to achieve the best outcomes.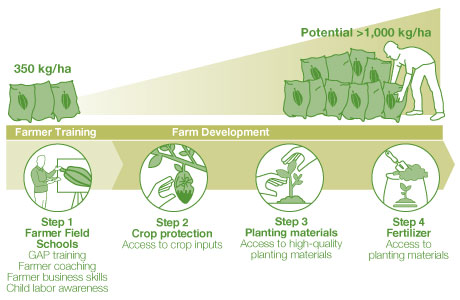 It is an approach that works
Training comes first, as it allows farmers to see how much they can achieve.
Crop protection, and the opportunity to assess its impact, is next.
Depending on age and productivity of their trees, the next logical step is for farmers to plant more robust, productive varieties of cocoa seedlings.
Fertilizer rounds off the sequence – land and farmer can now be "fertilizer ready" as farmers assess whether or not its use is necessary and effective.
Our ambition is that almost all the farmers with whom we work will go through the relevant stages of this program by 2020, then use the skills learned in training at our Farmer Field Schools, along with the right agricultural resources, to run their farms as successful businesses.
Community livelihoods
To reach their full potential, farms need to be part of a thriving community.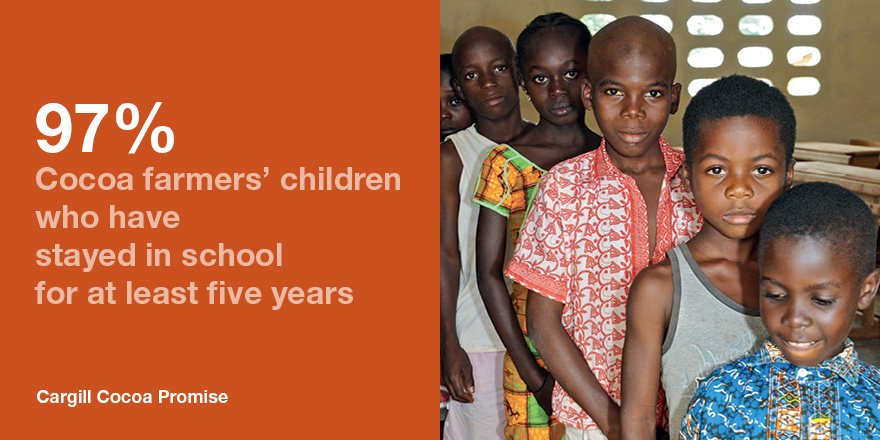 By taking part in the Cargill Cocoa Promise, communities will acquire better social services related to education, health, and nutrition. Community members will unite to protect children from child labor and to empower women.
Young adults who have completed a period of continuous education are more likely to stay in prospering communities and become the farmers of tomorrow. Empowering women to become income generators is pivotal in triggering better education and nutrition.
Our work focuses on women's empowerment, children's protection, and nutrition. We have trained 90,000 farmers to understand the worst forms of child labor through our Farmer Field Schools, put in place 145 Community Action Plans to deliver the support communities have defined they need (read about them here), and have helped 4,000 people to benefit from finance through Village Savings and Loan Associations.