Cocoa Farmer Organizations
Empowering farmer organizations through long-term partnerships that help them do more for cocoa farmers
Some of our most essential partnerships are with farmer organizations.
Farmer organizations make vital contributions to the present and future prosperity of farmers and their communities. We engage directly with over 160 farmer cooperatives in West Africa, improving farmers' access to markets and helping them receive a fair income from their crops and to ride-out any ups and downs in cocoa prices from year to year.
We want these organizations to become successful businesses in their own right – run by empowered men and women. We will know we have achieved this when farmer organizations are ready to run their businesses and support their communities independently, with minimal or no support from us.
Why farmer organizations are important
We are a global cocoa and chocolate business that sources from more than 400,000 farmers, around 99% of them smallholders.
Commercially and logistically, our relationships with farmer organizations are essential. Farmer organizations can make sure farmers get what they need to farm more profitably, productively and sustainably – whether through training, access to finance or the payments they secure for farmers through sustainable cocoa certification schemes – and contribute financially to community development projects. Beyond supporting farmers and their communities, they also help us to create a sustainable business mindset in our supply chain.
Farmer organizations' contribution to the Cargill Cocoa Promise is incalculable.
Working with organizations across the world
Côte d'Ivoire: we work with 101 farmer organizations
Cameroon: we work with 60 farmer organizations and are introducing our Coop Academy program – a first of its kind program which combines 28 days of intensive classroom training with a year of personalized on-the-ground coaching – to a number of farmer cooperatives
Ghana: there a few cooperatives in Ghana; more are needed and we are involved in establishing new ones
Indonesia: there are no farmer organizations, our challenge is to empower farmers to become more organized or to find ways to reach them individually. In 2014, working with our partner Swisscontact, we established 80 new Cocoa Producers Groups (CPG), groups of around 25-30 farmers through which we can facilitate training.
Professionalizing farmer organizations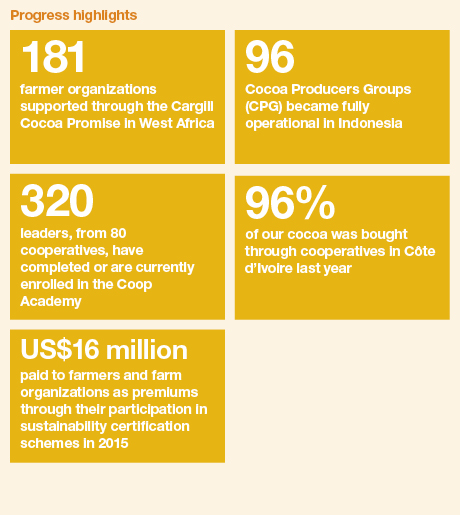 Our objective is to improve the competitiveness and long-term sustainability of the farmer organizations involved in our programs.
Working with Scope Insight, Technoserve, IFC and farmer organizations, we have assessed the professionalism and management maturity of a number of farmer organizations participating in the Cargill Cocoa Promise. This has confirmed that most run their general operations well and are continuously improving their financial management processes.
Making farmer organizations more diverse and inclusive
The limited participation of women and young adults in farmer organizations restricts their ability to play a bigger role on farms or in local communities as income generators, organizers and leaders. It also deprives farmer organizations of a wealth of untapped talent. Attracting young adults to cocoa farming is vital to ensure a reliable supply of cocoa for future generations.
We have introduced a diversity module into our Coop Academy program and are working with the World Cocoa Foundation to bring productivity training to 1,000 women and 7,000 of their family members in Côte d'Ivoire.