Cocoa Challenges
Understanding the challenges to a thriving cocoa industry
Cocoa is in greater demand than ever, but also faces some big challenges. It can be difficult to grow well, and as a consequence, farmers often need support to make their farm more productive and profitable, and so improve their livelihoods. Cocoa is also under increasing scrutiny from manufacturers, retailers and consumers, from tree crop to end product.
We work hard to understand the trends and challenges that affect cocoa – how they influence each other and what role we can play in addressing them.
We need to identify and focus on the challenges and trends that matter most now, as well as anticipate future issues, if we are to continue to deliver for farmers, their communities and our customers over the long term.
The global issues that affect cocoa can also have profound local impacts. Our challenge is to help farmers and communities address them successfully across the five major origin countries where we operate to ensure that cocoa remains a crop of choice.
Making farming attractive for future generations
The world needs more young people to become farmers if we are to feed future generations. In some of the countries where we operate the average age of a cocoa farmer is around 46 years, with median life expectancy often no higher than the low fifties. Cocoa farming needs to be an attractive and financially viable option for young people who may be exploring other opportunities, often migrating from the countryside to the city.
Under-resourced cocoa farmers
Many cocoa farmers rely on ageing, unproductive cocoa trees, often without suitable inputs, finance, and skills. However, it is important not just to give farmers better resources, but also the training and coaching to ensure they make the best use of them.
Increasing competition for natural resources
As the global population edges upwards, competition for food, water, energy, and agricultural land is likely to get more intense. Farmers may turn to crops that are less resource intensive to grow than cocoa.
Changes in global supply and demand
The number of middle-class consumers who buy chocolate is increasing, particularly in Asia and Africa. However, overall growth in demand has slowed as a result of the high price of cocoa beans and the economic downturn.
Despite this, the cocoa growing sector has struggled to increase supply to meet demand. As natural resources are increasingly limited, simply increasing acreage to grow more is not a sustainable and viable solution.
Africa rising
The UN predicts that half of the increase in global population up to 2050 is likely to be in Africa. African manufacturing and service economies have also grown rapidly over the past decade, largely because of increasing demand for commodities. However, there is a risk that growth will slow if global demand for African commodities falls. This, together with the rise in rural to urban migration across the African continent, could result in declining numbers of cocoa farmers.
Climate change
Climate change affects future food security. We may need to redefine the cocoa-growing map as the median temperature increases and more erratic rainfall patterns make it impossible to continue growing in some locations.
Deforestation
Forests provide livelihoods for around one billion people worldwide and play a key role in supporting agriculture by preserving biodiversity and regulating local rainfall patterns. When they are cut down, carbon dioxide is released into the environment – a contributing factor to climate change.

Cocoa Promise Report Downloads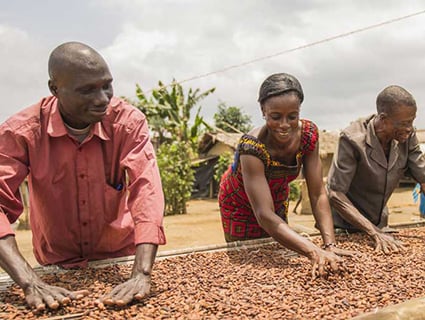 Choose the full report, the quick read, or the section that interests you most
More