Understanding Cocoa Productivity
Improving farm productivity through improving livelihoods
As the world's appetite for cocoa increases, we want to support farmers to grow cocoa sustainably and to enable them to earn a decent income. We believe that improving the livelihoods of cocoa farmers and their communities is the best way to improve farm productivity.
This thinking forms the background for the evolution of the Cargill Cocoa Promise.
Seeing the world through cocoa farmers' eyes
Understanding how cocoa farmers see the world strengthens our thinking about how best to support profitable farming in cocoa-growing countries.
Cocoa farmers' primary concern is to have the best livelihoods they can – to achieve a decent income so they can eat well, pay their children's school fees, and live in a house and community with improving amenities.
Our support for farmer organizations - which are the starting point for interventions in farmer training, farm development and community support - is a key part of our approach to improving livelihoods.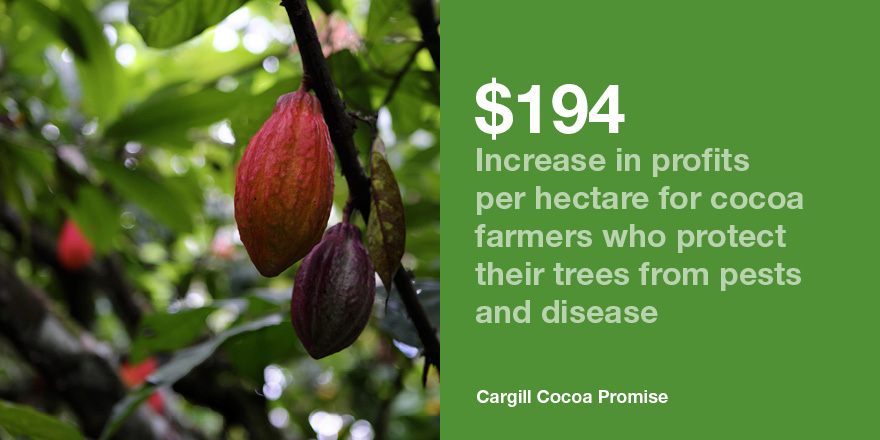 To help professionalize these organizations, so that they can do more, more efficiently, we encourage them to participate in the Cargill Coop Academy. This combines 28 days of intensive classroom training with a year of personalized on-the-ground coaching. Three hundred and twenty leaders from 80 cooperatives have completed or are enrolled in the Coop Academy
Taking a holistic approach to cocoa productivity
Increasing profitability is a more complex challenge than improving farmers' yields. We have learned that a structured, sequential transition program enables farmers to make their farms more profitable and productive.
Our farmer training educates farmers on how and when to use inputs to maximize productivity and minimize costs and risks. For example, fertilizer, when used correctly, can increase yields quite rapidly. But it is expensive, so farmers need a drastic increase in yield to pay back their investment. Our training has helped farmers to increase their yields by 56%, by using fertilizer correctly.
Our ambition is to enable cocoa farmers to improve their livelihoods by running their farms as businesses, delivering bigger yields over time in a sustainable way.
Achieving a living income
The World Bank has defined an international poverty line, the absolute minimum to lift a person out of poverty, as US$2 a day. We refer to the World Bank's definition to help us define a living income for cocoa smallholder farmers, although it may not be exact.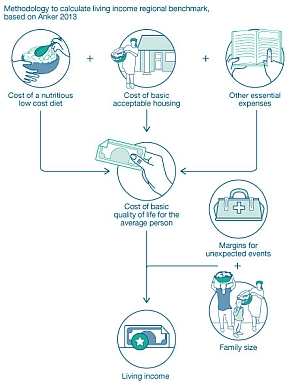 We define living income for farmers by adding up the expenses they incur to achieve a decent livelihood in their local area. We then assume that farmers must achieve this level of income as an absolute minimum and ideally, a higher amount. We also consider what we know about the circumstances of the cocoa farmers with whom we work.
Cargill is participating in a working group with a remit to deepen the discussion on living income and contribute to further development of the concept for cocoa.