Cargill invests in Mouscron facility to meet customer demand for Belgian chocolate
Site adds €12 million to €35 million investment from 2014"
(Mouscron, Belgium) 19 June 2018 – With the rapid rise in consumer demand for premium, high quality Belgian chocolate, Cargill has invested in a new liquid chocolate production line in its Mouscron production facility in Belgium. This investment increases the company's capacity to produce milk and dark chocolate and creates up to 10 new local jobs.
Liquid chocolate investment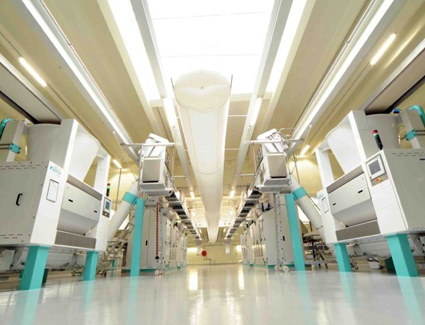 Cargill's cocoa and chocolate business will open the world-class production line in the last quarter of 2018. With an investment of €12 million ($14 million), the company will be able to further enhance and expand its chocolate capabilities. The investment is a response to growing customer demand for high quality chocolates tailor-made to individual customer specifications, demonstrating Cargill's continued commitment to providing its customers with a secure and broad supply of bespoke cocoa and chocolate products.
Demand for quality, Belgian chocolate
The new production line, along with the company's deep chocolate knowledge, extensive food experience and R&D proficiency, will help food manufacturers innovate in a market characterized by rapidly changing consumer preferences and expectations. Inge Demeyere, managing director for Cargill's chocolates and compound activities in Europe, said: "Indulgence is a key driver of the demand for premium chocolate. With the new production line, we will be able to better meet Belgium's chocolate needs – and offer more quality Belgian chocolate to customers in other global markets who want to benefit from the country's world-class reputation. At Cargill, we are fully committed to our long-term growth in the Belgian chocolate market."
Belgium, a strategic market
Cargill currently employs approximately 150 people in production and related services in Mouscron. Belgium has been a focal point of Cargill's cocoa and chocolate business for many years thanks to the country's iconic chocolate production tradition combined with a strong focus on safety and product integrity. The Mouscron facility processes dark and milk chocolate in liquid and solid form for manufacturers active in confectionery, biscuits, bakery, ice-cream and artisanal applications. The company has another chocolate site in Belgium, Antwerp, producing liquid and solid chocolate.

Media Contact: [email protected]
---
About Cargill
Cargill helps the world's food system work for you. We connect farmers with markets, customers with ingredients and families with daily essentials—from the foods they eat to the floors they walk on. Our 160,000 team members around the world innovate with purpose, empowering our partners and communities as we work to nourish the world in a safe, responsible, sustainable way.
From feed that reduces methane emissions to waste-based renewable fuels, the possibilities are boundless. But our values remain the same. We put people first. We reach higher. We do the right thing. It's how we've met the needs of the people we call neighbors and the planet we call home for 157 years—and how we'll do so for generations to come. For more information, visit Cargill.com and our News Center.
Cargill in Belgium
Cargill was established in Belgium via a grain importing office in Antwerp in 1953. We now have over 1,300 employees in eight locations: Antwerp (three locations), Izegem, Ghent, Herent, Vilvoorde, Mechelen and Mouscron. Cargill's activities in Belgium include the production of food ingredients and the processing, distribution and trading of a variety of grains and oilseeds. Both Cargill's European headquarters for its food businesses and Cargill's European R&D Centre, are located in Belgium.
About Cargill's global cocoa and chocolate business
Cargill's cocoa and chocolate business offers the food industry a wide range of both standard and customized cocoa and chocolate ingredients for use in delicious bakery, confectionery and dairy applications all over the world. The company's product range includes high quality Gerkens® cocoa powders, chocolate, coatings, fillings, cocoa liquors and cocoa butters. With years of experience in technical food expertise Cargill supports its customers in new recipes and new product development.
Cargill's processing plants in Belgium, Brazil, Canada, Côte d'Ivoire, France, Germany, Ghana, Indonesia, the Netherlands, UK and the USA are in full compliance with the highest food safety standards.
To secure a good quality and sustainable supply of cocoa beans, Cargill has its own cocoa bean sourcing operations for buying, handling and exporting of cocoa beans in Brazil, Cameroon, Côte d'Ivoire, Ghana and Indonesia. Presence in all the leading producing countries allows Cargill to oversee the supply chain from beans at origin to cocoa and chocolate products on its customers' doorsteps. In addition, extensive market research and analysis proves to be a source of valuable information to customers.
More information is available at www.cargillcocoachocolate.com/