Cargill-supported National School Meals Programme establish better nutrition in primary schools
World Food Programme (WFP) releases survey with shows that nutrition and hygiene have improved at schools under the programme
Jakarta, Indonesia, 5 June 2018 – A joint nutrition programme by Cargill and World Food Programme (WFP) – National School Meals Programme – is showing very positive results in helping primary school students in Indonesia improve their nutrition and hygiene. Since the beginning of the programme in May 2017, 76,000 meals have been distributed across three districts. The programme is in support of the Program Gizi Anak Sekolah (PROGAS) which is a wider initiative from the Ministry of Education and Culture Ministry Republic of Indonesia.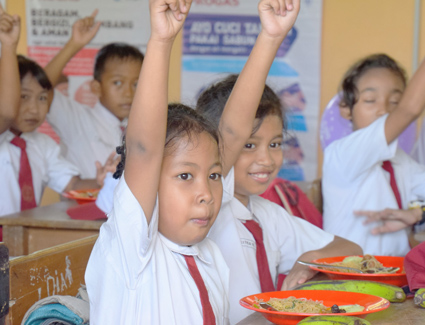 "The support from Cargill and WFP to the Ministry of Education and Culture in the implementation of the national school meals programme is intended to help less privileged students across the country to enjoy a healthy meal and learn about nutrition and hygiene, as well as to provide economic opportunity for local farmers," said Arief Susanto, Corporate Affairs Director Cargill Indonesia. " We are proud to support this programme, particularly in the areas with highest stunting rates and locations where Cargill operates."
The survey compared students at the beginning of the programme and at the end of the national school meals programme in 2017 (at Cargill school), concluded:
The percentage of students who eat breakfast more frequently increased to 47.7 percent from 24,7 percent
The percentage of students who demonstrated knowledge of nutrition improved to 87.63 percent from 81.6 percent;
The percentage of students who wash their hands before and after meals, as well as after using the toilet increased to 95.4 percent from 93.2 percent;
The percentage of students who drink boiled water at school increased to 35.4 percent from 15.1 percent;
Students reported falling sick less frequently with fever decreased to 13.8 percent from 32.9 percent, flu decreased to 7.7 percent from 35.6 percent and cough decreased to 16.9 percent from 27.4 percent and diarrhoea decreased to 9.2 percent from 11 percent.
"I am very pleased for Belu district to be selected for the implementation of the national school meals programme. Thanks to Cargill, we are able to support the primary school children to grow healthy, smart and resilient," said Willybrodus Lay, the Head of Belu district.
"This successful partnership will hopefully help to inspire other private sector companies who are interested to support schools in Belu district," added Willybrodus Lay.
The National School Meals Programme benefit students and provide income opportunities for the local communities through community participation approach. Local communities commended the National School Meals Programme for effectively targeting students from low-income households to gain access to nutritious food. Meanwhile, parents also expressed that the training sessions allowed them to increase their knowledge on healthy menus and safe preparation of food.
Cargill-WFP partnership also allows WFP to provide capacity strengthening support for the Ministry of Education and Culture and the district education officials to implement the programme . This support includes providing a range of training sessions on nutrition, health and hygiene, monitoring of the programme implementation, as well as distribution of information education materials for head teachers, teachers and primary school students.

"Cargill and WFP are helping more than 100,000 students across Indonesia enjoy nutritious meals at school. By supporting the Ministry of Education and Culture's Program Gizi Anak Sekolah, we're helping students grow smarter, stronger and more successful," said Anthea Webb, WFP Indonesia Representative and Country Director.
Cargill has been working with WFP to support home grown school meals in 62 countries over the last 12 years. From 2017 to 2018 this programme focuses on three different countries: Indonesia, Honduras and Kenya. This effort is aimed at strengtening best practices for food and nutrition programmes through increasing the capacity of local actors at the national and sub-national levels to design and implement home grown school meals programme for primary school children. The ingredients for these home grown meals were sourced from the local smallholder farmers which helped build a sustainable supply chain for these meals thus improving family incomes for the local farming households.
Media Contact: [email protected]
---
About Cargill
Cargill helps the world's food system work for you. We connect farmers with markets, customers with ingredients and families with daily essentials—from the foods they eat to the floors they walk on. Our 160,000 team members around the world innovate with purpose, empowering our partners and communities as we work to nourish the world in a safe, responsible, sustainable way.
From feed that reduces methane emissions to waste-based renewable fuels, the possibilities are boundless. But our values remain the same. We put people first. We reach higher. We do the right thing. It's how we've met the needs of the people we call neighbors and the planet we call home for 157 years—and how we'll do so for generations to come. For more information, visit Cargill.com and our News Center.
About Cargill in Indonesia
Cargill began doing business in Indonesia in 1974 by establishing a feed mill in Bogor, West Java. Today, Cargill is headquartered in Jakarta and has more than 19,000 employees. We have 59 locations with offices, manufacturing plants and facilities throughout the country and business activities comprise animal nutrition, cocoa, copra, seaweed, processed food exporting, grain and oilseeds, palm oil, as well as starches and sweeteners. For further information, please visit http://www.cargill.co.id.