Cargill strengthens gourmet chocolate offerings with 3.5 million-euro investment
Expansion in Belgian Kalmthout site to further improve flexibility and time to market
(Belgium) June 17, 2020 —Cargill has invested 3.5 million Euro in its site in Kalmthout (Belgium) to increase its capabilities for producing gourmet chocolate. The investment adds a fifth gourmet production line and new chocolate tanks within the existing facility, providing greater flexibility in production as well as adding 12 new jobs locally.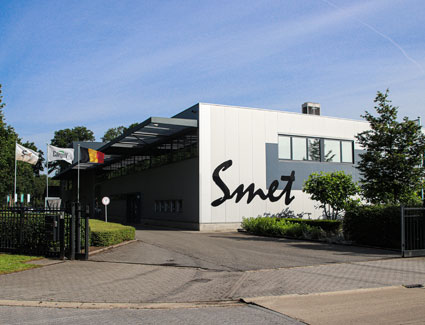 "This investment strengthens the extended gourmet chocolate offerings that we acquired with Cargill's purchase of Smet in 2019," says Inge Demeyere, Managing Director of Cargill's chocolate activities in Europe. "With the complementary offering of Veliche™ gourmet couvertures and Smet decorations, we are able to provide additional choice and meet increased demand in the gourmet segment, including our industrial customers."

The investment provides access to enhanced innovation capabilities and an extended customer network. The new chocolate tanks will also allow for improved dedicated storage and dedicated piping to provide full flexibility to customer requirements.
"With Smet, a leading Belgium-based supplier of chocolate and sweets decoration, we have worked hard to uphold our customer's trust, ensuring deep customer intimacy and high speed-to-market with new decoration technology, enhanced production capabilities and a wide-ranging product portfolio," Demeyere continues.
The expansion is set to be complete by the end of 2020.
Media Contact: [email protected]
---
About Cargill
Cargill helps the world's food system work for you. We connect farmers with markets, customers with ingredients and families with daily essentials—from the foods they eat to the floors they walk on. Our 160,000-plus team members around the world innovate with purpose, empowering our partners and communities as we work to nourish the world in a safe, responsible, sustainable way.
From feed that reduces methane emissions to waste-based renewable fuels, the possibilities are boundless. But our values remain the same. We put people first. We reach higher. We do the right thing. It's how we've met the needs of the people we call neighbors and the planet we call home for 158 years—and how we'll do so for generations to come. For more information, visit Cargill.com and our News Center.
About Cargill's global cocoa and chocolate business
Cargill's cocoa and chocolate business offers the food industry a wide range of both standard and customized cocoa and chocolate ingredients for use in delicious bakery, confectionery and dairy applications all over the world. The company's product range includes high quality Gerkens® cocoa powders, chocolate, coatings, fillings, cocoa liquors and cocoa butters. With years of experience in technical food expertise Cargill supports its customers in new recipes and new product development.
Cargill's processing plants in Belgium, Brazil, Canada, Côte d'Ivoire, France, Germany, Ghana, Indonesia, the Netherlands, UK and the USA are in full compliance with the highest food safety standards.
To secure a good quality and sustainable supply of cocoa beans, Cargill has its own cocoa bean sourcing operations for buying, handling and exporting of cocoa beans in Brazil, Cameroon, Côte d'Ivoire, Ghana and Indonesia. Presence in all the leading producing countries allows Cargill to oversee the supply chain from beans at origin to cocoa and chocolate products on its customers' doorsteps. In addition, extensive market research and analysis proves to be a source of valuable information to customers.
More information is available at www.cargillcocoachocolate.com/