Cargill, CARE, partners lead the replanting of 100,000 coconuts in typhoon-affected Bohol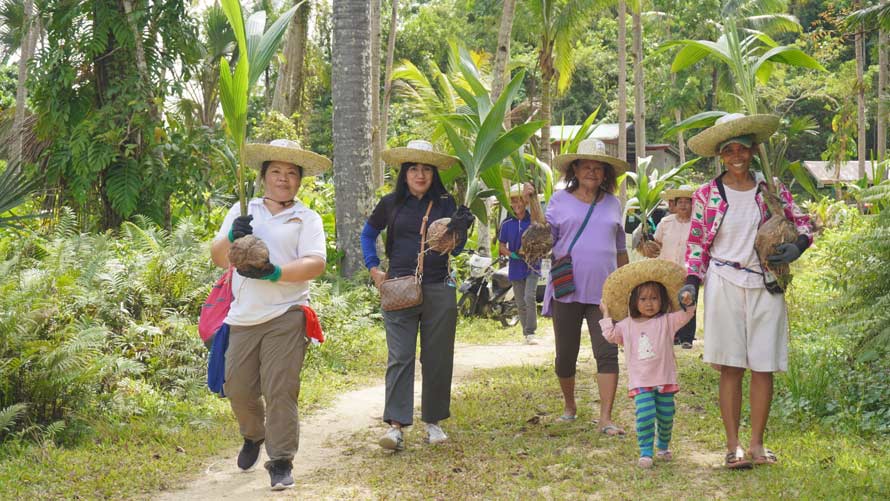 Cargill is taking bold steps in leading the coconut-planting community in Bohol to rehabilitate their typhoon-damaged farms, rebuild their livelihoods and ensure good future for their children.
MANILA, PHILIPPINES (March 16, 2023) – With the goal to replant 100,000 coconut seedlings in Bohol, Cargill, CARE Philippines and local partners kick off the RISE Coco (Recovery Intervention for Severely Affected Coconut Farming Communities of Bohol by Super Typhoon Odette) project with a commemorative tree-planting ceremony in Brgy. Cabanugan, municipality of San Isidro.
Super typhoon Odette (Rai) felled more than 10 million coconut trees in the country and gravely affected the copra industry. San Isidro is one of the municipalities that suffered a devastating economic loss with 130,000 felled coconut trees. Most of these trees had produced copra for over 50 years, causing uncertainty to coconut farming families in the municipality.
"Sixty percent of my constituents are coconut farmers dependent on the coconut industry. This project has given them hope to persevere for their children who will benefit from the replanting of coconuts on their farms," Mayor Diosdado Gementiza said.
100 coconut seedlings were carefully selected from the farmer-managed nursery in the barangay and were planted during the ceremony. These were part of over 20,000 coconut seed nuts and seedlings propagated and prepared for planting across 10 nurseries in partner farming communities in San Isidro, Calape, Catigbian and Loon municipalities. The remaining seed nuts will be consolidated in the coming months, with propagated seedlings to be planted at the coconut farms of partner farmers to reach the 100,000-tree mark by the end of the year.
The RISE Coco project focuses on rehabilitating 700 hectares of coconut farms by replacing the damaged coconut trees in farms managed by 1,000 farming households from the four municipalities in Bohol. This is being done through farmer-led propagation of seed nuts in community-based seedbeds and nurseries, farmer training on sustainable agriculture, provision of alternative livelihoods while waiting for the coconut trees to bear fruit, and establishment of farmer cooperatives for improved access to markets and corporate buyers.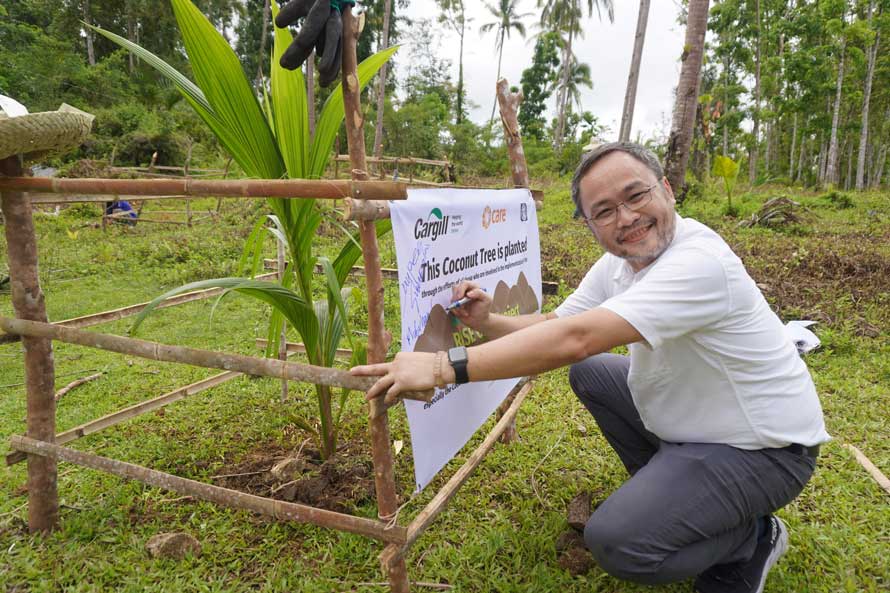 Cargill's Jonathan Sumpaico signs the tree guard post that protects the coconut he planted at the planting ceremony. At its core, Cargill is committed to building resilient agricultural communities and helping farmers thrive. RISE Coco underpins that commitment by creating connections that advance the productivity and profitability of Filipino farmers. As Cargill gears up to mark its 75th year of operations in the Philippines, it is more determined to accelerate its efforts to create more value for farmers and support a more sustainable local coconut industry.
Jonathan Sumpaico, Cargill's Copra and Palm Origination Commercial Director, added, "Cargill is committed to improving the livelihood of communities where we operate while meeting the increasing demand for sustainable coconut oil. We are proud to partner with CARE Philippines in the RISE Coco project to ensure coconut farmers who have been affected by the typhoon will rebuild their livelihoods, in a safe, responsible, and sustainable way, and continue to benefit as our partners for economic development."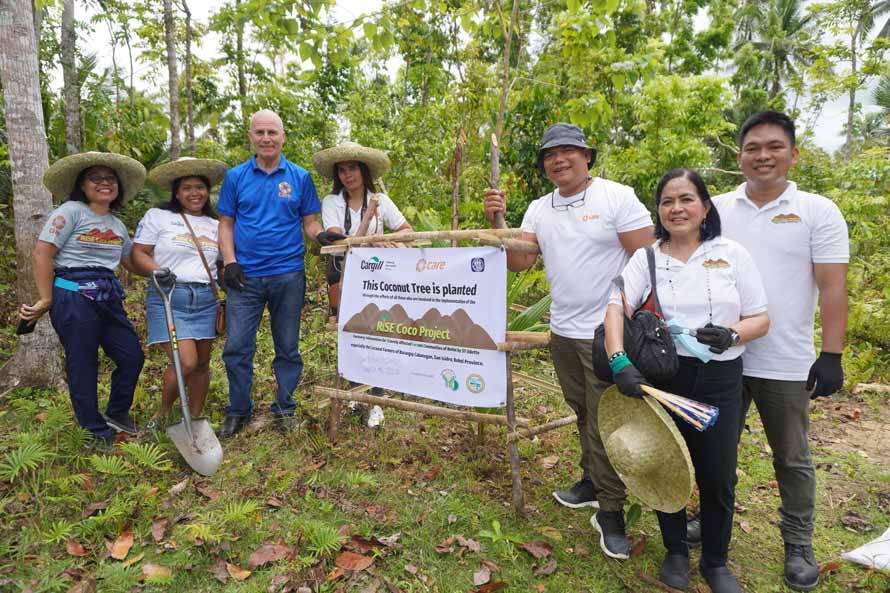 CARE Country Director David Gazashvili (3rd from left) with CARE and CRRC project implementation team RISE Coco is a partnership project with CARE Philippines, with active participation from Cargill employees across all project areas. With the project, Cargill is creating sustainable value that is aligned with the national thrust to revitalize the coconut industry as outlined in the Philippine Coconut Industry Roadmap 2021-2040. It is implemented in collaboration with the Philippine Coconut Authority (PCA), which has provided technical assistance through its Bohol Division Office to ensure alignment with PCA standards; and the Cebu-Bohol Relief and Rehabilitation Center (CRRC), which supports CARE in carrying out the project on the ground.
David Gazashvili, CARE's Country Director shared that the financial and technical oversight of Cargill, the established partnership with CRRC, the working relationship with the PCA and the support of the local government units have paved the way for the upscaling of the project. "We also commend the efforts of our partner communities who are now managing their nurseries, learning valuable good agriculture practices from trainings and applying these in the rehabilitation of their farms and livelihood and sustaining it for their children," he added.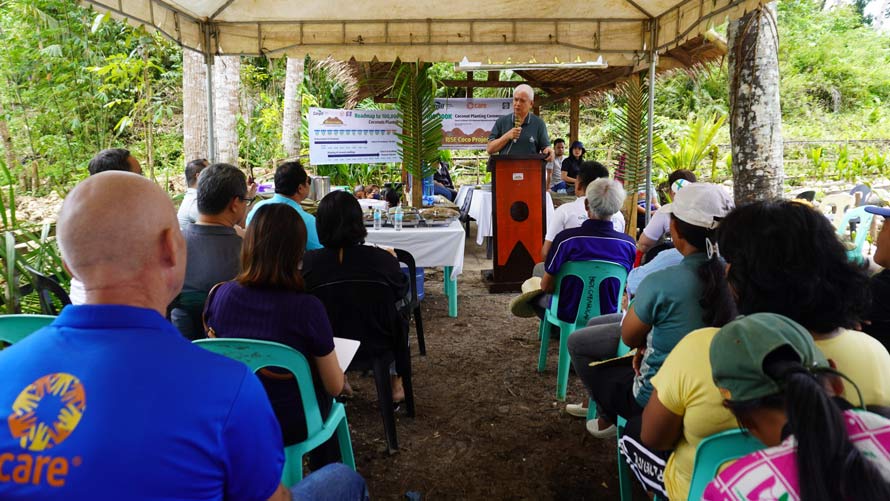 Bernie F. Cruz, PCA National Administrator, addresses the coconut farmers and other attendees at the planting ceremony.
Meanwhile, PCA National Administrator Bernie F. Cruz advised the coconut farmers to diversify their income from coconut by producing copra and other by-products such as charcoal, coco peat and coco coir from the husk, among others. He also recommended that farmers practice multi-cropping or inter-cropping. "Farmers would be able to augment their income by planting high-value crops or cash crops especially at times when copra prices are low," he said.
The activity was attended by the local government officials, municipal agriculture officers, barangay officials from other communities, community leaders and men and women farmers.

Media Contact: [email protected]
---
About Cargill
Cargill helps the world's food system work for you. We connect farmers with markets, customers with ingredients and families with daily essentials—from the foods they eat to the floors they walk on. Our 160,000-plus team members around the world innovate with purpose, empowering our partners and communities as we work to nourish the world in a safe, responsible, sustainable way.
From feed that reduces methane emissions to waste-based renewable fuels, the possibilities are boundless. But our values remain the same. We put people first. We reach higher. We do the right thing. It's how we've met the needs of the people we call neighbors and the planet we call home for 158 years—and how we'll do so for generations to come. For more information, visit Cargill.com and our News Center.
About CARE
Founded in 1945 with the creation of the CARE Package®, CARE is a leading humanitarian organization fighting global poverty. CARE places special focus on working alongside women and girls. Equipped with the proper resources women and girls have the power to lift whole families and entire communities out of poverty. In 2020, CARE worked in over 100 countries, reaching more than 90 million people through 1,300 projects. To learn more, visit www.care.org.