At Cargill, we aim to be the most trusted source of sustainable products and services for our customers. We are working at the intersection of food security and sustainability to nourish people and protect the planet.

Collaborating for change
How is Cargill leading on the topic of sustainability?

Kimmelshue: As we look to the future, we are committed to creating practical and scalable solutions. This will involve tradeoffs, and we need to be mindful of decisions that we make today and how those decisions and actions will impact tomorrow. We still need to meet the needs of the present, which includes improving livelihoods for the hundreds of millions of people involved in agriculture around the world. But we must do this without compromising our collective ability to nourish future generations.
What has your career taught you about these issues?
I started with Cargill buying grain from farmers. Along the way, I also ran our turkey business and worked very closely with turkey farmers. I think of farmers as the ultimate environmentalists, because their livelihoods are based on the land. So there is tremendous potential in farmers' inherent tendency toward conservation to make agriculture sustainable as a whole. It's not just for them, but for their children and grandchildren.
What else will be needed?
Obviously, Cargill can't do this work alone. We need trust-based partnerships across our supply chains with suppliers, customers, NGOs, governments, civil society, other companies, consumers and, of course, farmers. I stress "trust" because it will require all of us to work together in good faith, believing that everyone has the same goal, which is to nourish the world's people while protecting the planet.
Solving for supply chains
Cargill knows that sustainable business is good business. As a company that takes a long-term view, our continued success will depend on joining with others to build a food system that meets the needs of today while providing for the needs of tomorrow. Last year, we identified four focus areas where we can use our expertise and scale to have the greatest positive impact: land use, water resources, climate change and farmer livelihoods.
"As one of the world's largest buyers of agricultural commodities, Cargill sits at a unique intersection in food and feed value chains," said Gert-Jan van den Akker, president of the company's Agricultural Supply Chain enterprise. "Being a global company with touch points along many of the routes from farm to fork means we have an opportunity and a responsibility to be a leader."
Protecting forests
In addressing the complex global issue of deforestation, Cargill is building on more than a decade of action to advance solutions at the local level. In Brazil, for instance, the Soy Moratorium helped drive a nearly 80 percent decrease in the deforestation rate in the Amazon biome over the past 10 years. The progress was achieved through a collaboration among business, government and civil society to protect healthy forests and farmer livelihoods.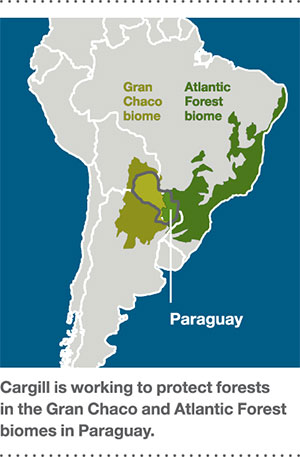 Neighboring Paraguay also has vital forest ecosystems that are among the world's most diverse. As part of our pledge to help end deforestation, we are acting to protect natural forest land while promoting sustainable agriculture.
A new approach on the ground
Paraguay is divided into two primary biome regions: the Atlantic Forest in the east and the Gran Chaco in the west. The country implemented a zero-deforestation law in the Atlantic Forest, where approximately 13 percent of the original forest remains intact, while the Gran Chaco faces rapid rates of deforestation comparable to the Brazilian Amazon before the Soy Moratorium was introduced. Cargill is working to improve land use practices in the Atlantic Forest, where our operations are based, while advocating for more sustainable practices in the Gran Chaco.
Conservation efforts today are based on a practical approach that encompasses strategic partnerships, risk analysis and employee training. We partner with government, civil society groups, businesses and more than 3,000 farmers in Paraguay.
This year, we joined the U.N. Development Programme's Green Commodities Programme to advance multistakeholder dialogue, while continuing to work directly with soy producers to educate them on best practices and new policies in the Atlantic Forest.
We also started a partnership with World Resources Institute to help equip the agriculture sector with new proficiencies, including in Paraguay. The partnership combines WRI's world-class mapping capabilities and analytical tools with Cargill's insights from operating in 70 countries.
WRI's Global Forest Watch is a mapping tool that empowers people to manage and conserve forest landscapes through an interactive monitoring and alert system. By assessing deforestation risks, this online tool helps ensure that soy coming into the market has been grown responsibly. Cargill and WRI also are mapping water stress in critical regions to better understand and mitigate risk.
With the help of partners, including WRI and The Nature Conservancy, Cargill has provided employees from some of our 30 grain elevators in eastern Paraguay with training on company policies, market trends, and monitoring and analysis tools that can benefit farmers. As a result, our employees are better able to help educate farmers on best farming practices, improved grain quality, input optimization and logistics.
"We're making strides to create a culture among farmers of improving agricultural practices," said Juan Pane, sustainability lead for Cargill Agricultural Supply Chain in Paraguay. "But any practice we advocate has to take farmers' livelihoods into account. This is why, for example, we source multiple crops from the region. We want to encourage crop rotation that is vital to soil health and put a business incentive behind it."
Although these efforts in Paraguay are just beginning, they are an important part of the much bigger process of creating change at a global scale. This program will continue to provide learning that Cargill, WRI and others can take to different regions, offering a strong foundation on which to build and adapt. Cross-sector collaborations like the one in Paraguay will help create a food system that nourishes people today and tomorrow.
This year, Cargill acquired EWOS, the global leader in sustainable salmon and trout nutrition.

Progress on our priorities