The global food economy is shifting. Market forces and demographic trends are continuously influencing supply and demand. Consumers are voting with their values on a wide range of quickly emerging food issues. Anticipating these changing complexities is a crucial part of how we help our customers succeed.

Three thought leaders offer their perspectives on the forces at work in the global food economy

How are increasing urbanization and rising incomes shaping the way food is produced and consumed?
Hargrove: Time compression is a major factor, as work and family situations change with urbanization. The time-starved pace that comes with urban life leads to eating patterns being much less structured. More and more around the world, people are looking for fast, convenient ways to get the nutrition they need.

Pardey: In general, as people move into middle incomes they start to eat more livestock-derived products, such as meat, milk and eggs. People in urban environments also consume more food prepared away from home.

As incomes continue to rise, diets shift again to include less calorie-dense, more nutritious foods, including fruits and vegetables, which tend to be costlier and more perishable. And because urbanization changes the spatial relationship between where production and consumption occur, more attention needs to be paid to how these foods are moved, stored and processed.
As people focus more on the links among food, nutrition and sustainability, how does that affect the food economy?
Cruz: When it comes to food, there is a real disruption occurring in the marketplace. Consumers are more interested in the provenance of their food – not just where it's coming from, but how it was produced, who produced it and the sustainability of the supply chain.

With the rise of digitization and increasing access, consumers' desire to know more about their food isn't limited to higher-income economies. We are seeing this trend in low- and middle-income countries, too.
Hargrove: The value shift among consumers toward choosing foods they see as ethical and socially responsible is becoming more prevalent around the world. It's part of the heightened focus on well-being, which encompasses health and wellness as well as lifestyle choices.
There is greater awareness of nutrition, especially as people age. More people also want foods that are free of GMOs and contain more natural, recognizable ingredients. These issues aren't new trends, but they are more present now in every sort of environment.
How is science reshaping the way we eat?
Pardey: There are some really big changes afoot with respect to food and agriculture research and development worldwide. In many high-income countries, the private-sector share of R&D now exceeds the public-sector share.

Furthermore, where the research is taking place is shifting. Public and private spending on food and agricultural R&D are both rising quickly in middle-income countries like China, Brazil and India. High-income countries are losing R&D market share to these nations. Meanwhile, a continuing small share of R&D spending is occurring in low-income countries.

This means there is a growing gap between the scientific haves and have nots. Roughly 70 percent of food and agricultural R&D spending globally occurs in 10 countries. We need to be more agile about how we get technologies into areas where there is not a lot of local scientific capacity in order to boost productivity.
Hargrove: Crop science is certainly key. Our food system benefits from the ability to select and drive crop characteristics that are important to people.

Natural fermentation also is interesting and could have more widespread applications. The interaction between food and the human body – especially the balance of microbes in the gut – is an emerging area of understanding. What are the outcomes for nutrition, allergy relief and weight management? It's an exciting area of research that we think can have a big impact on the marketplace.

Cruz: Not only is there much change going on in food science, there is a tremendous increase in the rate of change. Evolving technologies, coupled with analytical consumer insights, will undoubtedly lead to new business models. Nimbleness and imagination will be necessary to take advantage of this science in order to add value to the food economy. For instance, delivering groceries online. How will these new models disrupt operations at each stage of the supply chain?

Hargrove: Digitization is definitely important. We need to make our products available to people as they are sitting at their computers and with their tablets and other devices. The retail environment and the channels are rapidly changing.
What about feeding a growing population in the longer term?
Pardey: We can't afford to be complacent about past productivity and yield gains. Factors such as climate change and the influence of Mother Nature – especially as the interaction between pests and crops evolves – will erode those advantages.
We need to have new solutions under development because there's a long lag time between R&D investment and the impact for farmers. In the U.S., when you spend a dollar on research, it's about 22 years later that you see the maximal impact of that dollar. So what we're doing now is of consequence for global agriculture in 2040 or 2050.
Hargrove: One thing that's often overlooked is that we've created the safest food supply ever seen in the world. That's something to celebrate. And going forward, it's absolutely in the interest of companies in every part of the food economy to work toward even safer and more nutritious food.
Cruz: Part of it also is about the younger generations of today and tomorrow. How do we connect with not only the consumers of tomorrow, but the farmers and customers we're going to partner with, the employees we're going to hire, and the communities where we'll operate? We need to understand what's important to them and how we can positively impact their future.
Agricultural commodities: How we got here
During the past few years, supplies in global agriculture markets have outstripped demand, with strong production and flat consumption leading to larger food stocks, along with lower prices and less volatility. How did this occur?
1980 to 2000: Steady growth

From 1980 to 2000, the world saw stable growth in both production and consumption of major staple crops – about 30 million metric tons annually. Excluding weather problems, markets were well-supplied and prices declined in real terms. Continued intensification of farming in high-income countries was complemented by increased production in regions like Latin America and Eastern Europe.

Early 2000s: Rising consumption
Early in the 2000s, consumption began rising at a faster rate – nearly 60 million metric tons annually – driven by economic development in markets like China, the widespread introduction of biofuels and relaxed monetary policy. The resulting deficit in supply more than doubled prices above their long-term averages. This demand greatly incentivized farmers to increase production.

Late 2000s: Swing to surplus
Late in the last decade, consumption growth leveled off. The global economic crisis hit high-income countries hard, and China's GDP growth rate began declining, with ripple effects on other markets. Increases in biofuels slowed as well. Yet the world kept growing more food. From 2010 to 2012, weather disruptions and political unrest in some areas overshadowed a quietly mounting structural surplus by keeping prices high, which continued to stimulate production. From 2013 to 2015, good weather, rising stocks and continued sluggish demand created excess supplies and halved prices from their peak.

Consumer values and preferences are shifting
A rising number of consumers around the world want foods that convey particular values. This includes foods that are produced through certain verified methods or are perceived to deliver specific health benefits.

Tomorrow's leaders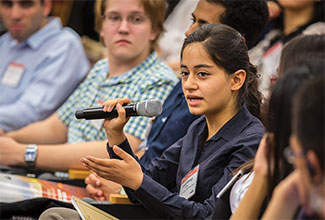 As the global food economy evolves, strong leadership will be crucial. Through the Cargill Global Scholars Program, we are supporting high-performing university students who will lead tomorrow in science, business, civil society and other sectors.

In addition to scholarship funding, the program offers unique leadership development opportunities such as learning workshops and one-on-one mentoring with Cargill leaders. To date, there are more than 200 Cargill Global Scholars from Brazil, China, India, Indonesia, Russia and the U.S.