Chuck Warta
About Chuck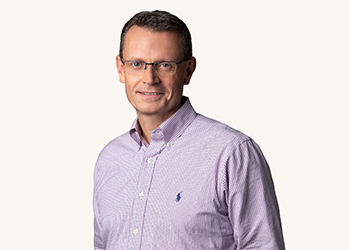 Chuck is president and group leader for Cargill's premix business globally. He is responsible for serving customers in more than 100 markets, leading more than 7,000 employees at 60 facilities across 26 countries.
Chuck joined Cargill in 1991 as a sales trainee in Kansas City. He worked in several managing roles in the U.S. before moving to Korea in 2003 to serve as senior executive director of business development for Korea and China. In 2005, he relocated to China and added the role of marketing and innovation team leader. After working on Cargill Animal Nutrition's leadership team for seven years, he took the job as head of Cargill's integrated poultry business in Thailand. He returned to Cargill Animal Nutrition in 2016 to assume his current role. He holds a bachelor's degree in agricultural economics from Kansas State University.
Get to know Chuck
Q: What drew you to a career in agriculture?
Chuck: Growing up on a fourth-generation farm in central Kansas put agriculture in my blood. The humble, tenacious, optimistic and spiritual character of the people across global agriculture makes me feel at home. I'm proud to work in a business where I can be myself and impact the world in a meaningful way.
Q: You've worked in a number of different parts of the world. What big commonalities do you see when it comes to animal nutrition?
Chuck: Animals are animals everywhere. They aren't Dutch, Chinese, Brazilian, African or American. In this sense, animals actually unite us in a strong way across countries and cultures. Food is at the center of culture everywhere, and animals are part of that.
I think Cargill Animal Nutrition, too, has a consistent and shared culture no matter where a team is located. Our shared mission and core values unite all 20,000 teammates across markets. I've loved living and traveling in various countries, and the cross-cultural experiences that has provided. Yet I also love that no matter where in the world I am, when I enter the gates of one of our facilities, I immediately feel that warmth and sense of shared culture. We are a family.
Q: How does Cargill help improve the well-being of animals that farmers raise?
Chuck: Ultimately, everything we do is about helping an animal express its full potential in a healthy, sustainable way, which means we are in the business of well-being. This takes countless forms across all our innovative products and services. But at the broadest level, we provide better nutrition for better lives.
Q: What does the future of animal nutrition look like?
Chuck: During the past century, the care and feeding of animals has seen tremendous advances, which have allowed our industry to nourish a growing world in an ever-more sustainable way, getting more production out of every pound of feed. Some people may disagree with whether all these advances are good or bad, but it's hard to argue with how much impact they've had.
I believe new technologies in areas such as gut health, animal welfare, micronutrition, phytogenics like essential oils, and big data will unite to unlock whole new levels of animal production that is healthy, efficient, sustainable and transparent. It's an exciting time to be in this industry, and one day I think we'll look back and be proud to tell our friends, neighbors and families that we were part of it.