Chuck Warta
About Chuck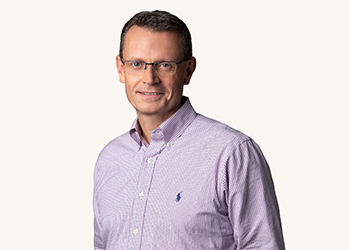 Chuck Warta is the group leader for the newly formed Cargill Health Technologies Group, responsible for growing Cargill's human and animal health business portfolio.
Prior to his current role Chuck led Cargill Animal Nutrition's premix & nutrition business globally, responsible for serving customers in more than 100 markets, leading more than 7,000 employees across 26 countries. He has had multiple international roles, including as the Business Unit Leader of Cargill Meats Thailand, a fully integrated, 150 million birds/year poultry operation with 13,000 employees serving food customers in 27 countries.
Chuck joined Cargill in 1991 as a sales trainee in Kansas City. He has held various management and general management roles throughout his career including responsibility for leading business growth in many key markets such as the United States, China, Korea, Indonesia and the Philippines. During his career, Chuck and his family have lived in seven different states and four different countries.
In addition to leading Cargill Health Technologies, Chuck also sits on the board of directors and executive committee with International Feed Industry Federation (IFIF). He is Cargill's executive sponsor for Hatching Hope and for the Cargill/Kansas State University Higher Education team.
Chuck holds a bachelor's degree in agriculture economics from Kansas State University and was named the Kansas State University Agriculture Alumni Fellow in 2018.
Chuck is passionate about agriculture and is actively invested in his family's farming operations in the United States. He and his wife, Denise, have three children, Aubrey, Madison and Carter, and reside in Minnesota. In his free time, he enjoys running, traveling, hunting, gardening and spending time with family.