Asphalt Rejuvenators
Anova

® Asphalt

Rejuvenators:

reversing the impact of aging on pavement.

Pavements continually oxidize and age during their performance life, leading to durability issues as a result of increased stiffness, brittleness, and a lower ability to relax stress.

Asphalt Rejuvenators can help restore performance in a wide range of pavement types and in pavement preservation applications:
High RAP and RAS mixtures with up to 100% RAP, while reducing construction temperatures
Rejuvenating asphalt emulsions for surface seals and cold in place recycling
Oils and emulsified oils for hot in place recycling and surface rejuvenating applications
Cargill Asphalt Pavement Preservation
Backed by more than 60 years of technical expertise in bio-based chemistry, Anova® Rejuvenators make a proven impact on asphalt pavements containing highly aged RAP and RAS binder
A partnership with Cargill provides your business an undeniable advantage. We offer you a proven record of support from our state-of-the-art asphalt applications lab.
Cargill's unique support system starts with materials evaluation, trial assistance, plant implementation and integration.
Our asphalt rejuvenation support then continues through quality assurance and ongoing support, meaning you can count on us to provide the expertise and chemistries required to meet your toughest challenges.
Cost Savings Calculator
Adjust the target RAP percentage and raw material prices you would like to explore for your rejuvenated mix and see how it compares to a typical mix of 20% RAP and 5% Target AC.
Interested in a more accurate estimate of savings for
Your Mix Design while using Anova Rejuvenator?
PRODUCT HIGHLIGHTS
Successfully used in pavements with up to 100% RAP usage
Enables reduction in mix costs through the use of higher recycled content
Functions as a compaction aid - reduce required compaction temperature by at least 40F, even in high RAP pavements
Enhances low temperature cracking resistance of asphalt mixtures
Does not negatively impact rutting resistance of rejuvenated RAP mixture
High flash point (in excess of 240°C/460°F) compared to petroleum-based bitumen rejuvenators, allowing safer handling without changing current processes
Low VOCs and low volatile mass loss (as measured by the Rolling Thin Film Oven)
Rejuvenators can enable efficient infrastructure investments, helping to improve pavement sustainability – reducing costs, increasing recycled content and supporting communities.
Download Our Brochure Contact Us for Product Data Sheets
Rejuvenators and Recycled Asphalt - Watch the Video
Case Study: City of Phoenix Gives RAP a Test Drive
With desert temperatures and metropolitan traffic, the City of Phoenix faces an ongoing challenge – brittle asphalt. When approached by Solterra Materials, the City decided to pursue the utilization of RAP in its asphalt mixes. In the following case study, learn more about how Cargill helped the City of Phoenix drive performance, cost, and environmental benefits with the incorporation of RAP.
R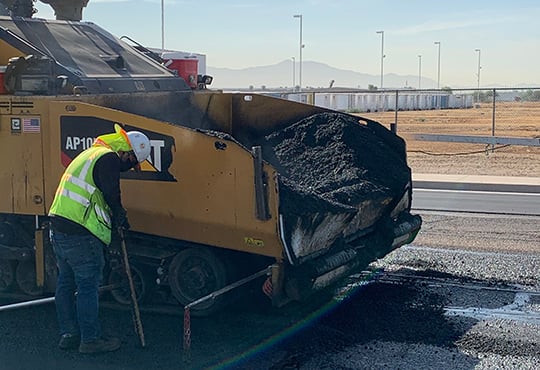 What is an asphalt rejuvenator?
As of 2020, rejuvenator definitions in different regions are in various stages of development. Cargill has been actively participating in the advancement of knowledge in the field of asphalt rejuvenators.
Many additives have been investigated as potential asphalt recycling agents and researchers have increasingly employed the terms rejuvenator and softener. Cargill (Tabatabaee and Kurth, ISAP 2016) first proposed this functional categorization of recycling agents:
How is Anova Rejuvenator different from other asphalt additives?
Cargill invested heavily in product research and our Anova product was purposefully designed and developed to have a combination of mechanisms "A" and "B" (softening AND compatibilization).
Cargill engineered a chemically modified bio-based product that not only rejuvenates bitumen but is itself stabile against oxidation and thermal degradation.
The innovative chemical process used is proprietary and has been patented. The unique properties and performance of Cargill Anova rejuvenator are one of the important differentiating factors compared to other products on the market.
How are rejuvenators different from softeners?
Unlike many softeners and vegetable oil additives, Cargill Anova rejuvenator is a specialty chemical produced at Cargill industrial plants. The process follows rigorous quality control checks, and each batch is carefully tested and issued a certificate of analysis (COA). Customers receive such COAs with each batch, resulting in high product reliability and traceability. This rigorous process is another reason why Cargill Anova rejuvenator stands out compared to competition.
Softeners vs. Anova Rejuvenator
Cargill Anova Rejuvenator is much more than a simple softener or vegetable oil rejuvenator. Anova rejuvenator is a patented, chemically enhanced vegetable oil, delivering high impact durability with aging when used in asphalt.
In contrast, softeners and vegetable oil rejuvenators are not manufactured for specialized rejuvenation and aging-resistance.
Another defining characteristic of a rejuvenator is the ability to revise dosages. For higher RAP content (>30%) it becomes increasingly difficult to balance rutting against cracking resistance only using soft bitumen or flux. Furthermore, there is very little ability to adjust performance of a high RAP mix only using soft asphalt if RAP quality changes.
While typical rejuvenators are not manufactured for long term aging-resistance, Anova brand reliably balances rutting and cracking resistance even beyond 30% RAP content.
What's the difference between a rejuvenator and warm mix additive?
Warm mix additives (WMA) are typically used for mixes with lower RAP content (often 10-20% by weight, but may vary by region and material properties), or when the mix requires improved moisture resistance. At higher RAP content a rejuvenator is the best option, providing both durability and compaction improvement.
What are the Standout Features of Cargill Anova Rejuvenator?
Cargill Anova Rejuvenator is a chemically enhanced vegetable oil that provides high impact on durability against aging when used in asphalt.

The synthesis process for Anova rejuvenators is not just an assembly line. It starts with raw materials that are made even better through a series of innovative chemical enhancements.
How is Anova asphalt rejuvenator applied at the asphalt plant?
Due to the versatility and thermal stability of Anova, it can be applied at various point in an asphalt plant:
The most common application point for a continuous drum plant (most commonly used in North America) is inline injection into the virgin binder pipeline using an appropriate additive pump.
For batch plants the additive may be directly applied to the RAP either before or after the RAP drier drum using a spray bar, or into the virgin bitumen balance pot, or even into the pug mill.
Cargill's team is available to consult on the best application method for a given plant to achieve reliable and homogenous application.
The products and services described on this website may not be available in all jurisdictions or to all persons.