Factors That Impact Resin Pricing in Today's Dynamic Market Environment
In the world of plastics, pricing has been a bit of a moving target the last year-plus.
Since the beginning of 2016, the price of propylene has:
Increased 43 percent (Feb.-Sept. 2016)
Decreased 27 percent (Sept.-Dec. 2016)
Increased 65 percent (Dec. 2016-March 2017)
Decreased 26 percent (March-May 2017)
Source: IHS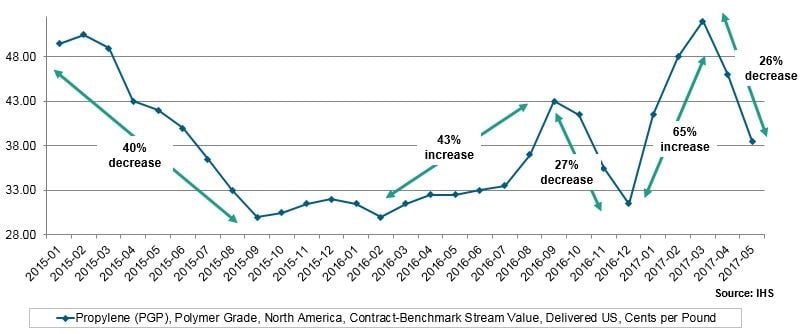 All in the span of just 17 months. Amazing.
That's the world we live in—pricing is up and down almost constantly. And, it's getting tougher to predict. And that's an increasingly big problem for plastics producers and consumers.
Why? Because price volatility eventually will impact financial results. Price increases are difficult to pass on. Margins get squeezed. And, there's a growing reluctance to risk losses.
Businesses want predictability in their raw material costs as it allows them to better manage operations, their exposures and their business.
So, I thought it might be worth taking a closer look at the key factors that impact pricing on a daily, monthly and even annual basis. When I look at pricing, I see eight key factors that can have a big impact:
Upstream fundamentals that determine cash costs. Let's use crude oil as example since we're talking plastics. Now, oil doesn't impact petrochemicals, generally speaking. But it sure does affect the larger market in a global sense. It's also often a leading indicator of what might be coming down the pike with other pricing fluctuations.
Inventory adjustments. Last fall, poly inventory levels were extremely robust. We saw a significant drop in price in the fourth quarter (according to the American Chemistry Council, to the tune of a 19 percent decrease). Not surprisingly, those who owned substantial inventory didn't want to carry it over into 2017. So, you saw a lot of producers pricing product very aggressively. That drove down the price. And, that's exactly what we saw at the beginning of 2017.
Operating rates. In April, we saw an operating rate of 83 percent (American Chemistry Council). That was down 13 percent from February. It's amazing how fast plastics producers adjusted these operating rates in just two short months.
Demand. In May, sales of poly were the highest they've been so far in 2017. Once those prices got lower, it got people back in the market buying.
Capacity adjustments. Earlier this year, Flint Hills, the big poly producer, went down for scheduled maintenance. Then, it went down for another 20-30 days, unexpectedly. Just as Flint Hills was scheduled to come back up, Dow's PDH unit went down unexpectedly. It's events like these, from a capacity perspective, that can have big impacts on price.
Evolving industry trends. Growing demand for packaged food such as ready-to-eat meals, frozen foods and dried processed foods is expected to further drive industry growth (Future Market Insights). Also we continue to see a transition from rigid packaging to flexible packaging.
Policy and geo-political events. The current Qatar-Gulf crisis, repeated military provocations by North Korea and daily media coverage of Trump's campaign investigation have spun oil and gas markets and foreign exchange markets into moments of uncertainty.
Imports/exports of finished goods. Since the 2016 presidential election campaign, Trump has been critical of a 2012 bilateral free free trade agreement and barriers to U.S. auto exports (Fortune). The Trump administration continues to review multiple trade deals focused on possible re-negotiation which could lead to significant issues or changes in import and export flows.
Given all these factors, you can see how tough it can be to accurately predict price. But, by being aware of these eight factors you can get a better handle on your price risk and how it plays a role in your overall risk management plan.
These materials have been prepared by personnel in the Sales and Trading Departments of Cargill Risk Management, a business unit of Cargill, Incorporated based on publicly available sources, and is not the product of any Research Department. These materials are not research reports and are not intended as such. These materials are for the general information of our customers and are a "solicitation" only as that term is used within CFTC Rules 1.71 and 23.605, as promulgated under the U.S. Commodity Exchange Act. These materials are provided for informational purposes only and are not otherwise intended as an offer to sell, or the solicitation of an offer to purchase, any swap, security or other financial instrument. These materials contain preliminary information that is subject to change and that is not intended to be complete or to constitute all of the information necessary to evaluate the consequences of entering into a swap transaction and/ or investing in any securities or other financial instruments described herein. These materials also include information obtained from sources believed to be reliable, but Cargill Risk Management does not warrant their completeness or accuracy. In no event shall Cargill Risk Management be liable for any use by any party of, for any decision made or action taken by any party in reliance upon, or for any inaccuracies or errors in, or omissions from, the information contained in these materials and such information may not be relied upon by you in evaluating the merits of participating in any transaction. All projections, forecasts and estimates of returns and other "forward-looking" information not purely historical in nature are based on assumptions, which are unlikely to be consistent with, and may differ materially from, actual events or conditions. Such forward-looking information only illustrates hypothetical results under certain assumptions. Actual results will vary, and the variations may be material. Nothing herein should be construed as an investment recommendation or as legal, tax, investment or accounting advice. Cargill Risk Management is a provisionally registered Swap Dealer and operates under "Order of Limited Purpose Designations for Cargill, Incorporated and an Affiliate."