Two Ways We Work with Customers
Today I'd like to address a question that keeps coming up among prospective customers time and time again.
How do we work with Cargill Risk Management to hedge commodity price risk?
First, who works with us? The answer to this question is simple: Anyone whose margins are at risk from volatility in commodity markets. Typically, when prices are low, buyers of commodities will hedge to reduce their risk exposure as prices eventually increase. When prices are high, sellers of commodities hedge to lock in favorable prices which protect margins from lower prices. Our customers seek to reduce their financial and business risk by more effectively managing price risk and exposure.
What does the actual process of hedging with Cargill Risk Management look like? Great question. There are two ways we work with customers to provide price risk management solutions. The first way is embedded through the supply chain. This example with Jill the poultry buyer outlines the process well.
During my career with Cargill, I've worked with Jill – or someone like her – often.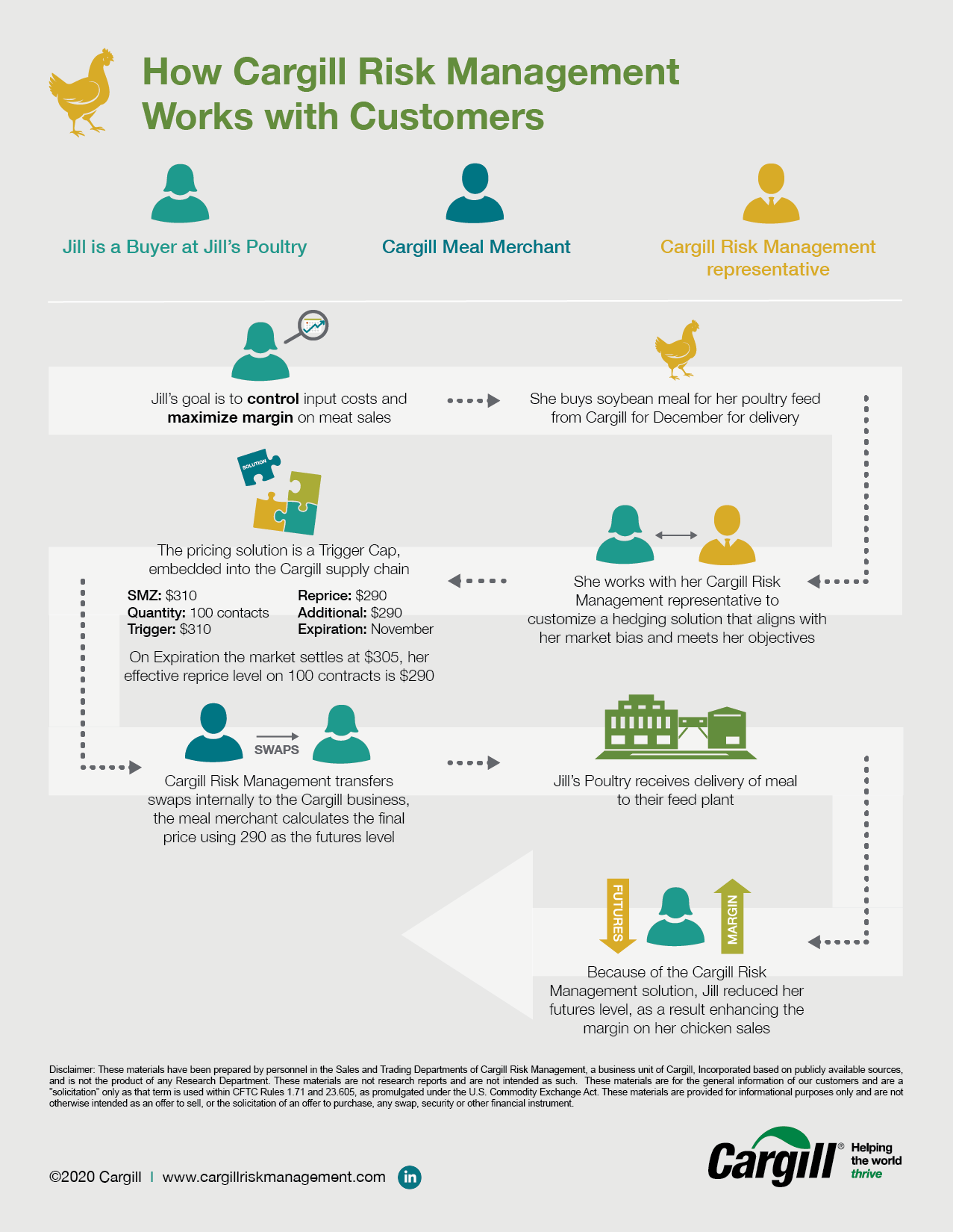 How Cargill Risk Management Works with Customers
In this example, on Jill's behalf, Cargill Risk Management embeds the hedge into the physical meal contract. Her poultry business doesn't tie up valuable working capital, as hedging on the Exchanges often does. Less work, and conceivably, less risk for Jill's poultry business. Through an embedded risk management solution, Jill reduces the price she paid for soybean meal and values the ease of pricing her feed through one contract.
The second way to hedge your commodity price risk with us is through a direct financial agreement with Cargill's swap dealer, Cargill Risk Management. There are many reasons a customer may choose to transact this way. Maybe you work with various suppliers of the physical commodity and you want one financial hedge provider to help manage the risk in aggregate.
Or maybe your business is exposed to many different commodities and you want greater control and flexibility over your hedge positions.
In other cases, the commodity you purchase is not available through Cargill. For example, Cargill doesn't trade physical coffee; so, a coffee brewer doesn't have the ability to embed a risk management solution into the contract agreement.
Here's what this "direct" process would look like for this customer. Jenny is buying coffee beans for her roasting company and she's seeking more predictable pricing over a specific time period. Through a customized structured product from Cargill, she's managing her risk and protecting margins for her company.
How We Partner
The bottom line is, if you are selling or merchandising grain, roasting coffee, feeding cattle or powering a facility, when you partner with Cargill, you have access to risk management experts who understand your business objectives and help you find the right solutions for your business. And we'll provide those solutions to you in the manner which best fits your needs and your business.
These materials have been prepared by personnel in the Sales and Trading Departments of Cargill Risk Management, a business unit of Cargill, Incorporated based on publicly available sources, and is not the product of any Research Department. These materials are not research reports and are not intended as such. These materials are for the general information of our customers and are a "solicitation" only as that term is used within CFTC Rules 1.71 and 23.605, as promulgated under the U.S. Commodity Exchange Act. These materials are provided for informational purposes only and are not otherwise intended as an offer to sell, or the solicitation of an offer to purchase, any swap, security or other financial instrument. These materials contain preliminary information that is subject to change and that is not intended to be complete or to constitute all of the information necessary to evaluate the consequences of entering into a swap transaction and/ or investing in any securities or other financial instruments described herein. These materials also include information obtained from sources believed to be reliable, but Cargill Risk Management does not warrant their completeness or accuracy. In no event shall Cargill Risk Management be liable for any use by any party of, for any decision made or action taken by any party in reliance upon, or for any inaccuracies or errors in, or omissions from, the information contained in these materials and such information may not be relied upon by you in evaluating the merits of participating in any transaction. All projections, forecasts and estimates of returns and other "forward-looking" information not purely historical in nature are based on assumptions, which are unlikely to be consistent with, and may differ materially from, actual events or conditions. Such forward-looking information only illustrates hypothetical results under certain assumptions. Actual results will vary, and the variations may be material. Nothing herein should be construed as an investment recommendation or as legal, tax, investment or accounting advice. Cargill Risk Management is a provisionally registered Swap Dealer and operates under "Order of Limited Purpose Designations for Cargill, Incorporated and an Affiliate."