Farmers Fight African Swine Fever – Aided By Cargill & Others
Biosecurity deemed key to halting spread and accelerating recovery
Over one million pigs lost to African Swine Fever (ASF) in China since August 2018

Biosecurity and herd immunity are key to controlling ASF.

The Smart Agriculture App by MARA provides farmers with biosecurity management guidelines to aid in ASF control and prevention
African Swine Fever (ASF) is a highly transmissible virus with no cure and no vaccine. Mortality rates are 100% within 10 days for infected pigs. The virus is harmless to humans, but it is having a significant impact on the world's pork supply and the farmers who serve it—with ripple effects on the global market.
"We underestimated the impact of ASF initially and waited to see what would happen," says Mr. Yu, a pig farmer in Jiangsu, China. "Now, we know this virus is much more serious and difficult to deal with than we thought." Together, Chinese farmers like Mr. Yu have lost more than one million pigs to African Swine Fever, which has spread to every province in the country since China's first reported case in August 2018. Once the supplier of more than half of all pork consumed globally, China's loss of pigs to date exceeds the annual pork production of the United States, Canada, Mexico and Brazil combined.
As ASF impacts herds of swine so it devastates farmers and their families' livelihoods. "With no vaccine, biosecurity and herd immunity are all we can do to control ASF," Mr. Yu laments. And that's where Cargill comes in. To support customers like Mr. Yu and the industry more broadly, Cargill's team in China has partnered with the Chinese Ministry of Agriculture and Rural Affairs (MARA), the China Rural Distance Education Network and the Smart Agriculture App by MARA. Their goal: to promote a "360-degree comprehensive solution" for ASF control and prevention.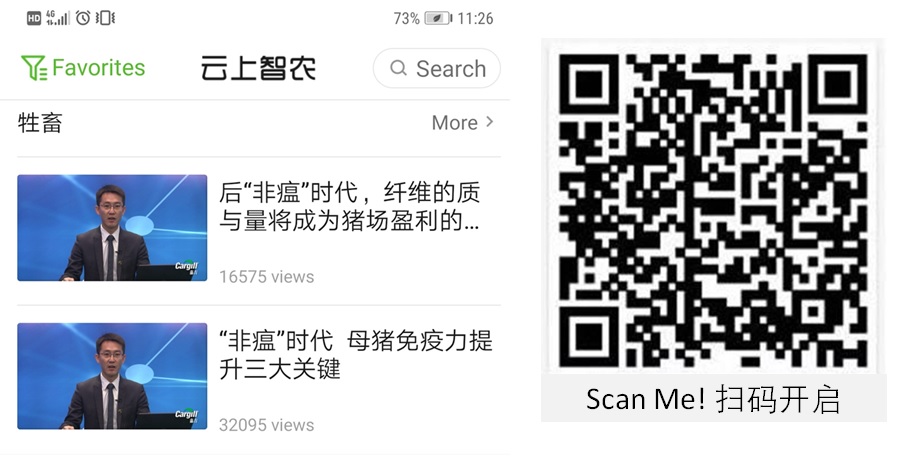 Farmers can access the MARA app and other accessible channels to receive easy-to-understand biosecurity management guidelines--like instructional videos on prevention and webinars on building a comprehensive and healthy breeding system. Cargill also has a dedicated team working directly with suppliers worldwide to combat ASF. This cross-functional, global task force takes a holistic approach to addressing feed safety, farm biosecurity and enhanced immunity, including strengthening immunity through consumer audits, employee training, customer education and investments in new equipment and solutions.
Mr. Yu is working with the Cargill team to prepare his operation for repopulation—a complicated task. Decontamination can take from six months to three years. China is seeing accelerated efforts to repopulate depleted herds and pork producers with surviving herds are working to increase their productivity, growability and liveability. Domestic and import pork prices are rising in China because the country's frozen supply, slaughtered early in the hopes of avoiding the disease, is nearing depletion. In the meantime. China's pork supply gap is being partially filled with other domestic and imported animal proteins, such as poultry, beef and seafood, as well as plant-based options. The increased demand for feed for these other types of meat offers some relief for farmers who had seen a decline in demand for swine feed ingredients, including soymeal and pre-mixes.
Recovery Likely Slow with Lasting Impact
Still, recovery from ASF is likely to be slow. Even while governments work to step up animal safety controls, estimates suggest recovery could be anywhere from several years to a decade away. ASF has crossed into Vietnam, Cambodia, Laos, Myanmar, the Philippines, and South Korea. There have been outbreaks in Eastern Europe and the Baltic Region and—and there are concerns this highly transmissible virus is still not contained. Compliance with strict biosecurity protocols is seen as critical to recovery.
For Cargill, this means further strengthening its already rigorous biosecurity measures; for example, quarantining key ingredients, implementing thermal and chemical treatment practices, investing in state-of-the-art biosecurity equipment and conducting comprehensive training programs for employees and customers. It also means working to build sows' general immunity—in the absence of a specific vaccine option. Cargill is applying health technologies that increase pigs' immune defenses and/or increase their productivity, growth and livability. For farmers like Mr. Yu, this should help make their herds more resilient against any future outbreaks.
Leveraging more than a decade of research on the gut microbiome, Galleon accesses Cargill's extensive research data to guide flock-management decisions.
[]/[]
A Vietnamese farmer partnered with Cargill to improve his farm – and ended up improving his family's well-being.
[]/[]