Fishery Improvement Projects (FIPs): Cargill's commitments to ocean stewardship for more sustainable aquaculture industry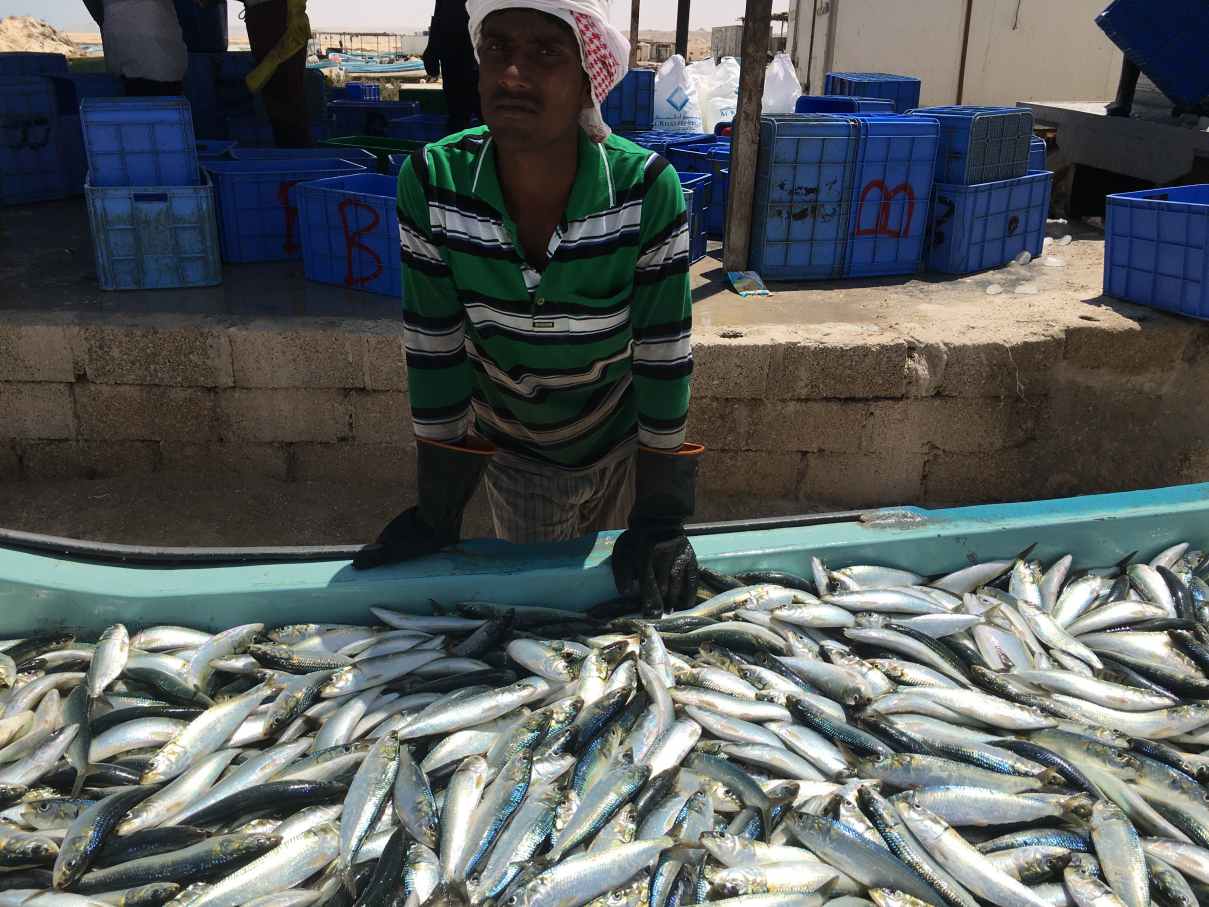 Indian oil sardine catch from Oman – good potential for establishing a FIP
Did you know that according to last year's United Nations (UN) Food and Agriculture Organization report, 57% of the world's fish stocks were fully exploited in 2019, meaning we are close to or at maximum sustainable production with no room for expansion? 
This UN report further explains that over 35% of fisheries globally are overexploited – requiring improvement in fishery management to ensure that the stocks do not become irreversibly depleted. ​​​​​​​ ​​​​​​​
Marine ingredients for aquafeed and responsible sourcing
Protein and oil sourced from fish are called marine ingredients.  They can be sourced from fish caught specifically to make fishmeal and oil (called forage fish), or from waste products from fish caught and processed for direct human consumption (also called trimmings).  Marine ingredients have been a core part of the development of aquaculture feeds, but they are in limited supply. 
In order to grow the production of high-quality, nutritious feeds for aquaculture, Cargill's Aqua Nutrition (CQN) business has developed new ingredients which provide the nutrients required for the healthy, thriving growth of the fish and shrimp on our customer's farm. 
Here is an example that shows the changes over the last 20 years seen in an average global salmon feed composition. During this time our use of marine ingredients reduced by 80%!  We have also increased our use of by-products this time, with our last sustainability report showing for the first time that more than 50% of the volume of ingredients were classed as by-products. Marine meal and marine oils are sourced from trimmings materials as opposed to forage fish.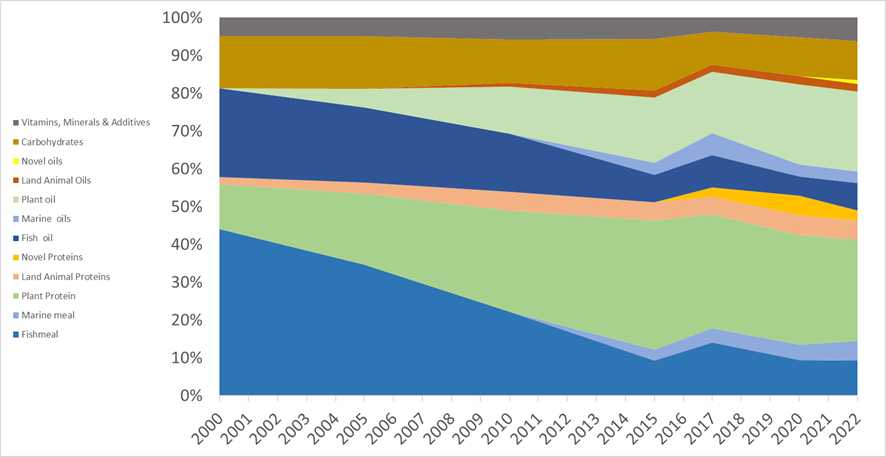 Global average composition of salmon feeds supplied by Cargill since 2000 (composition from Canada, Chile, Norway and Scotland).
Cargill's ambition is to have the most sustainable food supply chains in the world. CQN aims to source marine ingredients only from fisheries third-party certified as responsibly or sustainably managed by 2025.
To support a sustainable aquaculture industry now and into the future, we must ensure we source our marine ingredients from well-managed fisheries and continue working with those that need improvement.
This effort reflects in the increasing share of our marine ingredients that are certified by the Marine Stewardship Council and/or MarinTrust. This also brings value for our customers farming to Aquaculture Stewardship Council, Best Aquaculture Practice, or Global GAP standards, where there are requirements to source certified materials.
​​​​​​​But purchasing materials that already meet sustainability expectations is only part of our strategy. We believe that we have a responsibility to engage with fisheries in our supply chains which have room for improvement to reduce the risk of illegal, unregulated and unreported (IUU) fishing, and develop science-based management strategies to become more sustainable. Fishery Improvement Programs (FIPs) have proven to be effective ways of bringing fishery stakeholders together to develop more sustainable management procedures. Credible, time-bound FIPs provide a pathway for us to work with our suppliers and their stakeholders to develop and implement these improvements.
Today, Cargill Aqua Nutrition is supporting several active projects in the Northeast Atlantic, Mauritania, Peru, Ecuador, and Thailand. We are also working in other regions, such as Oman, to get more FIPs established. The goal of these FIPs is progress towards MarinTrust and eventually MSC certification of the supply, using MarinTrust IP or comprehensive FIP approaches as applicable.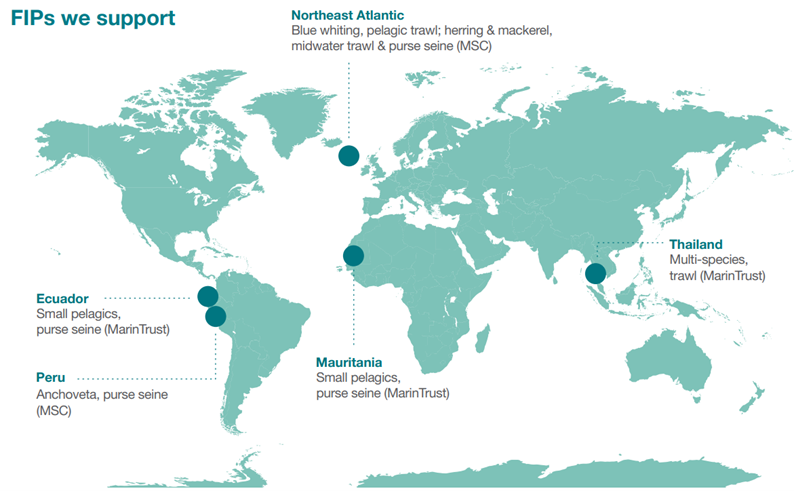 Fishery improvement projects supported by Cargill's aqua nutrition.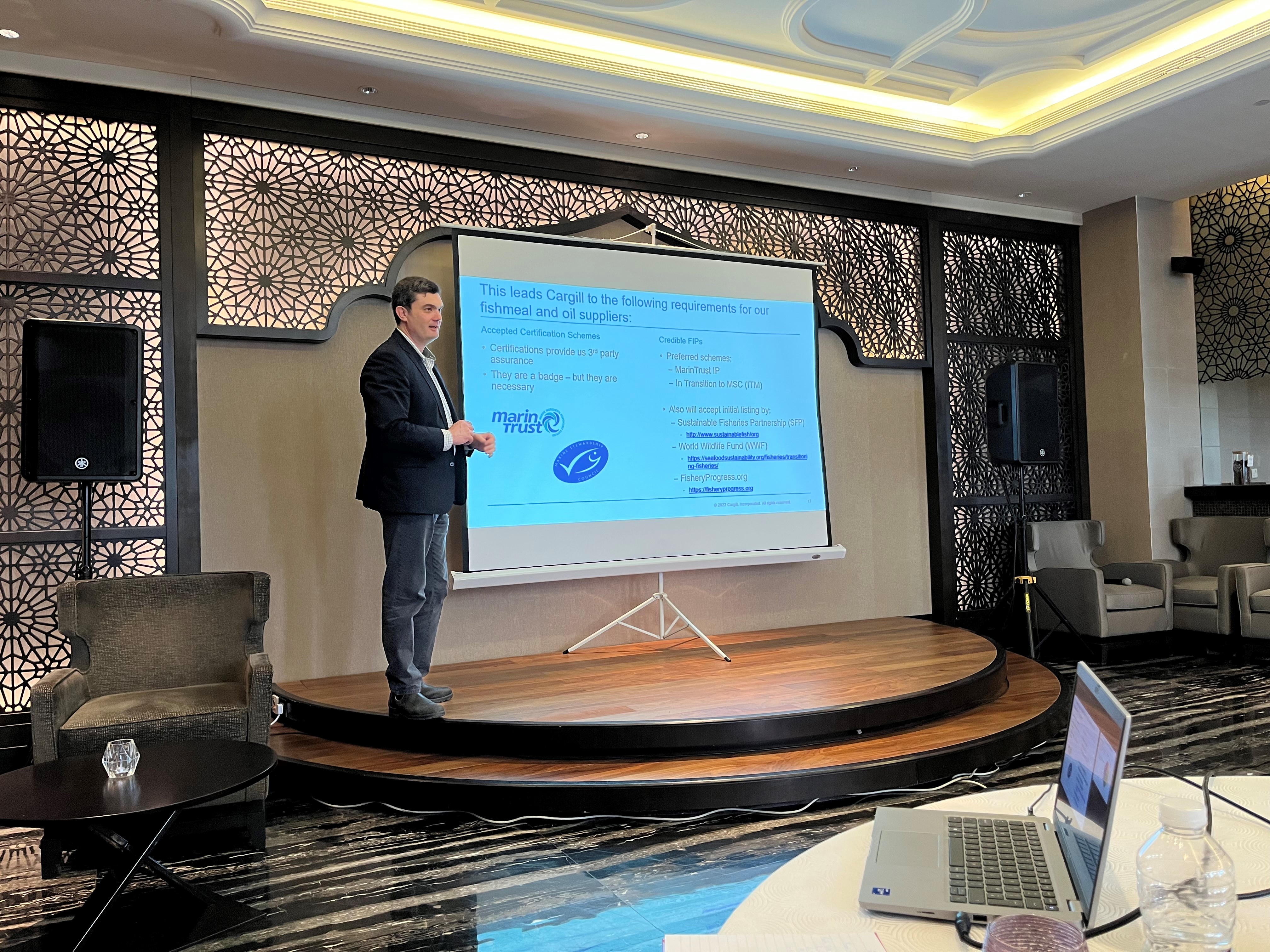 Dave Robb, Cargill Aqua Nutrition Sustainability Lead, presenting at a workshop to help set up a FIP in Oman
What is a FIP, again? And how does it work?
Fishery improvement programs, better known as FIPs, are a pragmatic, stepwise approach to continue supporting livelihoods that depend on the harvest while also enhancing the sustainability of a fishery with progressive, time-bound improvements. FIPs bring together an alliance of seafood buyers, retailers, processors, suppliers, producers, and non-governmental organizations (NGOs) with an interest in a specific fishery to encourage improvements in policy and management at the government level. At the same time, FIPs motivate changes to be made to working practices at the fishery level, minimizing issues such as illegal fishing, bycatch, and environmental impacts. To provide credibility, FIPs should be transparent in their goals, their activities and their results – something which Cargill insists for all the FIPs we engage in. Progress is often monitored by third parties to provide extra assurance of credibility.
Each FIP presents a different challenge, but the common thread is that the supply chain plays a critical role in helping a fishery on its journey toward sustainability. FIPs represent a dynamic way of bringing together stakeholders that have an interest in a fishery and creating an improvement program to gradually fix outstanding problems – from the fishermen and the industry using the products, to the government setting the regulatory framework to the environmental NGOs wanting to minimize the impact on the ecosystem where the fishery takes place.
"Our use of certified and improving marine ingredients for coldwater feeds continues to be strong, with 94% of 2021's total tonnage meeting those benchmarks. Progress has been achieved for more sustainable sourcing of marine ingredients in warmwater feeds, but with 41% of last year's use not certified or in a recognized FIP, there is room for improvement. A challenge, particularly in Asia, is access to local material engaged in FIPs or certified. Our work with the Global Marine Ingredients Roundtable seeks to address this and encourage more initiatives in that region." explains Dave Robb, Sustainability Lead for Cargill's aqua nutrition business.
Collaboration, collaboration and more collaboration:​​
We understand collaborative work across stakeholder groups and the value chain will drive maximum impact. To get subject-matter expertise for our marine ingredient sourcing and where to target FIPs, CQN works closely with Sustainable Fisheries Partnership (SFP) and World Wildlife Fund (WWF). We leverage their expertise in the development of a large-scale FIP, support their fisheries sustainability research, drive success in FIPs to improve marine ingredient sustainability and protect human rights and monitor our overall performance in sourcing fish meal and oil.
The first FIP Cargill engaged in was with the industrial fishery for Peruvian anchovy in Peru. Working with the fishing industry association (Sociedad Nacional de Pesquería) and key fishing companies as well as our competitor Skretting, this program started in 2017 to deliver a comprehensive FIP which can enable the fishery to be certified to MSC ultimately. We are excited to see the developments through this FIP and look forwards to the full assessment of the fishery when the project completes.
When a key source of marine ingredients —blue whiting from the North Atlantic —lost its MSC certification due to concerns about the management of the shared stocks, we stopped buying from that fishery. In 2020, Cargill, along with more than 60 other companies, including our competitors Skretting and BioMar, worked with the North Atlantic Pelagic Advocacy Group (NAPA) to create a FIP which works with regulators on a sustainable harvest strategy for blue whiting. In 2021, the blue whiting fishery was accepted into the MarinTrust Improver Programme as a recognized FIP which will work towards better long-term fisheries management strategies.
The CQN-supported, Mauritania small pelagics FIP is halfway through its projected timeline, but already some important goals have been achieved. This FIP focuses on working with scientists to improve data collection on stock status and fishery landings which will further enable stakeholders to make informed sustainable decisions. It also contributed to the Mauritanian government's fishery management plan, which is in the process of review and revision, emphasizing the importance of science and sustainability.
Working with the government, regulations have been passed to ensure that key species are protected for direct human consumption, whilst other species can be used for the production of fishmeal and oil.
Information on socio-economic and local community impacts is also being collected to understand the potential impacts of the industrial fishery as well as the artisanal operations.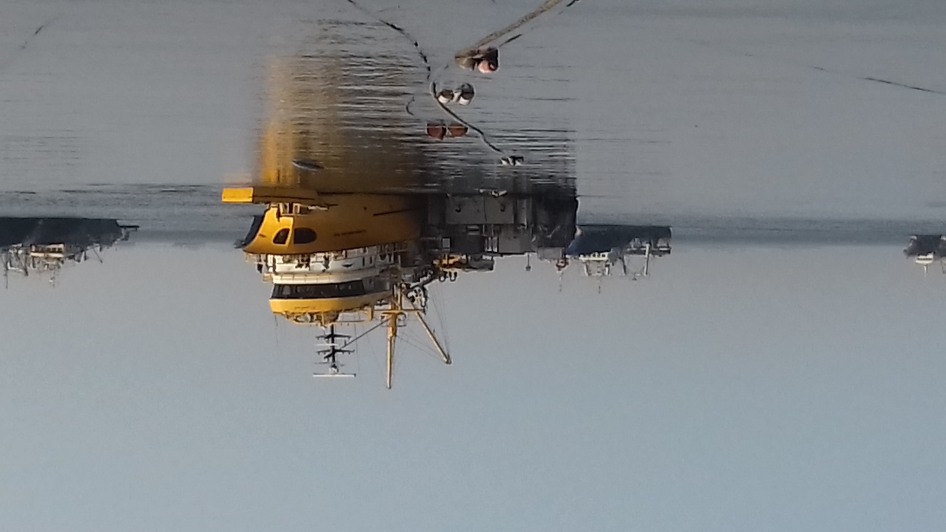 FIP in Mauritania - Cargill is one of the 11 companies supporting this project (Picture credit: Jo Gascoigne)
"The FIP in Mauritania is an important example of how we can support fisheries to become "The FIP in Mauritania is an important example of how we can support fisheries to become more sustainable, generating benefits for Mauritania's people, the fishing communities and us. So far, data collection on the fisheries have improved, supporting not just the fishmeal and oil industry, but also for direct human consumption," says Dave.
"A credible FIP should enable a fishery to regenerate, building stocks so that at the end of the process larger catches could be possible, within a sustainable management approach. This gives a win-win situation for the fishing nations, the fishermen and the buyers like Cargill."
Encouraging action to drive sustainable impact across the aqua value chain
Cargill continues to engage with its FIPs in Peru and Thailand to source sustainable and certified raw materials for its feed while encouraging suppliers to form more FIPs going forward.
It was a proud moment for our team when the achievements of one of CQN's longer-running FIPs were recently recognized by Premios Verde, an initiative to find, connect and amplify changemakers across the world. The Ecuador Small Pelagics FIP was developed in 2018 with the Ecuadorian National Chamber of Fisheries and other stakeholders and has made considerable progress since. This January, Premios Verde recognized that progress by including the FIP in the Habitat and Ecosystem Conservation category of this year's edition. The FIP was rated 93.44 out of 100 and competed with 3,046 projects from 795 cities in 33 countries.
"FIPs are an important component to preserving our ocean ecosystems and can support the responsible and sustainable use of marine ingredients in the aquaculture industry as well as fish for direct human consumption. It is possible to transform the seafood business and collaborate for healthier oceans by joining efforts with other key players in the industry that share our values," explains Dave on how Cargill's commitment towards FIPs is critical for ocean stewardship and a more sustainable aquaculture industry.
A new blue financing mechanism
Today, there are now over 150 FIPs active worldwide, covering over 11% of global commercial wild catch, as verified by FisheryProgress.org. To facilitate their deployment, the involved parties would benefit from a robust financing model.
World Wildlife Fund (WWF) and Finance Earth (FE) have joined forces and developed a concept for an innovative blue finance mechanism, known as the Fisheries Improvement Fund (FIF).
How will be work? By providing upfront and ongoing funding for the implementation of FIPs with the support of experienced partners on the ground. The Fisheries Improvement Fund will provide an innovative and scalable funding model for fisheries improvement.
We are proud to be part of this initiative, together with Skretting, Mars Petcare, Costco Wholesale, Sodexo, Walmart Foundation and Walton Family Foundation.
"At Cargill, we are excited to engage with WWF and Finance Earth on this innovative blue finance mechanism to scale fisheries improvement. We see a clear and compelling business case for companies to invest in the long-term viability of their marine ingredients used for aquaculture products, especially as aquaculture production continues to grow exponentially. The industry needs to work to support sourcing more sustainable sources fisheries through active engagement. Improvement in fisheries will reduce supply chain volatility and mitigate supply chain risk while enhancing business value across the sector" notes Helene Ziv-Douki, President of Aqua Nutrition business at Cargill.