The plant-based trend has truly mainstreamed in recent years. A whole new (and much larger!) consumer group of "flexitarians" (i.e. flexible vegetarians) has come to the fore. Rather than forgoing meat and dairy altogether, they are seeking to reduce their consumption of animal-based proteins for a number of reasons.
Since these consumers are not sticking to a strict plant-based diet, a simple rationale exists: Why not reduce the content of animal-based proteins in your favorite product, rather than forgoing it altogether? This has led to a sub-trend within "plant-based" of so-called "hybrid" products that leverage the best of both worlds: the indulgence of the animal proteins, combined with the nutritional improvement & diversification in protein profile of the plant-based proteins.
Our solutions
All three recipes are based on a blend of cow milk/cream, pea protein and vegetable fats, to deliver an optimal balance of nutritional profile, texture, and taste.

Leveraging our portfolio of pea proteins, which are characterized by high quality protein content and mild flavor profile, we ensure formulations with consumer desired plant proteins.

We can help you design hybrid dairy products with creamy texture, indulgent mouthfeel and optimized nutritional profiles that are easy to process, and that truly deliver the best of both worlds!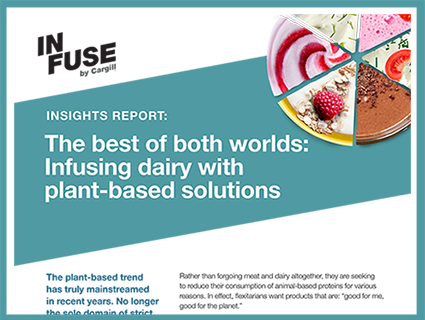 Hybrid Dairy Formulation: Insights & solutions
The rise in flexitarians, consumers who are not sticking to a strict plant-based diet, a sub-trend within plant-based has resulted in so-called 'hybrid' products.
To learn more, download our Hybrid Dairy Insights Report and Product Leaflet.