Plant-based Dairy Alternatives
Understanding the appeal of plant-based formulation
More and more consumers are embracing flexitarian diets, making plant-based dairy alternatives one of the hottest segments in the food and beverage landscape.
Today's flexitarians expect plant-based options to deliver on health, clean label, sustainability, and sensory experiences. But you need the right ingredients and application knowhow to succeed in this competitive market. That's where we come in…
Cargill has solutions that can address these opportunities:
NutriScore: We help brands bolster their nutritional credentials, using blends of plant proteins, reduced-sugar sweetening solutions, fibers, texturizers and more.
Label-friendly: We offer a range of ingredients, including fibers, starches, pectin, seaweed powder, pea protein and other familiar ingredients.
Sustainably sourced: Across our portfolio, we offer ingredients that can help customers achieve their sustainability targets.
Optimized taste, texture: Our broad portfolio features sweetening solutions, as well as texturizers, emulsifiers and fibers that provide mouthfeel, emulsification, stabilization and more.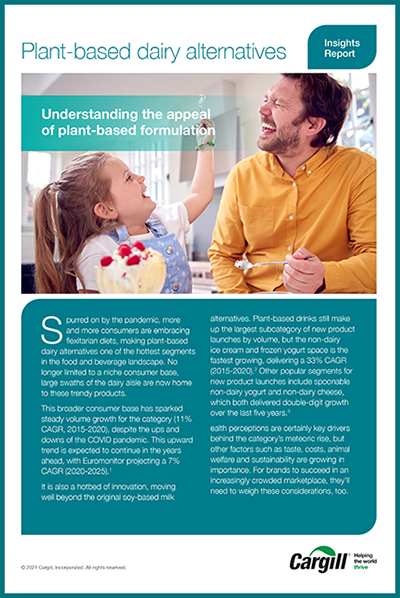 Plant-based Dairy Alternatives Insights Report
Download our "Plant-based dairy alternatives" Insights Report now and begin your "dairy to be different" journey!