Building Ships to Provide Wartime Resources
During the height of World War II, Cargill constructs an innovative, inland port to produce tankers that deliver critical supplies to the US Navy.
January 01, 2015
In February of 1942, the United States was entrenched in World War II. To support the US Navy's efforts in the Pacific region, the military needed additional ships. Originally, no one saw Cargill as a likely partner to help fulfill this demand: though it had produced one tanker in 1940, the agricultural trade company was based inland and had minimal shipbuilding experience.
What Cargill did have, though, was the ability to see beyond its limitations. The company eagerly bid for and won the contract with the Navy to build six auxiliary oil and gas carriers (AOGs).
Cargill President John MacMillan, Jr., selected an unusual shipbuilding location in Savage, Minnesota, positioned along the Minnesota River. Despite the shortage of raw materials for shipbuilding, construction began quickly on what would soon become Port Cargill. From the time it was completed in 1943 until the end of the war in 1945, the port served as the construction site for AOGs and towboats commissioned by the US military.
"The reward which we obtain for this effort lies solely in the feeling of pride we have in making sacrifices for the war effort."
— John MacMillan, Jr., President of Cargill
The inland port experienced its fair share of problems. Intense flooding in April 1943 and May 1944 threatened to stop shipbuilding operations. But the 3,000 employees proved their dedication to the cause. Workers took ferries from their homes to the port each morning so that construction could move forward on schedule, and they intentionally flooded some of their ships to prevent them from floating away. As a result of their hard work, these Cargill shipbuilders minimized interruptions, and the production of carriers and towboats for the US government continued.
On May 6, 1943, the unlikely port launched the USS Agawam, Cargill's first AOG, in front of a crowd of cheering shipyard supporters. By the war's end, Port Cargill had built 18 ocean-going ships for the Navy, produced four towboats for the Army, and earned its first Army-Navy "E," a prestigious award for excellence in the production of war equipment. In fact, these AOGs were so well built that they continued to be used after the war, some for maritime shipping. And at least one was still in use 35 years after it was constructed.
The success of Port Cargill did not end with World War II. It endured as an important hub for the company's grain transportation, expanding Cargill's business reach and access to new markets.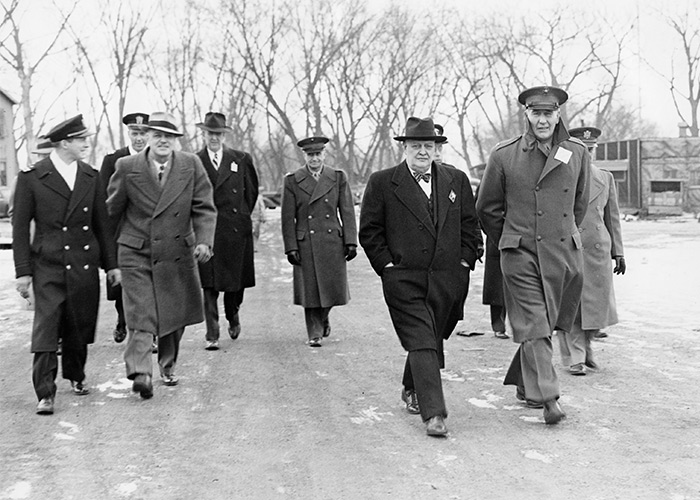 [image caption] Vice President Austen Cargill (second from right) leads a Port Cargill tour for military members, who later give Cargill an award for excellence in producing war equipment.