A Sweet Deal for Consumers
Old Orchard Brands becomes one of the first beverage companies to find success by using Truvia® calorie-free sweetener as an alternative to sugar.
January 01, 2015
When Old Orchard Brands, one of the largest juice companies in the United States, wanted to make a strong response to rising consumer demand for great-tasting juice products with less sugar, the juice maker achieved success with a new kind of artificial sweetener, Cargill's natural, zero-calorie sweetener, Truvia®. At the time, Cargill was expanding its sweetener line to meet those same evolving consumer tastes. In 2008, the company launched the Truvia brand as the world's first widely available plant-based, zero-calorie sugar substitute.
Truvia natural sweetener is derived from the leaves of the stevia plant, which is native to South America and Asia. The Truvia brand has become the fourth diet sweetener derived from stevia to gain widespread acceptance. It rapidly gained popularity in the United States, surpassing other well-known sweeteners within its first 18 months on the market.
Key customers, such as Old Orchard, began to take note of the benefits of Truvia natural sweetener as a food and beverage ingredient. Old Orchard found that the addition of the innovative sweetener in their juice products resonated well with consumers who were seeking products with natural ingredients. In 2010, the juice company was inspired to launch a new line of cranberry-based juice drinks using Truvia sweetener, called Cranberry Naturals™. The use of Truvia sweetener allowed Old Orchard's Cranberry Naturals juice drinks to be created with a reduced calorie and sugar content, which was a perfect fit for cranberries, a fruit already widely touted for its health benefits. After the success of Cranberry Naturals, Old Orchard began to use the stevia-based sweetener in some of its other product lines, including its new, naturally sweetened lemonades, launched in 2014.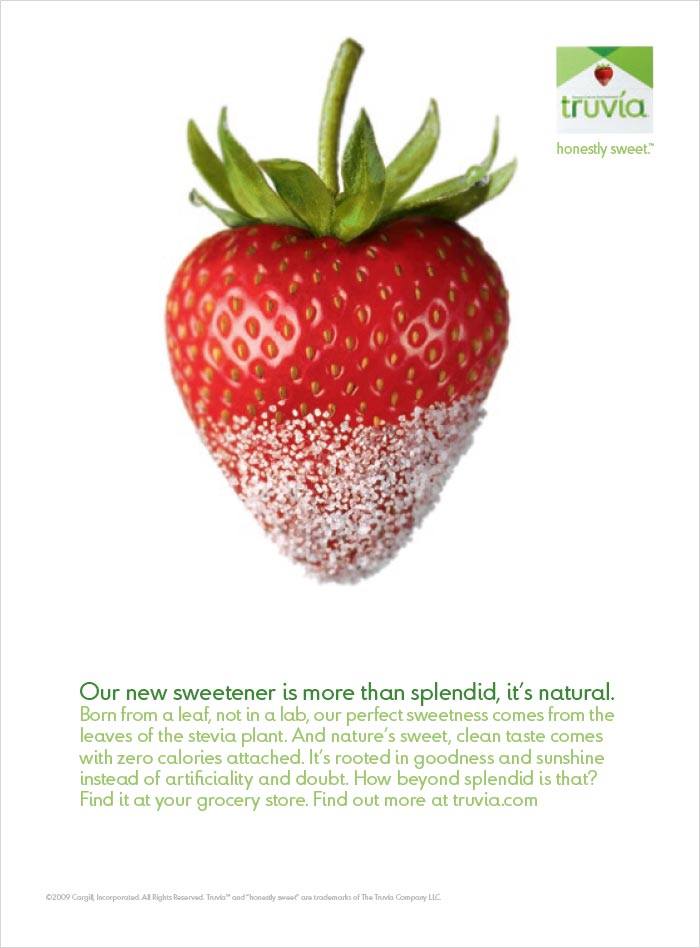 [image caption] The only all-natural sweetener available to consumers on a global scale, Truvia sweetener comes in a variety of forms, including baker's blends and individually sized packets, perfect for coffee and tea.
"With Truvia [sweetener], Cargill has helped Old Orchard stick to its commitment to continuous improvement on the quality of its products," said Mark Saur, owner of Old Orchard. "The collaboration also benefits from our mutual commitments to product quality and safety."
Six years after its introduction to the marketplace, the Truvia brand has increased market share in the sweetener space and enhanced product offerings around the world. In addition to offering a reliable solution for Old Orchard, in the six years since Truvia natural sweetener was developed, the brand has added substantially to sweetener offerings around the world. Today, it is the number-one sweetener in the natural sugar substitute category in the United States, United Kingdom, Venezuela and Spain, and is the only global brand in the stevia category available as a consumer product in eight countries across three continents. The product is now used as a key ingredient in hundreds of quality products globally, offering a sweet alternative for millions of consumers watching their daily sugar intake.