Cargill recognized among U.S. companies for programs that benefit Latino communities
LATINO 100 list of businesses that support Hispanic-Latinos is released in April issue of LATINO Magazine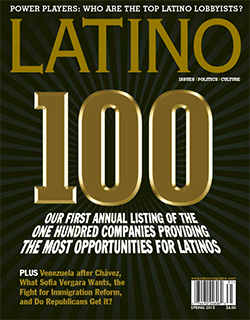 LATINO 100 is the first annual listing of the one hundred companies providng the most opportunities for Latinos.
MINNEAPOLIS – April 17, 2014 – Cargill is featured among 100 U.S.-based companies for providing the most opportunities for Latinos in LATINO Magazine's annual "LATINO 100" list. The list, which was compiled based on nominations by Latino nonprofits and community organizations, as well as LATINO readers, partners and stakeholders, provides a perspective on corporate support for the Latino community in areas of philanthropy, workforce diversity, minority business development and governance.
"At Cargill, developing, engaging and retaining diverse talent is how the company achieves its strategic goals and delivers successful business results," said Mike Fernandez, corporate vice president of Cargill Corporate Affairs. "Hispanic-Latino programs are just one way Cargill leverages the power of its global workforce, and views these diverse perspectives as a source of strength."
Education remains one of the most important challenges facing Latino communities and companies including Cargill are featured in LATINO because of their strong support for encouraging Latinos to enter the STEM (science, technology, engineering and math) fields.
LATINO Magazine is the flagship publication of the Latino Publishing Group based in Austin, Texas. View Cargill's profile in the latest quarterly issue of the LATINO at http://latinomagazine.com/.
About Cargill
Cargill provides food, agriculture, financial and industrial products and services to the world. Together with farmers, customers, governments and communities, we help people thrive by applying our insights and nearly 150 years of experience. We have 143,000 employees in 67 countries who are committed to feeding the world in a responsible way, reducing environmental impact and improving the communities where we live and work. For more information, visit Cargill.com and our News Center.