A one-stop digital shop
Until now, there has not been a platform where farmers can see all the information on markets, their crop contracts and their operations in one place. Today, we are partnering with Archer Daniels Midland Company and other crop buyers to help farmers by building that platform: GrainBridge.
Launching this year, GrainBridge will give farmers powerful new insights so they can make more profitable decisions about when and how to market their crops. Advanced analytics will combine with the option to transact directly with companies on the platform, all underpinned by strong data security and privacy. Free for farmers to use, GrainBridge will provide them with vital details like break-even levels based on crop conditions, margin price targets, current risk management positions and more, all so they can successfully navigate an ever-changing marketplace.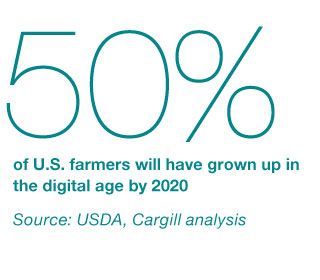 Partners for performance
Eighteen years ago, Everton Gubert set out with a computer and a vision to help Brazilian farmers improve pig production. Today, his company Agriness provides a unique technology platform used by the majority of the country's swine farmers to manage the performance of their sows and piglets. Cargill and Agriness are deploying this technology globally and adapting its data collection and analysis capabilities so it can assist poultry and dairy farmers, as well.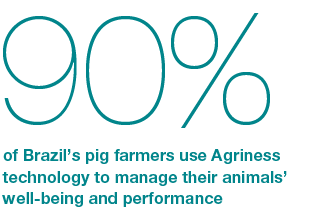 Breakthroughs to end hunger
From micro-savings and credit platforms for small-scale farmers to technology that makes it easier for mills to fortify flour with nutrients, startups are innovating in diverse ways to help people everywhere secure the food and other resources they need. In May, eight teams representing these and other projects participated in a boot camp run by the World Food Programme Innovation Accelerator in Germany. Cargill collaborated on the boot camp and mentored the teams. Now, up to three projects will receive $100,000 each from Cargill in equity-free financing to help them sprint toward commercial readiness.
Open-source solutions for traceability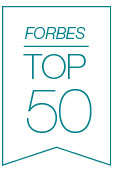 Cargill was recognized by Forbes for putting blockchain, a distributed ledger technology, to work in meaningful ways. We began by connecting U.S. consumers to the farmers who raised their Thanksgiving turkeys. Then we joined with Intel and software engineer Bitwise IO to help build Hyperledger Grid, an open-source framework that all organizations can use to create supply chain solutions. We will use Grid to improve food safety, traceability and trade efficiency.