Letter to Stakeholders
Every day, as a global team, we challenge ourselves to reach higher.
Dave MacLennan
Chairman and Chief Executive Officer
David Dines
Chief Financial Officer
There are no simple solutions when it comes to nourishing 7.5 billion people safely, responsibly and sustainably. To deliver for our customers and all those who depend on us, we are directing our insights, capabilities and resources toward answering some of the world's biggest questions. Everyone at Cargill is relentlessly determined to transform what is possible in food, agriculture and nutrition. We are proud of how far we have come in 154 years, and we know together we can achieve much more.
Strengthening our safety culture
Nothing matters more than the safety of our people. Every year we challenge ourselves to drive measurable progress in achieving our safety goals. Guided by a set of leading indicators, we focused this year on the frequency at which potential risks are reported and how well we protect against those risks. As we identify conditions with the potential to cause a serious injury or fatality, we are taking action to engineer out the risk, substitute a safer alternative or eliminate it altogether. This continuous process helped reduce fatalities in fiscal 2019 to one – good progress but still an unacceptable outcome when our goal is zero harm. With a strong safety culture, we know we can achieve our goal to send everyone home safely each day.
Financial performance
We delivered $2.82 billion in adjusted operating earnings in fiscal 2019, down 12% from last year's top performance. Net earnings on a U.S. GAAP basis decreased 17% to $2.56 billion. Revenues dipped 1% to $113.5 billion. Cash flow from operations totaled $5.19 billion, of which $2.81 billion was invested in strategic acquisitions, joint ventures, and new and existing facilities.
Earnings were led by our North American protein businesses. With steady domestic and export demand, and plentiful cattle supplies, the beef business posted its third consecutive year of strong performance. Value-added egg products also did very well. Conversely, a mix of operating and market challenges across regions decreased results in our global poultry business.
Providing solutions across multiple commodities and countries, our metals, risk management and trade finance businesses successfully navigated volatile markets to each achieve higher earnings for the year.
Grain origination and oilseed processing in North America and Europe posted improved results, but the market uncertainties and commodity flow distortions unleashed by trade tensions negatively impacted agricultural supply chain earnings globally.
Animal nutrition results trailed last year, as the aqua, compound feed, premix and feed additive businesses faced many regional challenges, including the spread of African swine fever across China and nearby countries.
In food ingredients, our edible oils business outpaced the prior year. Though up slightly in Europe, cocoa and chocolate earnings in total were hurt by operating issues in North America. Starch and sweetener results decreased due to higher energy and raw material costs in Europe and low ethanol prices in the U.S.
Finally, our focus on efficiencies significantly reduced spending among corporate functions and drove other cost reductions.
Although short of our ambitions, this year's earnings were achieved in the midst of immense geopolitical uncertainty, especially related to global trade. We have long said there are no winners in a trade war, particularly an escalating conflict between the U.S. and China, the world's two largest economies. To that, add the ambiguities surrounding Brexit and the renegotiation of NAFTA, as well as conflicts in Central America and other regions. We also saw disruptions in the ocean shipping industry and, as the year progressed, a shakeup in animal feed demand and global meat trade due to African swine fever.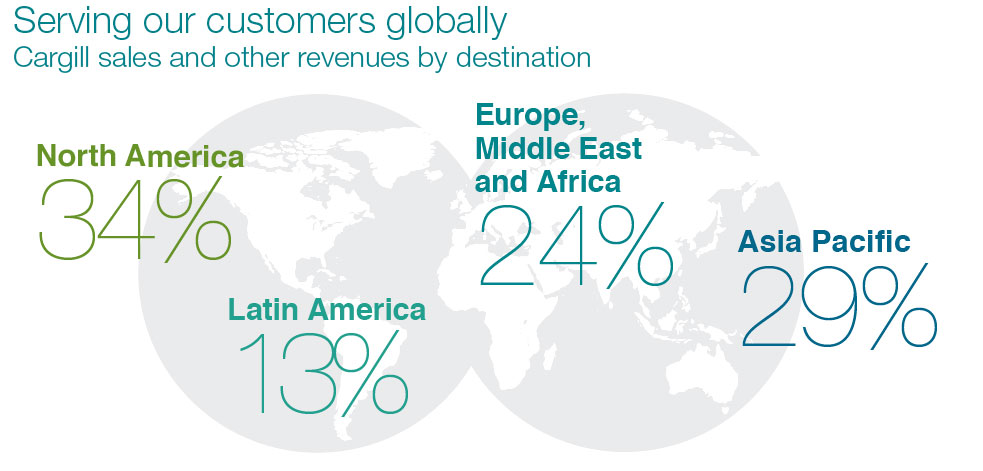 Accelerating our growth
By remaining agile and focused on what we can control, we succeeded in advancing our strategy and helping our customers win with consumers in local markets. To accelerate our growth, we are investing in markets where our expertise will help us create greater value together with customers. This includes global protein, specialty ingredients, health and nutrition products for both people and animals, bioindustrials, and digital products and services.
We also are targeting the fast-growing economies of Asia Pacific with strategic investments, where populations are growing and diets are shifting. In China, we opened a new addition to our poultry facilities in Anhui province that increases capacity for cooked chicken products. In Jiangxi province, we started constructing a flagship facility for producing premixes and specialty feeds for young animal nutrition. And we announced we will expand our corn facility in Jilin province and build an adjacent food safety and technology center in collaboration with the local government.

Elsewhere in the region, we opened a food and nutrition innovation center in Singapore. We announced planned investments to grow our animal nutrition and agricultural supply chain businesses in the Philippines, as well as to advance the seafood and poultry sectors of Thailand. In Vietnam, we opened our largest feed mill to date in the country. And in Pakistan, we declared our intention to invest across several agricultural segments.
In other parts of the world, we started construction on a pectin plant in Brazil, purchased a specialty chocolate maker in Belgium, acquired poultry processors in Colombia and Poland, invested in Israeli cultured meat startup Aleph Farms, and opened a new protein headquarters in the U.S. Additional acquisitions and partnerships in our strategic focus areas are detailed in the following pages.
Contributing to sustainable global development
Central to our business strategy is our work every day to deliver on our sustainability commitments and help the world achieve the U.N. Sustainable Development Goals (SDGs). With those overarching aims in mind, we continue to support the U.N. Global Compact and are committed to its principles on human rights, labor, anti-corruption and the environment.
This year, we published a new human rights commitment that respects and upholds the rights of workers, indigenous peoples and communities everywhere we operate. It is in keeping with our Guiding Principles, one of which states that we treat people with dignity and respect. Among other things, the commitment outlines our promise to maintain a safe, equitable and supportive work environment.

Empowering women is essential to strengthening families and communities, as well as nourishing a growing world. We work directly with thousands of women farmers across continents to help them raise food more sustainably, reach broader markets and improve their standards of living. In our cocoa supply chain for example, we worked with CARE to establish 29 village savings and loan associations in Côte d'Ivoire and 108 women's groups in Ghana. We also teamed up with the ONE Campaign to increase girls' access to education and lift women and girls out of extreme poverty by sharing the stories of those who are fighting for change in their communities. It is part of a two-year, $2 million commitment to help break down the barriers holding them back.
Another crucial dimension of sustainable development is combating climate change, one of the most significant issues of our time and one that directly impacts food and agriculture. Last year, we announced we would cut greenhouse gas emissions from our operations (also known as Scope 1 and Scope 2 emissions) by 10% by 2025, against a 2017 baseline. To help reach this goal, we signed a virtual power purchase agreement with Geronimo Energy to buy 50 megawatts of renewable power from its new wind farm in the U.S. state of South Dakota, while our partner and strategic customer Walmart will buy the remaining energy from the installation. The wind farm is expected to come on line at the end of 2019. This agreement complements our drive to increase the use of energy from renewable sources, and it represents approximately one-tenth of our target for emissions reductions from our global operations.
Protecting global forests is a vital element for managing the impacts of climate change. Nourishing the world in a sustainable way means that forests and farming must coexist. In addition to updating our global forest policy, we developed a new policy and action plan for sustainable soy production in South America. To extend our impact, we committed $30 million to source and support innovative ideas for preserving vital forest landscapes and natural vegetation in the region while also allowing for rural economic development. These steps are part of our commitment to eliminate deforestation from our supply chains.
In all these areas, Cargill is uniquely positioned to connect people, planet and products to make solutions possible. Together with our partners like The Nature Conservancy and World Resources Institute, we are finding innovative ways to achieve our goals. And we continue to collaborate with diverse groups of stakeholders – farmer organizations, governments, customers and others – to drive broad-based progress across food and agriculture. Together, we can increase access to safe, nutritious food while ending deforestation and advancing climate solutions.
In closing
This year, we focused on making changes to how we get our work done so that we can create more value together with our customers. We are accelerating these efforts in the new fiscal year. Yet some things will not change: our values, our vision to be our customers' most trusted partner, and our purpose to nourish the world in a safe, responsible and sustainable way. This is what continues to inspire us to reach higher.
David MacLennan
Chairman and
Chief Executive Officer
David Dines
Chief Financial Officer
July 30, 2019
Our Leadership team
LeighAnne Baker
Human Resources
Julian Chase
Transformation
David Dines
Finance
Ruth Kimmelshue
Business Operations and Supply Chain
David MacLennan
Chairman and CEO
Anna Richo
Law and Compliance
Brian Sikes
Protein and Salt
Marcel Smits
Strategy
Joe Stone
Agricultural Supply Chain
Gert-Jan van den Akker
Risk
Frank van Lierde
Food Ingredients and Bioindustrial
David Webster
Animal Nutrition