The power of poultry
Protein is an important part of the human diet. We believe it also can help transform the lives of small-scale farmers and their neighbors. This year, we teamed up with Heifer International to launch the Hatching Hope Global Initiative, using poultry production to open up new opportunities for women farmers and strengthen their communities. We will use practical solutions to produce dramatic results in nutrition, economic livelihoods and animal productivity.
Starting with work in India, Mexico and Kenya, Hatching Hope will offer training based on Cargill's animal nutrition expertise to help farmers expand and improve their poultry production in a sustainable way. Programming will ensure farmers are connected to the products, services and markets they need to grow their businesses. All of this will move farmers toward living incomes and improve productivity, nutrition and resilience, while also increasing the amount of protein available to their families and communities. Additionally, the program will raise awareness of the value of protein in the diet through Heifer's proven community development model.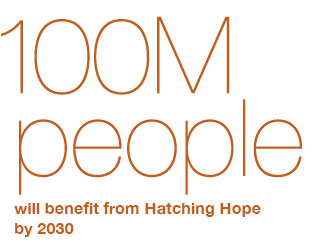 Connecting more in cocoa
The digital systems we are implementing in Côte d'Ivoire and Ghana allow cocoa farmers to get paid immediately, transparently and securely when they sell us their beans. Plus, farmers can save more easily, increasing their access to credit. The data also will help farmer organizations make better business decisions so they can do more for their members and communities. And bean traceability back to individual farms is helping provide our customers – and their consumers – with greater confidence that our cocoa and chocolate products are made with respect for people and the planet. In Ghana, all of the cocoa farmers we buy from directly use our first-mile traceability system. We aim to achieve the same in Côte d'Ivoire during 2020.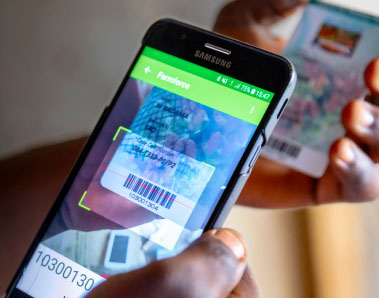 New livelihoods through seaweed

Red seaweed is used to make a texturizer that is added to many food, beverage and personal care products. About 1 million people worldwide make a living growing and harvesting it. To help them, we partnered with Proforest to create the Red Seaweed Promise™. This program shares best practices for production and harvest while also increasing the amount of sustainable red seaweed – and texturizers – available. It provides assurance to consumers and improves the lives of seaweed producers.
Holistic community development
Four years ago, we set out with TechnoServe in southern India to reach 5,000 small-scale farming households across 27 villages with the tools to raise their resilience. This has included agronomic training to increase crop productivity, homestead gardens for better nutrition, water and sanitation upgrades at local schools, and entrepreneurial resources for women and young people. Having reached its targets, the project has connected these villages to greater opportunities and a path forward.