Carrageenans
Carrageenans are a nature-derived texturizing ingredient extracted from red seaweeds (Rhodophyceae) with highly effective thickening and gelling properties. Carrageenans' ability to thicken or form gels can be used in many health and beauty products to provide texture and consistency.
With their shear-thinning properties, thickening carrageenans make the cosmetic preparation easy to fill and to spread.
Gelling carrageenans provide emulsion stability by trapping oil droplets and prevent non-soluble ingredients (such as pigments) from separating by suspending them into the gel matrix, at low dosage. Thanks to their thixotropic property, carrageenans give a light and pleasant texture.
Due to their specific interactions with proteins and their synergetic effects with other hydrocolloids, carrageenans are extremely versatile ingredients.
Cargill can supply grades of carrageenan that meet the specifications of the current Ph.Eur. when tested accordingly.
Brand names
Cargill can offer refined carrageenans ensuring a broad spectrum of functionalities, tailored to customers' specifications:
SATIAGEL™VPC refined carrageenans (gelling)
SATIAGUM™VPC refined carrageenans (thickening)
Applications
Carrageenans can be used in gels, creams and lotions, for hair and skin care applications. Carrageenans are also an effective binder in oral care applications, such as toothpaste.
Creams and lotions
Hair care products
Toothpaste
Stick applications
Functionalities
Thickening agent
Gelling agent
Film-former
Texturizing agent - carrageenan has a wide spectrum of fine and light textures
Binder
Glosser - carrageenan has a wide spectrum of shiny textures
Chemistry
Carrageenans are hydrocolloids consisting mainly of sulfate esters of galactose and 3,6-anhydrogalactose with a varying degree of sulfatation (between 15 percent and 40 percent).
The carrageenan family can be broadly classified into three main types, split into two groups:
Gelling carrageenans: kappa and iota: Having undergone the heat treatment required for dissolution, the macromolecules have a tendency to spontaneously associate during cooling, thus creating junction zones required for a gel.
The iota carrageenan network is formed by a series of double helices and kinks that form a transparent, elastic gel. This loosely connected network can easily be destroyed by mechanical action. However, it reforms quickly once the mechanical action has stopped.This property is called "thixotropy" and is very useful in certain applications, such as cosmetic emulsions.
Gelation of kappa carrageenan is significantly enhanced by the potassium ion. It induces gel formation at very low concentrations. Because of its small size when hydrated, it fits into the coil and partially neutralizes the sulfate groups. Thus, the double-helices can cluster together and form aggregates, which create a strong, brittle gel.
Kappa (κ) carrageenan: 1 sulfate group per 2 sugar units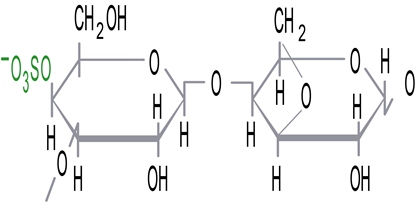 Iota (ι) carrageenan: 2 sulfate groups per 2 sugar units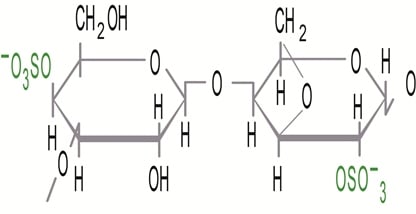 Thickening carrageenans: lambda:
Largely due to electrostatic repulsion, the chains of lambda carrageenan do not tend to self-associate and can easily be separated. Therefore, the lambda carrageenan is incapable of forming gels, but can be used as a thickening agent to control viscosity.
Lambda (λ) carrageenan: 3 sulfate groups per 2 sugar units