Locust Bean Gum
Locust bean gum is a nature-derived texturizing ingredient from the seed of the leguminous carob tree (Ceratonia siliqua), which grows in Mediterranean countries. The carob seed consists of three different parts: the husk surrounding the seed, the germ (protein) and the endosperm (gum) – the locust bean gum is extracted from the latter one.
Locust bean gum significantly improves gel strength and texture and prevents syneresis when used in combination with carrageenans.
Its unique synergy with xanthan gum provides clear advantages such as highly elastic gel formation from two thickening agents with a very limited syneresis.
However, it is not capable of forming gels on its own in water systems. Therefore, locust bean gum is mainly used as a thickening agent as it creates high viscosity.
Brand name
VISCOGUM™BCR ceratonia siliqua
Cargill's products are available in various viscosities to suit different applications. Cargill also produces extract of locust bean gum, a natural and clear thickener.
Applications
Locust bean gum can be used in gels, creams and lotions in hair and skin care applications.
Functionalities
Used alone, its thickening and skin friendly properties make it a highly effective viscosity adjuster. In combination with other hydrocolloids, it also becomes an emulsion stabilizer.
Thickening
Texture modifier
Stabilizer
Gel strengthener
In the presence of kappa carrageenan, agar and/or xanthan gum, locust bean gum forms a gel. The synergy with kappa carrageenan provides significant advantages:
Reinforcement of the carrageenan gels
Elastic gel texture
Prevention of syneresis

Chemistry
Locust bean gum belongs to a group of hydrocolloids known as galactomannans. The chemical structure consists of a polymeric mannose chain branched with galactose units. The main chain consists of (1-4) linked beta-D mannose residues and the side chain of (1-6) linked alpha-D galactose. Locust bean gum has an overall ratio of mannose to galactose of around 4:1. The galactose sugars are not evenly distributed along the chain but tend to be clustered together in blocks. The chains have an irregular structure with alternating "smooth" and substituted zones.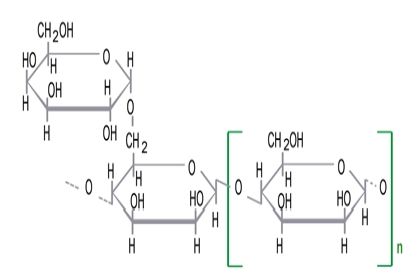 Locust bean gum is only soluble after heating up to 80 - 90°C (176 - 194°F), depending on time and mechanical treatment. Viscosity at 1 percent ranges from 2000 to 3500 cps. It creates a pleasant texture with good flavor release.
Being non-ionic, locust bean gum is not affected by ionic strength or pH but will degrade at higher temperatures.