6 Cargill innovations changing the future of agriculture
December 26, 2018
R2DMoo. Asphalt's elixir of youth. Traceable cocoa. These are just some of the ways Cargill is quickly moving to become a technology leader in food and agriculture.
We picked six stories published in 2018 that highlight how Cargill is innovating and leading the industry to a more sustainable and healthy future.
1. R2DMoo: The cattle-herding robot
Three quarters of a ton. That's the size of the average bovine moving through Cargill's beef plant in Schuyler, Nebraska. Multiply that by 5,000— approximately how many head of cattle the facility processes on a daily basis.
Lately, we've had some help from a new co-worker working alongside these hefty animals. He doesn't have a name, but you might call him R2DMoo: he's a remote-controlled robot.
2. Healthier oil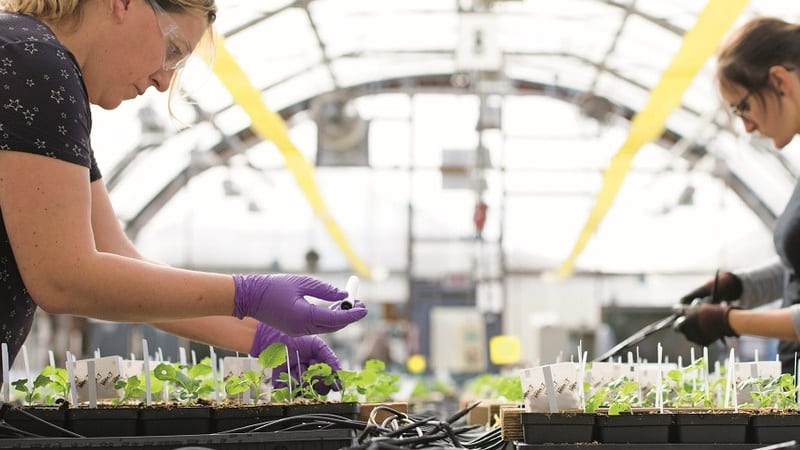 The introduction of the lowest saturated fat, high oleic canola oil available to commercial food customers worldwide was 10 years in the making. Here's how Cargill did it.
3. Accelerating tech in agriculture through startups
For 13 weeks, nine startups from around the world congregated in a high-rise office building in St. Paul, Minnesota. There to participate in Techstars' Farm to Fork accelerator program, the businesses all focused on using technology to solve some of the biggest problems facing the food industry.
4. A more traceable cocoa supply chain

For cocoa farmers in Ghana, and suppliers like Cargill, the road to traceability starts with development, partnerships and technology as simple as a bar code.
Affixed to bags of cocoa delivered by farmers certified as sustainable producers, the bar codes are part of how Cargill — together with farm GPS maps — is piloted a program with farmers in its direct supply chain to create transparent systems that can follow more and more cocoa beans back to their source.
5. Technology with a purpose: Turning raw data into commercial insights

What brought together a 153-year-old grain trader and a tech startup in an office full of bean bag chairs? Corn, naturally.
6. Giving old asphalt new life
Asphalt is the most recycled product in the United States, but becomes brittle as it ages. That limits how much can be recycled at one time. But a Cargill plant-based additive pushes the limits of how much reclaimed pavement can go back onto the road.