A team of Cargill mentors went to Munich to change the world. It changed them, too
June 26, 2019
Nafue Nyange's mission is to make a better porridge. It's the kind she learned to make for her son, the kind children in her native Tanzania, struggling with malnutrition and a lack of good options, badly need.
She stands on stage in front of a crowd of people who can help make it happen. Clasped tightly in her hands is a plush monkey named Coconut. It's a little extra support from a new friend.
In the first few rows sit teams from the World Food Programme (WFP) Innovation Accelerator and Cargill – experts in business and development, veteran collaborators and new friends, brought together to help entrepreneurs like Nyange bring their ideas to life.
They're nervous. They're proud of her. They can't wait for the world to hear what she has to say.
This is the story of how they helped her get here.
Hila Cohen, head of business development for the WFP Innovation Accelerator.
Nestled within the United Nations World Food Programme — the world's largest humanitarian organization— the Innovation Accelerator is a launching pad for big ideas to solve hunger.
It combs the world for promising startups and entrepreneurs, putting them through weeklong "bootcamps," complete with mentoring, training and a chance to apply for funding.
Since 2015, the Innovation Accelerator has run 19 of them, yielding dozens of successful projects that have reached hundreds of thousands of people. Last year, it had a new idea: Run one together with Cargill.
The company has been a longtime supporter of WFP, from funding school lunches to helping fight famine. With Cargill's business acumen, global reach into the food system and shared commitment to ending hunger, the Accelerator saw a chance to go deeper.
"We realized there was a lot of potential for collaboration," said Hila Cohen, head of business development for the Innovation Accelerator.
Cargill saw it too. After meeting with Hila and her colleagues, Eric Parkin – Cargill's digital business development leader – fired off a note to a colleague, impressed and intrigued.
"I don't know what exactly this is," he wrote, "but this is something."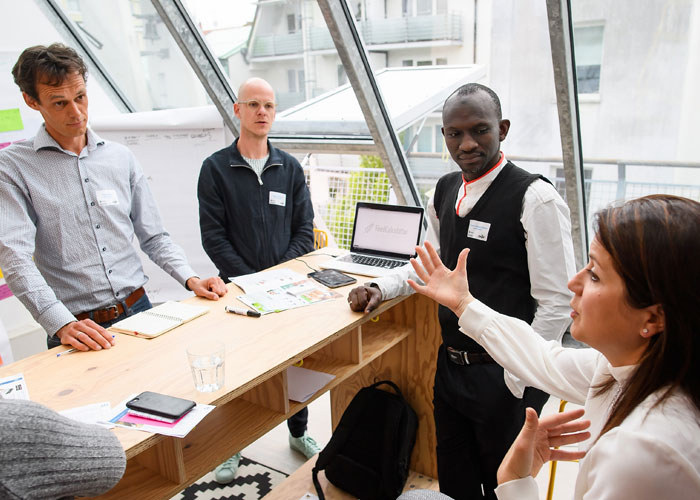 Entrepreneurs at the Innovation Accelerator boot camp connect with Accelerator and Cargill experts.
On a May morning in the Innovation Accelerator's Munich offices, that something is taking the form of a sea of sticky notes scrawled with business questions. Entrepreneurs are set up in every nook and corner, with mentors – tag-teamed by Cargill and the Accelerator – putting them through the paces.
Eight teams are here for the latest boot camp – a group narrowed down from around 900 applicants. Their ambitions range from better access to credit for smallholder farmers to real-time mapmaking for aid workers in disaster zones.
Nine Cargill mentors are here to help guide them, along with the Accelerator's own staff.
They're experts in business development, strategy, innovation, customer experience, brought in from around the world.
In one corner, Thabani Sinkula, a Cargill marketing insights and innovations business consultant from Minneapolis, is deep into the economics of flour bags.
Across the table from her is Felix Brooks-church, head of the Tanzania-based startup Sanku. The company makes a device that gives small-scale maize millers a simple and reliable way to fortify flour. To pay for it, Sanku became the mills' bag supplier, buying in bulk and using the margins to cover the costs of fortification.
Brooks-church wants Sanku to reach 100 million people by 2025. Along with Alastair Pryor, an Innovation Accelerator mentor, Sinkula is quizzing him on his business model to make sure it's sturdy enough to get there.
How can he better predict demand? How will he handle fluctuations in foreign exchange costs? What happens if a climate disaster wipes out crops for a season?
They're drawing on real-world experience with business conditions that went sideways. Sometimes, Sinkula says, "it's out of your control."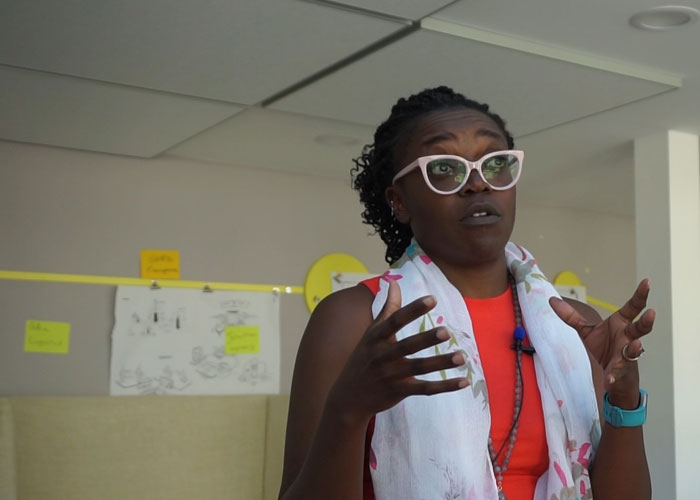 Thabani Sinkula, a Cargill marketing insights and innovations business consultant and one of the mentors at boot camp.
Along with business guidance, the mentors are offering equally important advice: Relax. You've got this.
They're helping the teams craft their pitches to investors. When it agreed to help run the bootcamp, Cargill committed $550,000, which included a total of $300,00 in equity-free funding – $100,000 for up to three teams each – as well as ongoing support.
Others will have a chance to apply for funding through the Accelerator or connect with investors and partners at a pitch night that caps off the week.
Some of the entrepreneurs are well practiced. Others are growing into it. The afternoon before pitch night, everybody practices their presentation – Nyange among them.
She's pitching her porridge, called Nono. She got the idea when she realized she couldn't find anything healthy on the market that her son actually enjoyed eating.
One of her friends in Tanzania was spending half of her income to feed her daughter, and the girl was still malnourished. She's putting her own recipe – healthier, tastier and more affordable – on the market.
A lawyer and an entrepreneur once over already with her own bridal business, she thought she had her business plan locked down. Over the course of the week, her mentors have helped her reexamine "almost everything," – her price model, how she understands her customers, whether her packaging is effective
"They're amazing," she says. "It's been priceless."
They've helped build her confidence too. Early on, Nyange was struggling with her pitch, confiding that she wished she had the polish of some of the more seasoned teams.
Jonathan Schauer, director of software development for Cargill Digital Labs and one of her closest mentors, assured her she'd be great.
"She's so authentic and her story is inspiring," he says. "We just had to remind her of that."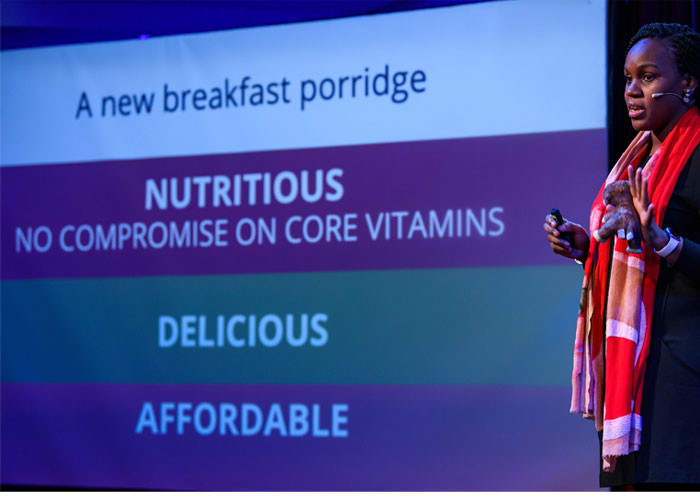 Nafue Nyange on stage at pitch night to cap off the Innovation Accelerator boot camp.
In the run-up to pitch night, Hila Cohen tells the crowd Cargill held up its end of the bargain, bringing energy, commitment and trust.
"This is what a partnership should look like," she says.
For the first Innovation Accelerator pitch night four years ago, there were 10 people in the audience. Tonight there are more than 100 – investors, government officials, leaders in global NGOs. Parkin and Anda Cristescu, a supply chain leader for Cargill, give the keynote remarks.
Parkin describes how 154 years ago, Cargill was a startup too. He says working with the Innovation Accelerator has opened his eyes to the challenges of innovating through disaster, conflict and humanitarian crisis.
"This week has been one of learning, sharing and finding humility in realizing what these companies are working to solve," he says, calling his role in the partnership "one of the proudest moments in my career."
The mentors in the audience are like proud parents, excited and anxious to see how the teams do under the lights.
When it's Nyange's turn, she's captivating. She tells the crowd about her son. She tells them about the scourge of malnutrition in her country, even for people like her friend who pour their incomes into food. She tells them there's a better way.
She's direct and confident. "This is a business," she tells the audience, "and it's a good business for a good cause."
She's holding onto Coconut, the plush monkey. It's on loan from Schauer via his six-year-old daughter, Juliette.
Juliette sent it with him on the trip to keep him company. During a mentoring session, Nyange spotted Coconut, gave it a squeeze and "couldn't let go." During her presentation, it never leaves her grasp.
From halfway across the world, she says, "Juliette is letting me know it's going to be OK."
Her pitch gets a standing ovation. A few people cry.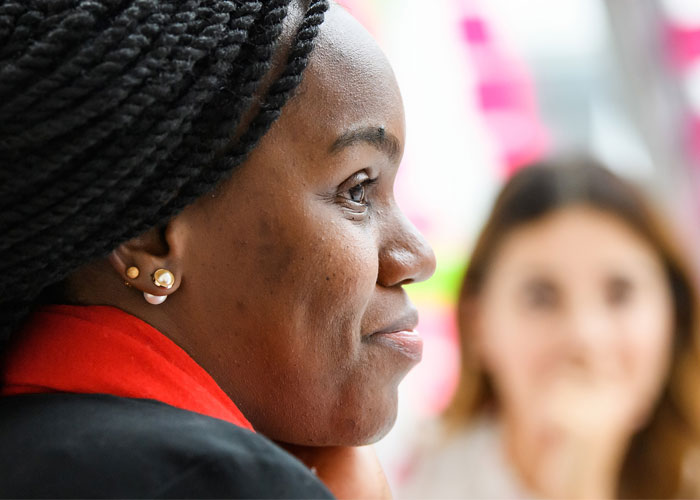 Nyange with mentors and investors at the boot camp.
The next day, bootcamp is wrapping up. The Cargill mentors reflect on what they're taking back with them.
Manasi Kumbhat, a Cargill strategy and business development manager based in the Netherlands, remembers one session with a team that was struggling to make its plans work. She asked why they didn't drop what wasn't working and move on to another customer segment.
They told her: If we don't do this work, no one will.
"I thought I was a passionate, but seeing what this means to them, it's a different level," she said. "I'm going to aspire to that."
Before everyone heads home, the mentors swapping numbers with their teams, telling them to get in touch however the pitches go. Everyone says they'd come back in a heartbeat. They throw around terms like "mind-blowing" and "life-changing."
After a career of helping teams achieve their goals, "I felt like I'd been training my whole life to do this," Schauer said. "I couldn't have been more excited."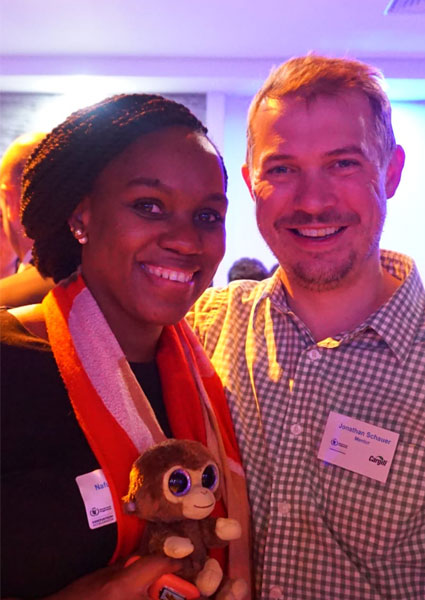 Nyange and Schauer. A few weeks later, he's still talking with Nyange, helping her work on her application for funding.
She sent Schauer back to Minneapolis with a parting gift: a piggybank for Juliette as a thank-you. And in Tanzania, Nyange's son is curled up in bed with a squishy plush. Juliette wanted her to take Coconut home.
Photos courtesy World Food Programme Innovation Accelerator