Adventures in modern agriculture
Donation from Cargill supports Fair Oaks Farms' educational mission
July 01, 2015
Fair Oaks Farms is serving up bacon and ice cream with a side of fun and education. The Indiana operation, a prime example of agricultural tourism, is located in Fair Oaks, Indiana, within about 150 miles of metropolitan areas like Chicago, Indianapolis, Milwaukee and Louisville – a radius with a population of about 28 million people.
Gary Corbett, chief executive officer of Fair Oaks Farms, hopes to reach just about all of them with the message that modern agriculture can provide affordable food while addressing environmental and animal welfare concerns.
"A lot of our urban brethren are simply losing connections with farming. So it is critically important that we continue to reach out," he said.
Cargill's premix and animal nutrition business recently donated $750,000 to support the educational mission of Fair Oaks. The contribution will enable Fair Oaks' non-profit arm to educate students and the general public on modern agriculture practices that benefit the environment, use fewer natural resources and improve sustainability for crop and animal production.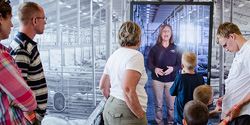 Fair Oaks offers tours of its commercial farm operations, including one of the biggest and most sophisticated dairies in the country, and a 3,000 sow farrow-to-wean production facility run by Belstra Milling. The state-of-the-art campus hosts half a million visitors from every state and more than 30 countries annually. Fair Oaks offers tours of its commercial farm operations, including one of the biggest and most sophisticated dairies in the country, and a 3,000 sow farrow-to-wean production facility run by Belstra Milling. Visitors can watch cows being milked at the rate of 800 every six minutes on an 11-rotary milking carousel, and pigs being born in humanely-designed stalls. Educational displays and views from a tour bus demonstrate how the farms' anaerobic digesters work: they pump manure up to two miles to ponds that eventually fuel the farms' electrical needs and its tractor/trailer fleet.
Visitors to the farms first encounter a wide open outdoor play space known as "Moo-ville" with a "Moo-choo" train, "Cow-a-Bunga" bungee jump ride, "Dairy Air" jump pillow that can bounce about 30 kids at a time, and other adventures. Attractions also include a bakery, farmers' market and 18,000-square-foot restaurant featuring foods grown or manufactured on the farms.
The adventure area is merely a backdrop for educational facilities such as the 22,000-square-foot "Dairy Adventure" and a "Pork Education Center," featuring an amusement-park-worthy ropes course and emblazoned with large-scale "Ode to the Pig" graphics.
At the June 2015 grand opening ceremony for the Pork Education Center, which is part of a larger "Pig Adventure," Cargill officially announced its donation, which will pay for educational kiosks at a lunchroom for visiting schoolchildren, opening in 2016 on the main campus. According to attractions general manager Jamie Miller, in peak months like May, the lunchroom serves about 600 children a day, and its current capacity seats about 75.
"Cargill's generous gift will allow us to continue to expand the journey we started in 2004 by providing educational and entertaining agriculture experiences for our visitors," said CEO Corbett.
Both Corbett and Malcom DeKryger, the president and co-owner of Belstra Milling, are Cargill feed customers. Cargill Animal Nutrition became aware of Fair Oaks Farms through the customer relationships, and found that its programs fit in with Cargill's mission of supporting educational programs for underserved communities and improving skills in technology.
Together, Cargill, Fair Oaks and Belstra Milling share the belief that it's critically important to reach young people, especially in their formative years, with a positive message about agriculture so they understand more about their food, how it's produced and that we have a safe food supply with many healthy choices available from modern production practices.
Cargill has also supported the creation of educational kiosks in the Pork Education Center, and plans to lend expertise to the creation of the kiosks for the new lunchroom
Future plans for Fair Oaks Farms' portfolio of agriculture experiences include the opening of crop, egg and layer, cattle, sheep and goat education centers, a John Deere equipment museum and a hotel.