Animal welfare – what you need to know
Cargill webinar highlights elements of a successful animal welfare program, shares insights on emerging issues
October 11, 2016
Have you ever heard a parent ask a messy teenager, "Hey, were you born in a barn?" Or met a home remodeler who could turn a sow's ear into a silk purse? Or sat in rush hour traffic 'til the cows came home?
Long a part of U.S. linguistic culture, these clichés show just how much farm animals are part of our shared frame of reference, even if we grew up in the city. These iconic animals mean something to us whether we've ever baled hay, or driven a tractor, or not.
Today, mainstream consumers are more concerned than ever about the care and well-being of the livestock animals that ultimately become food. A Consumer Reports December 2015 "Natural Food Labels Survey," for example, found that better living conditions for farm animals is viewed as "very important" to 52 percent of consumers and "important" to an additional 32 percent. And in a study conducted by Kansas State University, 65 percent of consumers reported they were concerned about the welfare of beef cattle in the U.S.
So just how do we balance our passion for animal welfare with the desire for wholesome protein to feed our families? It doesn't have to be a chicken or the egg situation.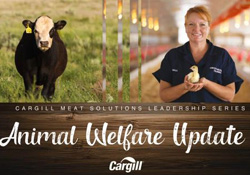 Cargill recently hosted an "Animal Welfare Update" webinar to discuss the key elements to a successful animal welfare program and provide customers with an update on its work to raise the healthiest animals with the utmost dignity and care. As part of the Cargill Meat Solutions Leadership Series, the company recently hosted an "Animal Welfare Update" webinar to discuss the key elements to a successful animal welfare program and provide customers with an update on its work to raise the healthiest animals with the utmost dignity and care. The recorded webinar is publicly available on the company's web site.
In the webinar, Cargill explains how the humane treatment of animals in its supply chains, as well as the respectful handling of animals in its care, is critical to the company's business success.
"We are committed to our social and moral responsibilities to the animals that are our food supply," said Dr. Mike Siemens, global leader of animal welfare and husbandry at Cargill. "And we have a responsibility from a sustainable, moral and ethical standpoint to do everything we can to continue to improve animal welfare."
In the webinar, Dr. Siemens shares specific examples of the work Cargill is doing, often in partnership with academic institutions and third party auditors, to ensure the well-being of the animals in its supply chain.
In one example, he discusses the work Cargill is doing with Kansas State University and trailer manufacturers to prevent the bruising of cattle during transport.
"Cattle today are taller and heavier than they were in the past, but trailers haven't changed much in the last 30 years," said Dr. Siemens. "The cattle are often hitting their backs and hips as they enter and exit the trailers. We're working to modify existing trailers and design new ones that will accommodate these larger cattle."
Cargill's Dr. Brian Wooming, a veterinarian in Cargill's turkey and cooked meats business, also discusses the company's work with turkeys. Among many other industry leading practices, Cargill is the only turkey producer in the U.S. to educate and certify all of its contract growers on how to properly handle birds.
Dr. Candace Croney, Director of Purdue University's Center for Animal Welfare Science is another presenter in the webinar. "Food is a way of expressing our values," she said. But, she explains, while many consumers may consider themselves fairly knowledgeable about food, they feel less informed when it comes to agricultural practices."
In her presentation, Dr. Croney shares findings from a recent study she conducted with colleagues from the Department of Agricultural Economics at Purdue University, titled, "Effects of demographic factors and information sources on United States consumer perceptions of animal welfare."
Dr. Croney explains that there is a new dynamic of "ethical consumerism."
"People avoid purchasing products perceived to do harm," she said. She adds that as consumers' concerns for animal welfare have increased, they are often prioritizing it over price.
This means that transparency in the supply chain is critical to ensuring consumers understand what happens with the animals before they become food.
"We are committed to sharing our knowledge and practices with those who consume protein," said Dr. Siemens. "Companies like Cargill have an important role to play in educating an array of stakeholders about animal welfare." Cargill's policy, commitment and approach to animal welfare, with specific examples of its work over the past 70-plus years, is outlined in detail in the Animal Welfare section of the company's web site.
"We hope customers and potential customers will watch the webinar and reach out to us with questions and suggestions," said Dr. Siemens. "It really illustrates how Cargill is committed to leading the industry by developing and implementing best practices in the area of animal welfare."
It may be cliché to say so – but you can bet the farm on that.