Remarks: Building Bridges Over Barriers
Jill Kolling, Vice President for Global Sustainability
Farm Journal's Trust in Food Symposium
January 29, 2020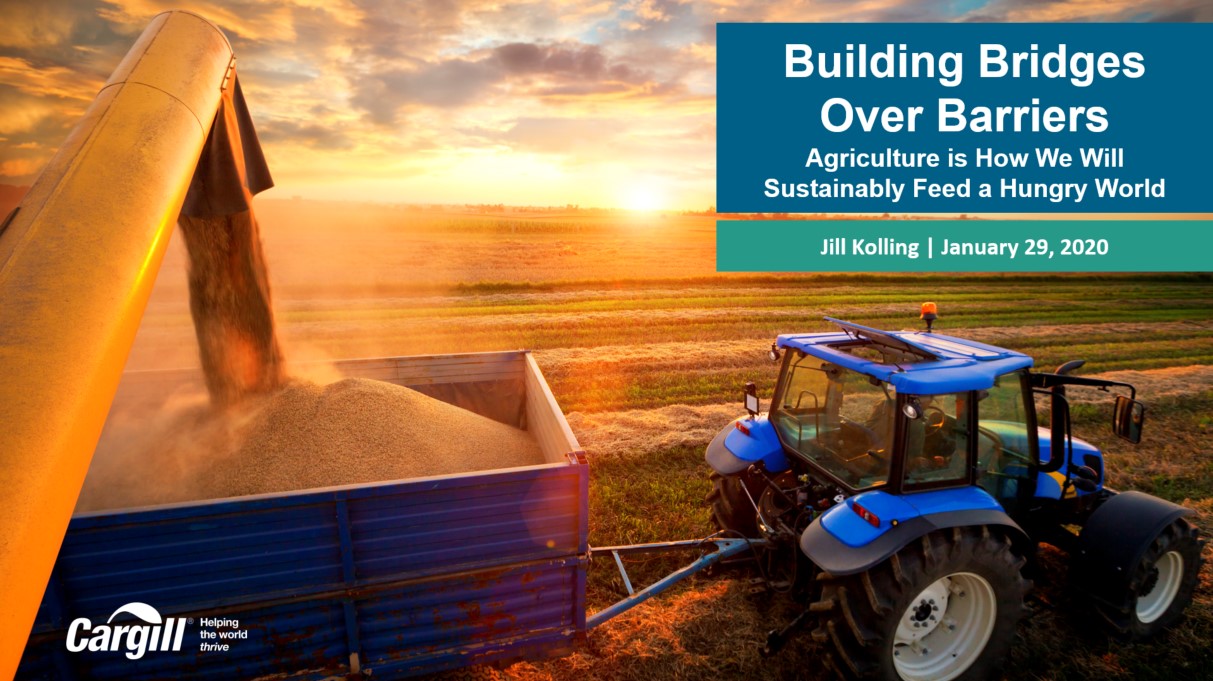 Next week, Iowans will begin picking presidential candidates. For months leading up to the caucuses, Iowa has been ground zero for some big political personalities. And for generations, Iowa has been ground zero for some big ideas.
Over 150 years ago, William Cargill bought a one-room shed to store grain at the end of the railroad in northeast Iowa. His small business has grown to include 160,000 employees across 70 countries, feeding billions of people around the world every year.
Just 20 miles west from where Cargill got its start, Norman Borlaug was born to a farming family in Cresco, Iowa. He attended one-room rural schoolhouse and went on to attend the University of Minnesota.
After college, Borlaug pioneered new research in Mexico, developing a higher-yielding, disease-resistant variety of wheat. His crop breeding techniques began the Green Revolution, which is credited with saving 1 billion people from starvation and malnourishment.
William Cargill and Norman Borlaug were very different people. But each saw the potential in agriculture to solve big problems, and improve people's lives.
Norman Borlaug is known for saying that, "The first and foremost problem in this crowded world is one of food." The same is true today. Despite many advancements our industry has made to improve the efficacy of food production and distribution, over 800 million people are still hungry and more than 25% of the food we grow every year is lost or wasted.
We have more work to do to sustainably feed a growing population.
Roughly a quarter of all greenhouse gases are emitted by food and agriculture. That is a big challenge. It is one that will require big ideas to overcome. But no single moonshot moment will be enough. We need a level of innovation and global cooperation never before undertaken.
That will require a fundamental change in thinking: one that sees agriculture not as a problem, but as the solution to the challenges we face.
Like our founder, Cargill still believes agriculture can solve big problems. We are confident our industry will play a critical role in solving for climate change. In that effort, Cargill has set a goal to reduce greenhouse gas emissions in our global supply chains by 30% per ton of product by 2030.
Working in partnership with farmers and our customers, we are confident agriculture will be HOW we solve for climate change.
Here is HOW we plan to do it.

Empowering Farmers is How
First, we are looking to farmers.
No meaningful change or advancement in agriculture has ever taken root without earning the trust and active partnership of farmers first. Farmers are the original stewards of our land and water. Few professions on the planet depend more on the long-term health and stability of our environment.
Today, farmers are on the front lines of climate change. Shifting weather patterns and extreme weather events are increasingly impacting their production. Farmers' livelihoods and the future of our global food systems depend on whether agriculture can sustainably feed a fast-growing population in a warming world.
Today, we have new information and technologies that can help make farmers' operations more efficient, sustainable, and profitable. And we must.

Better Soil Health is How
Take for example soil health. There is great opportunity for farmers to derive more value from their soil, while storing more carbon within it. We are actively working with farmers to make that happen.
There is great potential here. As the largest carbon sink on the planet, soil already stores 3 times more carbon than forests and other vegetation. But we can do better than that.
According to the United Nations, one-third of the world's soils are degraded – stripped of the nutrients needed to grow our food. These degraded soils create emissions. Without marked changes in the way we care for the land, 90% of the world's soils will be degraded by 2050 – further limiting farmers' ability to feed a hungry world and exacerbating climate change.
That is why Cargill is helping to establish markets that will enable farmers to adopt conservation management practices to improve soil health, reduce greenhouse gas emissions, and protect water quality.
For example, together with the Iowa Soybean Association, we are developing an innovative, multi-payer financing vehicle designed to provide financial incentives to farmers for implementing regenerative agriculture practices like cover crops and no till.
And we are partnering with the Soil Health Institute to give farmers the training and insights to understand how soil health can yield financial and economic benefits – incentivizing farm practices that will more sustainably feed people and preserve our planet.
We hope these efforts and others will take root across our global supply chains and make meaningful contributions to mitigating climate change.

Sustainable Beef Supply Chains Are How
Another place we can make a substantial difference is in our beef supply chains.
There are 1.5 billion cows on the planet. The emissions they produce contribute to climate change. And global demand for beef is not slowing down.
Rising incomes and changing diets mean demand for protein will grow 70% by 2050. The way agriculture meets that demand must be environmentally viable. That is why Cargill is working with ranchers to build on producers' efforts to reduce cattle's carbon footprint. We are starting in North America, which comprises the bulk of our beef business.
Beef production in North America is already 35% more efficient in terms of greenhouse gas emissions than the global average. North America, therefore, has made important progress in reducing beef's carbon footprint. Working with farmers, Cargill is confident we can build on that progress.
With even better grazing management, feed production, and food-waste reduction, we are aiming to cut greenhouse gas emissions by 30% for every pound of beef we produce on the continent by 2030. Adopting carbon-storage techniques, capturing manure-based nutrients, and other emission-reduction initiatives will equal the removal of 2 million cars from U.S. highways for a year.

Ocean Transportation is How
Cargill is matching its sustainability efforts on land with emissions-reducing initiatives on the water.
Ocean transportation alone creates a big impact. In fact, if the shipping industry were a country, it would be the sixth-largest emitter of greenhouse gases.
Cargill ships 220 million tons of food and cargo on 600 vessels around the world. Each of these ships has a carbon footprint. Last year, we deployed new techniques and technologies to reduce our ships' carbon emissions by 350,000 tons, or 4.5%. But we think these vessels, and the entire food shipping industry, can do better still.
That is why we are working within the Global Maritime Forum to move shipping toward a decarbonized future. By investing in innovation and sharing best practices, we are aiming to make the global shipping industry carbon-neutral by 2050.

Protecting the World's Forests is How
Agriculture's efforts to reduce greenhouse gas emissions will be no match for climate change if we do not protect the world's forests. That is why Cargill has firmly upheld the Brazilian soy moratorium in the Amazon since 2006. We do not source soybeans from newly deforested areas.
As a company, we are engaging in meaningful partnerships to protect South American forests in ways that are economically viable for farmers, with similar efforts to prevent deforestation in Indonesia, Côte d'Ivoire, and other areas.
To accelerate progress across our supply chains, we formed a Land Use and Forest Protection Advisory Panel. Members are bringing cross-sector insights to Cargill, building on existing work with other trusted advisors and thought leaders.
We are inviting and urging competitors, customers, and governments to join us. We each have a role to play. It will take our collective efforts to create a socially responsible, environmentally sound, and economically viable supply chain.
* * * * *
Our world is facing an unprecedented and existential challenge. Climate change, unlike any previous problem, will test our capacity for innovation and change.
As a contributor to climate change, agriculture must be, in part, how we solve for it.
Whether the big ideas that make it happen begin in Iowa, Illinois, or Indonesia, one thing is clear: we need another Norman Borlaug moment in agriculture. Truth be told: we need a dozen – with innovations that transform every facet of the food systems our world depends on for its nourishment.
There are big barriers to overcome. But I am convinced that the people in this room, and those who work the land on 570 million farms around the world, will be the ones who build the bridges we need to a more sustainable future.
And I know agriculture is HOW we will get it done.
* * * * *