Bringing the food industry to life – bridging the gap between theory and practice
UK students solve a real-life problem, win Cargill Innovation in Engineering Award
November 22, 2016
The winners with Cargill employees (L to R): Marcin Urbanek, Vasilis Mantzios, Peter Allan, Rachana Halasabele, Alessia Xu, Paul Kingston, Claire Dillon and Dave Bennett.
Students Rachana Halasabele and Alessia Xu from The University of Manchester in the UK recently triumphed with their innovative and practical winning solution to a real-life industry problem set by Cargill's ethanol experts at their starches and sweeteners plant in Trafford Park, Manchester. The UK-wide competition, open to all Universities, is the first of its kind for Cargill in the UK and awarded the winning second year students with a cash bursary of £1,200.
The real-life food industry problem which they had to solve: to reduce the effect of acetic bacteria in the fermentation process and solutions around infection growth and control in ethanol production.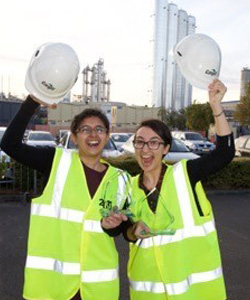 Rachana Halasabele and Alessia Xu celebrate their achievement. Rachana and Alessia, both chemical engineering students, presented the winning idea during a tough pitching process in front of six Cargill judges and facing strong competition from three other teams.
Their pitch: a combination of long and short-term solutions including the use of oxidisers, hop extract supplementation and providing the yeast with nutrients. They also suggested a new cleaning procedure involving stabilized chlorine dioxide instead of bleach.
"One of the things we proposed was to capture the carbon dioxide, one of the employees from the plant told us they have been working on that in the last few weeks which was amazing to hear, because we know this is something they are working on and will continue to use," said Halasabele.
On the day, the finalists all enjoyed a plant tour and gave pitches to a panel of judges, as well as participating in an ethanol testing session. When asked what they enjoyed most about the day, another student finalist Kevin Yapp Jun Hao said: "I enjoyed the pitch and the poster presentation, because we got really good feedback on the practicality of our proposed solutions. I also learned a lot about the actual process and how it differs from the theoretical assumptions we'd made."
Judges and Cargill employees who took part in the event were overwhelmed by the hard work and professionalism of the students. Paul Kingston, the plant manager at Cargill's facility in Manchester and a key member of the judging panel said: "The final scores were very close and we were extremely impressed with the level of work that we saw from these students".
The concept of the competition was created around Cargill's goal of inspiring the next generation, showcasing young talent and also bridging the often talked-about skill gap between universities and businesses. Due to the success of this year's competition, Cargill is now looking at how to adapt and expand the program.
When asked how they would spend the money, the winners said they would spend it on a nice dinner and maybe even a holiday. They deserve it!