Can you dig it? Cargill supports North America soil health initiative
August 15, 2019
Nestled among Eastern Iowa's winding gravel roads and corn and soybean fields as far as the eye can see sits Heckman Farms, approximately 1,500 acres operated by Mark Heckman and his family. Heckman, a fourth-generation farmer, is passionate about his practice and makes environmental stewardship a priority.
"To me, farming is fun. In a lifetime, you maybe get 40 chances to grow a crop? It's something that, at the end of the year, you can actually see the effort you put into it," Heckman said. "But it's more than feeding the world. There's a lifecycle."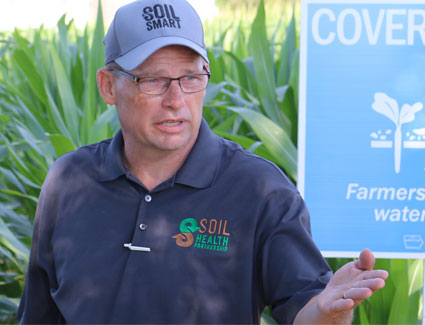 Mark Heckman, of Heckman Farms in Iowa, makes environmental stewardship a priority. About five years ago, he connected with the Soil Health Institute (SHI) and research affiliate, Soil Health Partnership (SHP), to experiment with new soil health management practices designed to improve soil health.
"I was skeptical at first because I always thought that if you're going to do good to the ground it's going come at an expense," Heckman said.
After weighing the short-term costs associated with improving soil health with the long-term savings and positive impacts on the environment, Heckman decided to give it a try and planted 40 acres of cereal rye.
"I saw the difference after two years," he said. "The soil structure improved, the ground holds more water which reduces erosion, there was more organic matter and earthworm activity and my crops were more resilient (to the elements)."
Today, Heckman uses cover crops on about 1,000 acres. It's one tool in a larger sustainability toolbox at Heckman Farms. Other sustainable practices include no and minimal tillage as well as precision agriculture to optimize fertilizer use.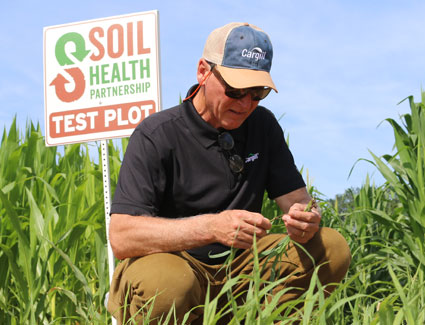 Cargill's Jim Kelley visits a Soil Health Partnership test plot at Heckman Farms in Iowa. In July, a group of Cargill leaders visited Heckman Farms to learn how improving soil health helps Cargill fulfill its purpose and drive lasting, positive change for three of its priorities: climate change, water resources and farmer prosperity.
"Farmers like Mark have been great stewards, but we have a changing landscape," said Sharon Spies, sustainability lead in Cargill's North American agricultural supply chain business. "We have more pressure from consumers around key environmental issues such as water and climate. They want to know more about how their food is produced and are basing their purchases around values, including environmental impact. We want to help farmers navigate that changing environment."
Cargill, too, has partnered with SHI to assess and promote the benefits of soil health management systems like Heckman's (highlighted in Reach Higher, Cargill's 2019 annual report).
"Our sustainability efforts are critical to our growth," said Roger Watchorn, president of Cargill's North American agricultural supply chain business. "Not only does it bring us closer to our customers, from farmer customers to end consumers, but it helps us understand what's important to them, so we can help drive improvements and productivity in all areas of the supply chain."
"The good Lord gave us this land for a short period of time. I have to choose what I'm going to pass on," added Heckman."
Today, SHP and SHI are working with 220 working farms in 15 states.