Game on! Cargill-funded programs get kids active, eating well
February 28, 2020
Recess used to spell trouble for teachers at Team Academy in Waseca, Minnesota. Students weren't interested in participating in activities, which led to boredom, behavior issues and fighting.
With some creative thinking and a Cargill-funded "Game On" grant from Action for Healthy Kids, the school turned things around at recess.
For starters, it split recess into two shorter, separate breaks during the day. It also added a ball pit and painted boundary lines to facilitate more structured games and activities. With monthly staff and student challenges, now nearly all students choose to be active during recess.
These are the kinds of outcomes Action for Healthy Kids wants at all the schools it supports. The Chicago-based nonprofit organization strives to foster healthy eating habits, increase physical activity, and improve overall health and well-being for kids across the U.S. by helping schools implement programming that supports the health of the whole child.
"Kids spend more than 1,200 hours each year in school, so that environment is key to creating healthy habits," said Grace Perry, program manager with Action for Healthy Kids. "And we know that healthy, active students are better prepared to learn."
Expanding support
Cargill supports Action for Healthy Kids at 122 schools across the U.S. by funding its Game On School Engagement Program. The program offers tailored solutions to help schools create healthier learning environments for students.
Since 2016, we have provided more than $850,000 in grants. Our funding has supported school gardens, functional fitness training, active indoor recess programs, before- and after-school wellness clubs and healthy cooking classes, among other projects.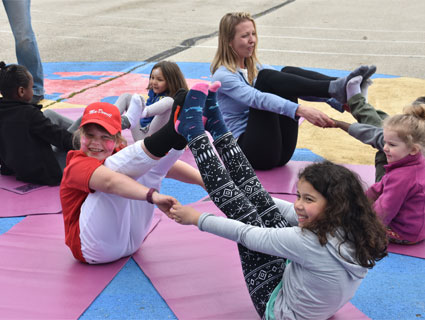 "Thanks to Cargill's support, students are building lifelong healthy habits and have greater access to innovative nutrition and physical activity opportunities," said Perry. "With strong community partners, our schools are better able to help students succeed."
Cargill's support has been targeted at communities in Iowa, Pennsylvania, Minnesota and Wisconsin, where we have several business locations. With our most recent grant, we expanded our support to communities where our protein business has operations in Arkansas, California, Colorado, Kansas, Tennessee and Nebraska.
"Cargill is committed to providing people with nutritious food and advancing our purpose of nourishing the world in a safe, responsible and sustainable way," said Pete Stoddart, community and employee engagement lead at Cargill. "Encouraging good habits for our kids now will have a lasting effect on our communities."
Partnerships with organizations like Action for Healthy Kids are part of Cargill's commitment to community engagement. We focus our support in three areas: nourishing our world, protecting our planet and enriching our communities. In fiscal 2019, Cargill charitable giving reached $61.2 million across 56 countries.