Cargill's commitment to animal welfare is 'non-negotiable.' Our values affirm it — and so does a new ranking.
Read Time: 3 minutes
March 28, 2022
Cargill recently earned a Tier 2 ranking in the Business Benchmark on Farm Animal Welfare (BBFAW) report — a leading global measure of companies' farm animal welfare practices.

The company has received the ranking for a sixth straight year, reflecting its values and commitment to animal welfare across supply chains.

"The recognition of our leadership belongs to the people on the ground who do animal welfare every day," says Lacey Alexander, a Cargill animal welfare advisor.
Robert Godin is 13 years old, and his parents have just given him his first female calf.
In the coming years, his responsibilities grow on the family's farm in eastern Ontario, Canada. So does the personal responsibility he feels for the well-being of the cows and calves in his care.
​​​​​​​He carries that responsibility with him to the University of Guelph, and from there to Cargill's management trainee program. He carries it with him as he transitions into quality control for animal welfare. And he continues carrying it with him today as an operations superintendent at Cargill's beef plant in Guelph, Canada.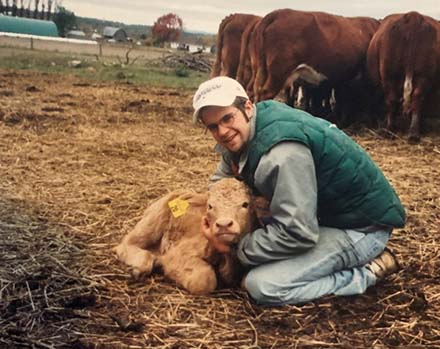 "
"That passion I developed, the understanding that the better you take care of the animals, the better they take care of you … that has guided me to where I am today. The company's values have always been a non-negotiable around animal welfare."
Treating animals with 'dignity and respect'
Those values — and employees like Robert who bring them to life every day — are the driving force behind an important new honor for Cargill. Our company recently garnered a Tier 2 ranking in the latest Business Benchmark on Farm Animal Welfare (BBFAW) report, the leading global measure of company performance on farm animal welfare.
Only 16 of the 150 global companies in the report are rated in the top two tiers, reserved for companies that make animal welfare integral to their business strategy. It's Cargill's sixth year in a row receiving a Tier 2 ranking.
The BBFAW report grades companies on a range of farm animal welfare management practices. For Cargill, that includes a dizzying scope of activity across beef, chicken, turkey, eggs, dairy, fin fish and pork supply chains.
"We are proud of our continued high ranking in this year's BBFAW report, as well as the work we're doing every day to advance animal welfare within our operations, with our customers, along our supply chains and across the industry," says Nick Wolfenden, Cargill's global sustainable animal welfare director. "As we deliver protein to the world, we embrace the responsibility to make sure animals are treated with dignity and respect."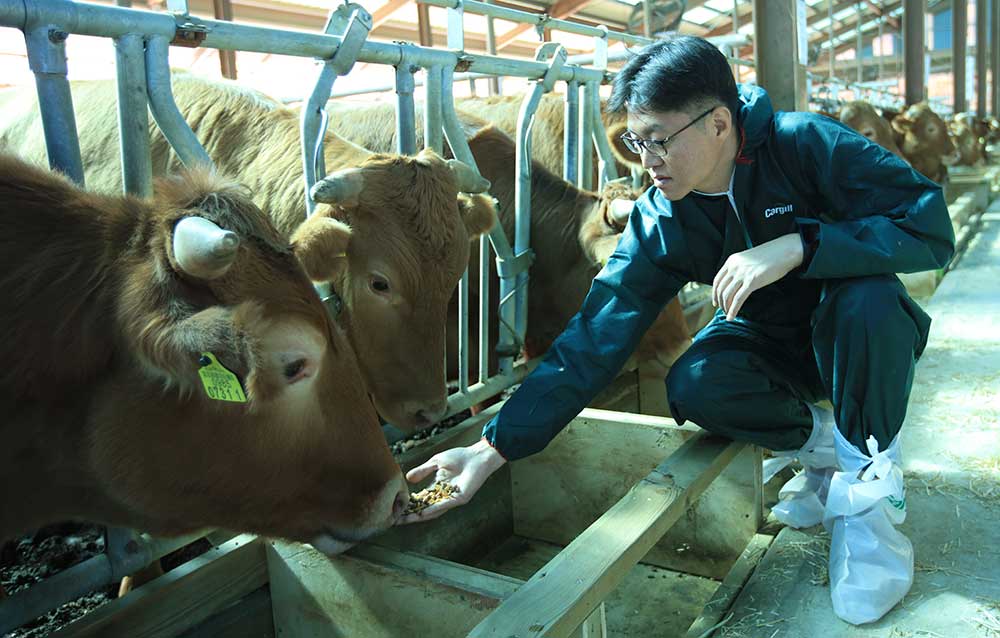 'We live and breathe our guiding principles'
Cargill works with farmers, customers, NGOs, scientists, veterinarians (like animal welfare expert Temple Grandin) and others to ensure best practices — including a zero tolerance policy on animal abuse throughout all our supply chains.
​​​​​​​As Lacey Alexander knows, Cargill employees are the people who make it possible.
"We live and breathe our guiding principles. It's our people and values that put us at Tier 2," says Alexander, a beef animal welfare advisor. "We are thought leaders, innovators, researchers; that's what separates us from the pack. The recognition of our leadership belongs to the people on the ground who do animal welfare every day."
Here are some recent ways Cargill is advancing animal welfare — and living our values — inside and outside our walls:
Participating in a new partnership funded by the U.S. Agency for International Development (USAID) to work with several partners on improving animal agriculture in Africa and Asia, benefitting both human health and animal well-being.
Joining the U.S. CattleTrace program, an effort by multiple state cattlemen's associations to develop a national infrastructure for animal disease traceability in the U.S. cattle industry.
Contributing to the International Poultry Welfare Alliance's Key Welfare Indicators Guide, a resource to help raise awareness of these indicators.
Publishing new research on how to prevent negative impacts to cattle welfare and mobility resulting from supply chain slowdowns caused by COVID-19.
Improvements in various animal welfare indicators like transportation times for live animals and percentage of laying hens in the supply chain.
For Robert and others like him, the recent recognition is not really a surprise. They are bringing Cargill's values and commitments to life every day.
"That ranking just reaffirms what I know and constantly see. My team, my supervisor, everyone we work with knows it and sees it," Robert says. "These values around animal welfare have always been clear and expected at Cargill, but it's different to know it and practice it. We practice it."
Company ranks near the top of 150 companies in the latest Business Benchmark on Farm Animal Welfare (BBFAW) annual report.
Cargill believes the humane treatment and respectful handling of animals within our care is not only the right thing to do, it is critical to our business success.