Committed to change
Cargill's Maria Nelly Rivas hopes her work will make Nicaragua a better place for future generations
March 08, 2018
Maria Nelly Rivas grew up in the midst of Nicaragua's civil war. She remembers hiding under a bed as planes flew overhead to bomb a nearby town. She watched her community struggle with violence and the collapse of the country's economy.
"As a kid growing up in that, it felt like the end of the world," she said.
Rivas, Cargill's Corporate Affairs director for Central America, said those experiences led her on the career path that brought her back to Nicaragua and the job she has today.
"I have such a strong commitment to this country because of what I went through," she said. "I want to have an impact on my country and do everything I can to make sure that doesn't happen again. I don't want other generations to go through what I experienced."
Today, Rivas primarily handles government relations for Cargill in Central America, but she started her Cargill career in corporate social responsibility. She came to the company after eight years working for the United Nations in Nicaragua on development and tourism programs.
She had returned to Nicaragua after graduating with an MBA from Harvard Business School and holding jobs in New York and Buenos Aires in the private sector.
"I knew I wanted to get back to Nicaragua because I saw so much potential to make a difference," she said. "In Cargill, I saw a company that was invested in the country and making progress in improving industry standards and working conditions."
Bringing a strategy to life
At Cargill, her first task was to take a new corporate social responsibility strategy created by the strong team in Latin America and make it succeed. The company's social responsibility mission had become more focused on melding the company's expertise in food and agriculture with organizations that specialize in community-led rural development like CARE and Technoserve.
Rivas knew she couldn't achieve this alone and had to bring Cargill's businesses—primarily in poultry, and animal feed—on board with the plan. She focused Cargill's efforts on schools and farmers near the company's facilities so employees had a connection to the larger effort.
Xavier Vargas, president of Cargill Central America, said Rivas was able to approach businesses and help them understand the company's tough decisions as the strategy changed.
"She really had to sell these changes to business leaders to show the value behind social responsibility and how it connects to day-to-day business," he said. "She helped us see that our purpose is much more than just selling meat and feed; now we're thinking about how we help our country thrive and grow."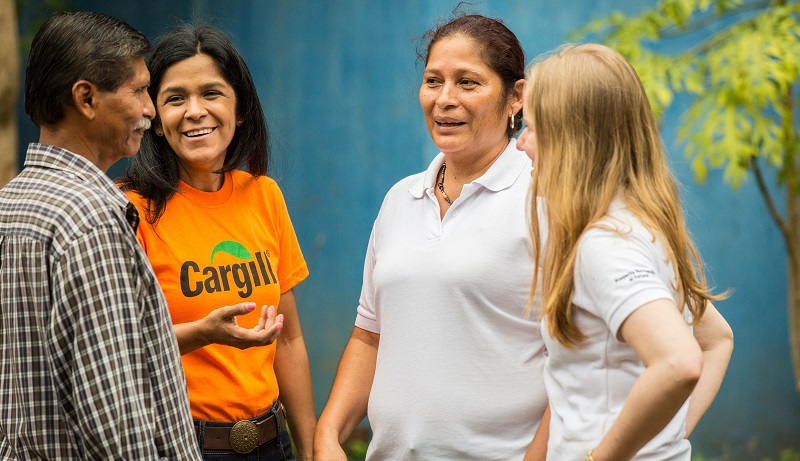 Growing up during Nicaragua's civil war, Maria Nelly Rivas (wearing orange) had to hide under the bed: "I want to have an impact on my country and do everything I can to make sure that doesn't happen again."
Michelle Grogg, Cargill's global lead for corporate responsibility and sustainable development, said Rivas has succeeded because of her commitment to building relationships, both inside and outside Cargill.
"When I visit Central America, it's clear the community partners have a strong trust in her and Cargill," she said. "She knows she wouldn't accomplish her goals without enabling her team in Central America to do their best work."
For Rivas, seeing the improvements in the community keeps her going. Schools in some of the country's poorest areas now have kitchens, lunchrooms, and meals that feature Cargill protein alongside vegetables grown on site by students. And farmers smile when talking about their future.
"When farmers tell you, 'I used to be a producer, now I'm a business person,' that's when it really sinks in," Rivas said. "We're changing how people perceive their role in their communities because they now see their personal potential to succeed."
A voice for foreign investment
Named a Young Global Leader by the World Economic Forum in 2012 Rivas has seized the opportunity to represent Cargill and Central America on the global stage. In January, Rivas took on another leadership role as the president of Nicaragua's American Chamber of Commerce. She's the first Cargill employee to take the role and just the third woman in the Chamber's 44-year history.
Rivas was on the Chamber's board in 2017 and with the support of Cargill, decided to run for president.
"We saw an opportunity for Cargill to be a stronger leader in the region and use the platform to highlight some of our expertise in nutrition, sustainability and responsible trade," Rivas said.
Vargas said Rivas is the right person to represent Cargill's success in the country through the Chamber's work to bridge gap between Nicaragua and the United States."
I know she will be a good ambassador to help the two countries connect better," he said. "She has the experience to show the value in foreign investment in Nicaragua and articulate the needs of companies like Cargill."
For Rivas, her new leadership roles are a chance to make her community a better place for everyone, including women.
"Leadership comes with bigger responsibility to give back," she said. "Women are still the exception in Nicaraguan business and part of my duty is to help other women find their path of development, include their voices in the conversation and change the outlook for the next generation."