Don't miss a play! Cargill's new food lockers mean fans spend more time watching, less time waiting
May 06, 2022
Cargill has launched an innovative food locker pickup system at PPG Paints Arena in Pittsburgh, home of the National Hockey League's Pittsburgh Penguins.
The company launched the food lockers — called Chekt — with the Penguins and customer Aramark.
Chekt is "built by the industry, for the industry," one Cargill leader says.
You're sitting in a packed stadium, cheering on your favorite team in a close game.
Suddenly, you catch a whiff of something delicious from the concession stands. Your stomach starts to rumble. You need food — and fast.
You have a decision to make. Do you …
A) leave for the concession stand now and risk missing a key play in the game?
B) wait for a break in the action, race everyone to the nearest food vendor and hope the line isn't too long?
C) just go hungry?
Answer: None of the above — thanks to Cargill's innovative new food pickup system. When hunger strikes, just order from your seat, grab your hot food (or cold beverage) from a temperature-controlled locker and head back to the game.
Meet Chekt
The new food locker system — called Chekt — just made its debut inside PPG Paints Arena in Pittsburgh, home of the National Hockey League's Pittsburgh Penguins. Cargill launched Chekt with the Penguins and with its customer, Aramark.
You might be wondering: Why is a supplier like Cargill making food lockers? It's one of several ways the company is fusing its food expertise and technical know-how to solve long-standing challenges for food and agriculture customers. It's also one of several digital innovations the company has rolled out across the industry.
And it's working. Just ask one of our customers.
"It has been great to see the positive reception to the new Chekt food lockers at PPG Paints Arena," says Alicia Woznicki, vice president of design and development, Aramark Sports + Entertainment. "We are really pleased with the efficient and innovative way in which we've been able to serve fans this season and provide a more seamless food and beverage experience."
YOUR FOOD IS A FEW TEXTS AWAY
It's as simple as it sounds.
Fans use their phone to place an order and select their pickup location inside the stadium.
Concession personnel receive the order and prepare the food.
When it's ready, they place the food into the Chekt locker and the fan gets notified via text message.
When the fan arrives at the Chekt locker bay, they simply text "Here" to unlock the door, grab their food and return to the action.
'Built by the industry, for the industry'
Eric Parkin knows there are other food lockers in the marketplace. But the Cargill commercial digital leader also knows what sets Chekt apart: The company that developed it has more than 150 years of experience in producing high-quality food.
"As our customers have worked with us, they recognize this is built by the industry, for the industry," Eric says.
Chekt is designed to address industry challenges (like reducing wait times) and meet consumers' shifting expectations (like contact-less pickup and self-service options). It's convenient for fans and more efficient for foodservice operators, explains Eric.
Cargill built Chekt from the ground up — literally. Chekt's Digital Product Leader Nate Shrader and his colleagues assembled the first set of lockers. Fast forward to today: Chekt has a 24-locker bay at the Pittsburgh arena's Ford Food Garage.
"Chekt has been designed for the consumers of today in a wide variety of settings, from restaurants to universities," says Nate, who also helped train foodservice operators at PPG Paints Arena on how to use the food locker system. And because the food lockers are modular — meaning they can be arranged like children's blocks, he says — Chekt is "also created for the restaurant of the future."
Nate has seen it in action at PPG Paints Arena. Fans are grabbing food from the lockers — and some return just to show their friends, he says.
"We saw people picking up food and they would literally say, 'Wow!' It was really exciting because we actually wanted to create a "wow" moment during the food pickup process."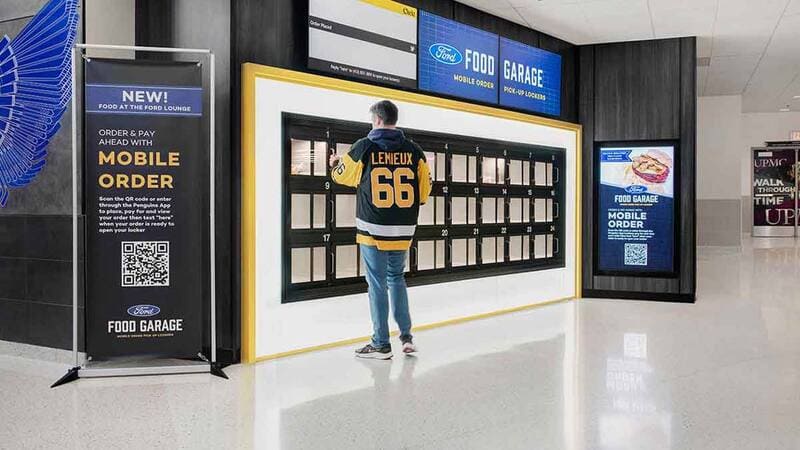 More than a food supplier
Chekt isn't the only Cargill-developed digital innovation. Another is Hot Take, a food-focused research platform that connects businesses with their customers for instant menu feedback. Today, Hot Take can provide consumer insights on every Chekt sale, Eric shares.
Eric's team of Cargill entrepreneurs, engineers and commercial teams are behind it. They tap into the company's market access and deep expertise in food and ag to bring leading-edge technology to customers — and to show that Cargill is more than a food supplier.
"We have a vested stake in seeing the success of food and agriculture tech really grow," Eric says. "We feel if we can be involved and help shape that, that's a really key part."
So, what does the future hold for Chekt? Colleges, universities and even restaurants are the next key markets, leaders say.
"We're getting traction," enthuses Nate, "and it's been a really fun way to show up differently to our customers."
More stories
Aquí + Frescos is the first Cargill-developed app designed to serve end-consumers, developed and distributed in Central America.
Read Time: 2 minutes
[]/[]
For Cargill, feeding a growing population while addressing climate change is not merely a challenge, it's a mission.
Read Time: 3 minutes
[Global]/[]
A driver falling asleep is a wake-up call for his team. Now drivers are getting a second (and third or fourth) pair of eyes.
Read Time: 2 minutes
[South America]/[]