E-commerce in China: The New Innovation Lab
China has half a billion online shoppers. As they buy food and comment online, they help Cargill innovate in real time.
December 06, 2017
Like many other young professionals, Li Bin is busy. The e-commerce business lead for Cargill Animal Protein China doesn't have time to run errands.
"My friends and I don't have time to shop for groceries at the end of the day," she said. "We order online and have it sent to our homes."
Among the foods Bin can have delivered to her door are more than a dozen frozen products that Cargill has been selling directly to consumers through e-commerce in China since 2016.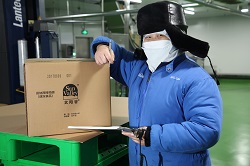 Cargill is selling Sun Valley® chicken products online in China. Sold under the Sun Valley® brand, they include a breaded, minced chicken thigh and boneless chicken breast produced at Cargill's poultry plant in Chuzhou, and a grainfeed beef steak from Cargill in Canada. Cargill has been selling the chicken and beef products through six e-commerce channels, owned mainly by Alibaba and JD.com. Comparable to Amazon, these two companies have a market share of about 75 percent of China's e-commerce.
But more than just a way to sell products, the online market is a novel way to gain consumer insights and create innovative new products based on immediate feedback. Cargill is working to meet evolving consumer demands and make the most of the treasure trove of data.
If there is a place to do e-commerce, China is it.
"China has the largest e-commerce base in the world," said Omar Sadeque, managing director of the China poultry business, who has championed the online effort. "China has about 700-800 million people who are on the internet and about 500-600 million who are shopping online."
By comparison, the United States, which ranks third in population, has about 325 million people in total.
Online sales of poultry are just emerging in China, and will not be the main business for Cargill in the short term. But the venture is yielding a cornucopia of consumer insights that have been helping sell new and innovative products to existing and new business-to-business (B2B) customers.
"E-commerce is our innovation lab," said David Yu, marketing and sales lead for Cargill Animal Protein China. "Through our e-commerce channels, we get consumer feedback fast. We can then tell that story to our larger customers, letting them know that consumers love a product and they will love it, too."
The e-commerce effort also leverages the work being done at Cargill's new Shanghai Food Innovation Center, with its chefs, food scientists and research and development specialists translating consumer insights into new menu items that taste great and can be produced at scale. But entry into Business-to-Consumer (B2C) commerce is a new frontier for Cargill, and it requires a new mindset on how to bring products to market.
How to kick-start demand for new products
Cargill began studying the China chicken market back in 2008. Forecasts indicated that China's population and incomes would continue to rise. That meant consumers would want more and more protein. China is the No. 1 consumer of pork in the world, and chicken consumption is showing strong growth. And so in 2013, production started at Cargill's poultry operations in Chuzhou, which is less than two hours west of Shanghai by high-speed train. Today, Cargill employs about 3,400 people working for the business in Chuzhou and Shanghai.
The Chuzhou operation was originally set up to serve large, globally branded quick-service restaurants, which continue to grow quickly in China. Shortly after opening, China was rocked by a food safety scare (which didn't involve Cargill) and a major outbreak of bird flu that impacted the entire industry.
Consumers became nervous about the food they ate in general, and specifically about poultry. Demand for poultry declined. Moreover, established customers became even more leery than before about buying a new product that did not have extensive consumer research behind it.
The question became how to kick-start demand for innovative products, and B2C e-commerce was identified as a plausible answer.
From comments to commerce
To market products online, Cargill adopted the Sun Valley brand, which it acquired in 1980 and is now part of Cargill Meats Europe. Sadeque had it licensed in China when Cargill was exploring the idea of poultry processing there. The brand represents quality, and is positioned to make a strong statement to Chinese consumers concerned about food safety.
"The e-commerce launch of the Sun Valley brand gives us a quick and cost effective way of getting consumer insights," said Sonia Wong, Sun Valley brand manager. "We can take that information to customers and say a product will be a commercial hit."
The "reviews" section of the e-commerce sites offer a treasure trove of feedback on all aspects of Cargill's products, from taste to quality to packaging. The products have received comments like, "The thigh tastes great. Best choice for holiday snacks!" and, "The product is fresh. Package is elegant and top grade."
Consumers also take pictures of their plated meals. They have praised the recipes Cargill chefs developed for the products and share their own recipe ideas. The information gleaned from the e-commerce channels is supplemented with posts on a WeChat page dedicated to the Sun Valley brand. WeChat is a top social media network used in China. Analysis of the comments provided on social media provides additional insight into what flavors are preferred by consumers, including regional variations, and what price points are sensitive.
These consumer insights can make a compelling story for a customer to consider. Traditional focus group research still has value, but as with any tool there can be limitations. What people in focus groups say they will do isn't always what they do in reality.
"With e-commerce, you see real buying behavior," said Sean Pearce, who had been director of research and development and innovation for the China poultry business until moving on to another assignment in 2017. "People have paid real money for a real product, and those can be strong selling points for our other customers."
Getting to market faster with real-time feedback
Another outcome of Cargill's e-commerce work has been increased speed to market. With a large foodservice customer, developing a core menu item can take a year or two to do focus groups, other research and market tests. The development costs can be high, making the cost of failure high, too.
With e-commerce sales, Cargill is getting real-time feedback from consumers, shortening the time and cost of bringing a product to market, and allowing for greater experimentation because the cost of failure isn't so high.
"E-commerce by itself plays a small role in sales right now," said Sadeque. "But it's phenomenal as a source of insights that drive human behavior that drive innovation."