Embracing sustainability for the long haul
Cargill Meats Central America puts first hybrid truck on the road
February 25, 2016
Recently, Cargill Meats Central America (CMCA) took to the road with a new hybrid diesel-electric truck made by Hino Motors in Japan. The environmentally friendly vehicle, which can travel up to 35,000 kilometers annually, joins Cargill's 270-truck fleet that delivers fresh and frozen poultry, and processed meat products to thousands of supermarkets across Central America under brand names like Cinta Azul, Pipasa and Castillo del Roble, among others.
Cargill is the first company to use the technology in the four Central American countries where it operates: Costa Rica, Guatemala, Honduras and Nicaragua. Although more than 1,500 of the trucks are on the road worldwide, in all of Latin America Hino Motors just brought the technology to Mexico and Colombia in the past two years.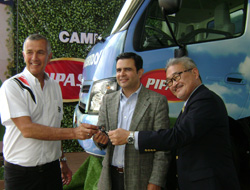 Pictured right to left are: Javier Quirós, President of Purdy Motor Costa Rica; Gilberto Quesada, General Manager of CMCA Costa Rica; and Hitoshi Yokoyama, Sales Manager of HINO. The truck has both a diesel engine and an electric one, allowing it to achieve reductions of up to 35 percent of CO2 emissions, 28 percent of NOx emissions, 80 percent of particulate material emissions and 30 percent of diesel consumption. A highly efficient electrical load system allows the vehicle to travel long distances without needing to stop to recharge the battery.
The new truck isn't just better for the environment. It also boasts several additional safety features, including a rearview camera, emergency brake alarm, a rear ladder to enter the truck container, a speed sensor to alert the driver when they exceed 50 miles per hour, and an anti-lock brake system, all designed to keep everyone along the sales route as safe as possible.
CMCA plans to test this first hybrid truck on the street, in real life, and if the results are as positive as hoped, it will explore acquiring more in the future, helping Cargill to save on diesel costs and reduce its carbon footprint.
Meanwhile, the truck will help contribute to CMCA's overall sustainability plan, which included a goal to reduce its carbon footprint by 5 percent in 2015, through steps such as installing solar panels on its new holding freezers in Nicaragua.
Meanwhile, the hybrid truck has been drawing attention for Cargill. In November, Costa Rica's Vice Secretary of the Environment attended an event to celebrate the technology's arrival. Senior leaders from Hino Motors traveled all the way from Japan for the ceremony, to see the truck in action and cement a new relationship centered around a shared commitment to sustainability. While visiting, they exchanged gifts, toured facilities and tasted Cargill products.