Empower a woman, transform her family and community
May 10, 2016
As a working mother of two and an entrepreneur, 49-year-old Siti Jamiah can be looked upon as an inspiration to women in Indonesia.
Siti is among the 1,556 plantation upkeep workers at Cargill's PT. Harapan Sawit Lestari (HSL) oil palm plantation in West Kalimantan, Indonesia. Her daily work routine begins at 6 a.m., when she cleans fertilizer bags used during field application. She washes an average of 100 fertilizer bags a day.
As an entrepreneur, Siti owns a 0.04 hectare (around 4,000 square feet) fruit and vegetable farm, growing kale, long beans, spinach, mustard, cassava and lime. She works with a local trader to sell her fresh and flavorful produce to the local market.
With her monthly salary as an upkeep worker and profit from selling vegetables, Siti has managed to build a large enough home for her entire family. Her six-bedroom house, back in her hometown of Banyuwangi, East Java, is where her children and parents reside.
"I started growing vegetables in 2006 for additional income for my family. It's an after-work activity which I thoroughly enjoy – from growing, pruning and upkeep, to harvesting the fruits of my labor," said Siti.
She added, "With the additional monthly income of around IDR 500 thousand to IDR 2 million (around $38 to $152) from my vegetable produce, I can now plan to see my 7-year-old son through to university."
Siti's son is a grade-one student under Cargill's Yayasan Masa Depan Cerah education foundation. Her 23-year old daughter, a high-school graduate, works at HSL as an agronomy officer for progeny testing, and pest and disease control.
Women like Siti form the backbone of sustainable livelihoods in rural Indonesia, providing food security for families and communities. According to a report on Gender Equality in Education, Employment and Entrepreneurship by the Organization for Economic Cooperation and Development (OECD), economies grow faster when there are more women in the labor force. Education is one way to get women to be part of the labor force.
Educated women are better providers for their families
The Food & Agriculture Organization of the United Nations states that educational attainment accounts for about 50 percent of the economic growth in OECD countries over the past 50 years, of which over half is due to girls having had access to higher levels of education.
Christine Ekawati, head of Cargill's Yayasan Masa Depan Cerah (Hope for a Brighter Future Education Foundation), is a firm believer that "education is key to empowerment".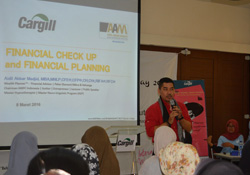 Female employees at HSL learning financial concepts such as saving, compound interest and investing. "Education is critical in enabling women to be successful in the labor force and in life, generally. More than half of the teachers in our Foundation are female, and we have an equal male-to-female student ratio. Our female students are academically very strong too," she said.
"This year, we had a female student take first place in the Ketapang district for Mathematics at the 2016 National Science Olympiad (Middle School). I'm proud that it is a student from Cargill's education foundation who is representing the district at the provincial level," added Christine.
Educating a woman can lead to the development of her family and her country. In Indonesia, a country with low female literacy rates and high gender disparity in schools, women with at least some formal education are more likely than uneducated women to be better informed on the educational and nutritional needs of their children.
Women thrive in oil palm plantations
Cargill's oil palm plantations employ more than 50 female harvesters in what many view as a traditionally male-dominated job. Increasingly, women are starting to take on this role as a profession, and they are proving to be as adept as their male counterparts.
And when it comes to oil palm smallholder farmers, the international NGO Oxfam finds that female oil palm smallholders pay greater attention than men to crop quality, and that their productivity tends to increase as a result of increasing their access to technical training.
Building strength through diversity
Twenty-two-year-old Iin Mustika broke conventional gender barriers in the oil palm industry when she became the industry's first female security guard, employed at Cargill's oil palm plantation, Poliplant Group.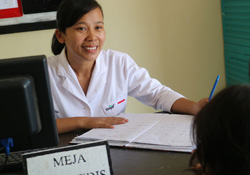 Alita, a 27-year-old paramedic, believes education is key to empowering women. Fellow Cargill colleague, Alita, is a 27-year-old paramedic and administrative officer at the same plantation in West Kalimantan. As a member of the local indigenous Dayak tribe, Alita is the first woman to leave her village to pursue higher education.
"In my village, women tend to give up their pursuit of higher education as they settle down once they marry at an early age; some as early as 15 or 16. I hope to help more women from my village see that doing something out of the ordinary is not scary at all. In fact, the experience can be really rewarding," said Alita.
"Working as a paramedic and administrative officer at Cargill's Poliplant Group plantation, I am able to finance my son's education while doing what I love," she said.
Companies can play a role in providing opportunities for women and equipping them with lifelong skills and knowledge. This can significantly impact their livelihoods.
The female employees working on Cargill's oil palm plantations are no stranger to the company's female-focused initiatives on health, nutrition, pregnancy and family planning. Recently, at the company's International Women's Day celebrations, female employees learned basic financial concepts of saving, compound interest and investing. Learning about the importance of protection from UV radiation was also a highlight for employees - particularly field workers who spend their days out in the sun – who were encouraged to regularly examine their skin for irregularities, and wear protective clothing when working under sunny conditions.
Women can be effective agents of change when they are empowered. The women at Cargill's oil palm plantations have proven that with education and unbiased access to job opportunities, women are as formidable as their male counterparts in the palm oil industry.